Ocean Exploration Careers
Professions in ocean exploration include careers focused on the exploration of seafloor mapping. NOAA Ocean Exploration also offers opportunities for students to get involved in our office's seafloor mapping efforts. Learn more about the Explorer-in-Training program for students below.
Please note that all Ocean Exploration Career content was current at the time that interviews were recorded; however, profiles are not being updated to reflect subsequent career changes.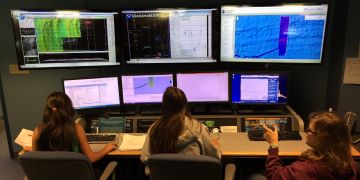 Explorer-in-Training Program
The Explorer-in-Training Program equips students with skills to meet the current and future demands of the ocean exploration workforce, providing meaningful experiential learning opportunities that support NOAA Ocean Exploration's mission and inspire ocean literacy for the next generation.
Read more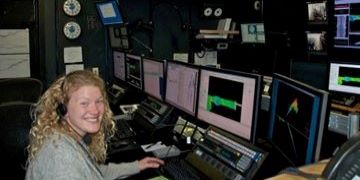 Explorer-in-Training Alumni
Since 2009, CPAESS/UCAR and NOAA Ocean Exploration have hosted over 120 Explorers-in-Training. For many, this first experiential opportunity was invaluable in subsequent academic and career pursuits. Dive into the profiles from past Explorers-in-Training to learn about their experience in the program, as well as resources to help you discover how to become part of this dynamic field.
Read more
For more information about the many careers available in ocean exploration, visit the Ocean Exploration Careers page.