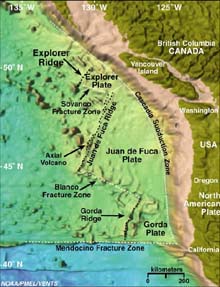 ---
Where is Magic Mountain?


Magic Mountain is a hydrothermal vent site located on Explorer Ridge in the NE Pacific Ocean, about 150 miles west of Vancouver Island, British Columbia, Canada. Explorer Ridge is a spreading center where two tectonic plates are spreading apart and submarine volcanoes erupt.
This volcanic activity brings heat near the surface and creates seafloor hot springs, called hydrothermal vents. The hot spring fluids contain dissolved chemicals that build mineralized chimneys and nourish an unusual ecosystem of microbes and animals that flourish in this hostile environment. The Magic Mountain hydrothermal vent site was first visited briefly in the early-1980's, but was not fully explored until the 2002 Submarine Ring of Fire Expedition, when it was discovered that the site included over 50 individual vents! The Magic Mountain Virtual Site helps visitors see what this spectacular site really looks like, without having to travel to the seafloor! Users can visit each of the four chimney fields within the Magic Mountain vent site.
Discover more video animations about Magic Mountain and Explorer Ridge.