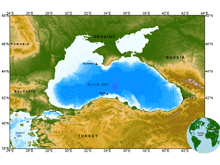 Click to view a slideshow of images from Okeanos Explorer: A New Paradigm for Exploration. Click image for larger view and image credit.
–

View slideshow
---
Okeanos Explorer: A New Paradigm for Exploration
August 1 – 31
Since 2004, the NOAA Ocean Exploration (OE) program and Dr. Robert Ballard's Institute for Exploration (IFE) have conducted a series of expeditions using IFE's remotely operated vehicles (ROVs) Hercules and Argus, and telepresence technology to provide scientists working on shore with high-definition video, images, and data in real time. These expeditions have also provided an opportunity for students, teachers, and the general public to share in the excitement of discovery — through events staged at "Exploration Command Center," through links to real-time video via the Internet, and with various informal science centers and the Boys and Girls Clubs of America (through a partnership with Immersion Presents). Finally, each expedition has served as a proving ground for a new paradigm for exploring unknown and poorly known ocean areas and phenomena using the new NOAA ship Okeanos Explorer, currently undergoing conversion in Seattle, Washington.
During the month of August, OE and IFE will engage in two efforts that will help us finalize plans for the Okeanos Explorer's inaugural year. First, we will revisit the Aegean and Black seas to further explore the natural environment and to search for and investigate Byzantine shipwrecks. This time, the expedition includes specific objectives for testing and evaluating systems and protocols that are similar to those being installed on the new ship.
Second, the Okeanos Explorer will undergo sea trials to test all of the systems installed on the vessel during the first phase of the conversion, including equipment for operating and navigating the vessel, as well as equipment designed to meet mission objectives. The results of the sea trials will be critical for guiding the second phase of the conversion, which will include the installation of the high-end technology to support telepresence, and the integration of the equipment to operate a new two-vehicle ROV system, similar to the Hercules and Argus.
This "mission" is unique in that it will focus on two field activities involving the dedicated team of OE and IFE staff. Both groups are working together to ensure that the Okeanos Explorer will help NOAA and the Nation usher in a new era of ocean exploration.