September 20, 2010
With clear skies and winds from the northwest, today we were finally able to turn off the engines and run multibeam survey lines by sail.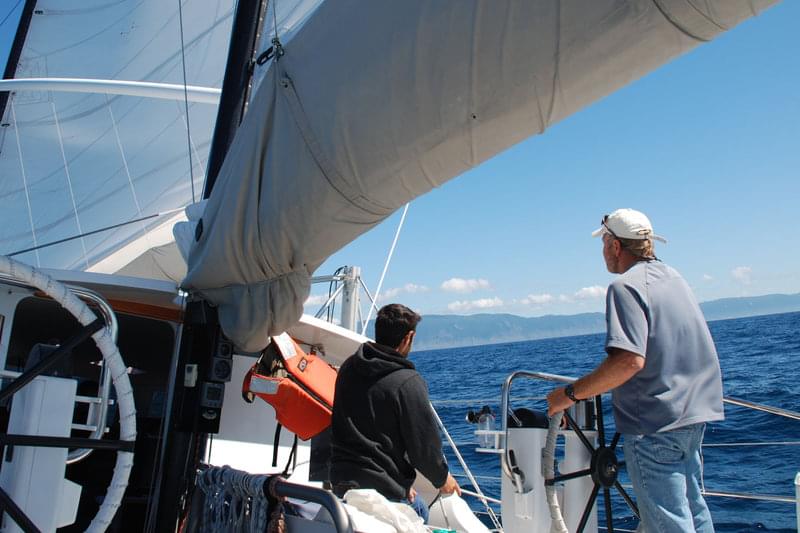 Switching from engine power to sail is relatively simple on the Baylis due to its modern design and only requires two crewmembers to hoist the sails. One crewmember drives the boat, while the other handles the sails.
Sound simple? It is. The Baylis was designed to be simple to sail, it requires less effort to hoist the sails on the Baylis, than some other smaller boats.
The sails are kept in sail-bags attached to the two masts. The sail bags were designed to simplify putting the sails away. Their simple design and ease of use, also helps eliminate the need for a larger crew.
The Baylis is a "Cat-Wishbone-Ketch" sailboat, meaning it has two masts, with the smaller in the back. The booms are 'wishbone' booms. Together the mast and booms make up the sailing "rig." The rig on the Baylis is freestanding, which makes it easier to sail than a traditional rig, as it eliminates the need for more control lines. The mast on the Baylis is made of un-stayed carbon fiber, which will flex in wind-gusts, and makes it easier for the crew to depower the sail.
There are two sails on the Baylis, the main sail and the mizzen. The Baylis only actually needs one sail to power the boat by wind, and the sails can either be hoisted by hand or electric winch. While the sails weight upward of 350lbs, one might think the obvious choice would be to use the electric winch. However, it's faster to hoist them by hand, so that is the typical method the crew uses.
Its ease of use has let the Derek M. Baylis to be only Coast Guard inspected vessel that can carry 49 passengers with only a crew of two. Other boats with similar passenger capacities need at least 3-4 crewmembers to sail.
Under full sail, the Baylis can reach speeds up to 25 knots, as compared to his max speed of only 10 knots using the motor. Sailing and minimal motor use is less invasive to the environment and exploration and research projects. With its simple sailing design, cost-effective minimal fuel usage and manpower, the Baylis has the potential to revolutionize oceanographic research on the west coast.