September 16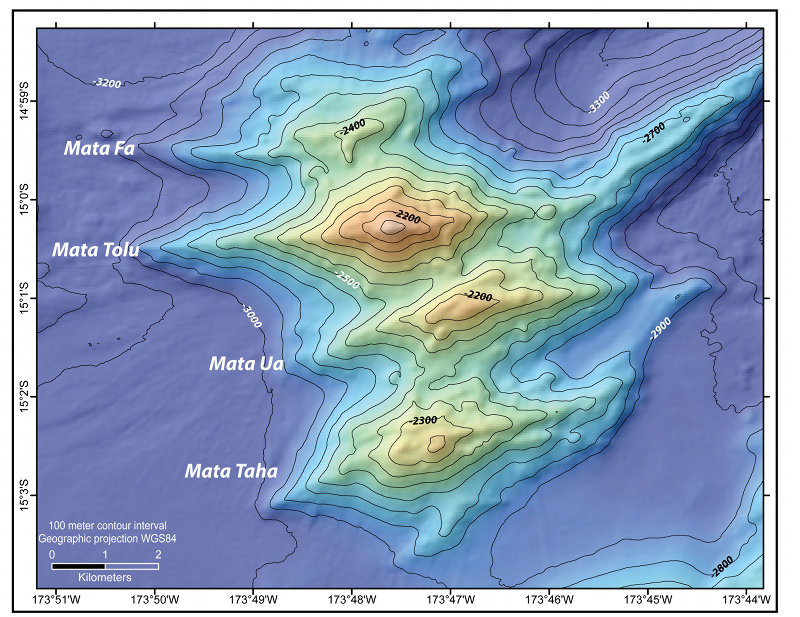 Submarine exploration over the past decade has shown the northeast Lau Basin to be one of the most intensively active regions on the surface of the Earth, with rapid crustal extension, numerous volcanic vents of both focused- and rift-like character, and multiple hydrothermal sources. The Mata (Tongan for "eye") group of reararc volcanoes are prominent in this regard; they are located about 40 to 70 km north-northeast of "Volcano O", and 25km west of the volcanic front of the Tofua Arc, represented at this latitude by the major edifice of Niua South Volcano which our expedition plans to explore in a few days time.
The Matas are an en echelon chain of NE-SW- to E-W-elongated, whaleback-like volcanoes, rising to summits about 1000m above the surrounding lava plains at ~3300m depth. The appearance in map view of the bathymetry of East and West Mata prompted the use of "eye" to describe their morphology. An active explosive eruption at ~1160m depth of one the rarest magma types on Earth was documented at the summit region of West Mata Volcano by an NSF and NOAA-led expedition in 2009. Follow-up research voyages staffed by government agency, university, and commercial exploration company crews have shown that six of the seven northern Mata volcanoes are hydrothermally active. The rare magma type called "boninite" seen erupting from West Mata also comprises the bulk of surface outcrops of the northern Matas. Boninite can be formed only through melting of unusually hot regions of the Earth's mantle that have experienced extensive previous episodes of magma extraction, fluxed by injection of water released from a down going tectonic plate. Boninite has a silica content intermediate between basalt and rhyolite, but with a magnesium content equal to or higher than basalt. The volcanic activity at West Mata is the first time a boninite eruption has been witnessed on Earth.
Our first exploratory dive in the northern Matas using the MARUM Quest 4000 targeted Mata Ua (Ua means 2 in Tongan), which we knew to have at least one hydrothermal source among the strongest of the Matas, located on its western ridge. Tow-yos and mapping with an autonomous underwater vehicle had identified an intense particulate plume with elevated methane, sourced somewhere at least 150m deeper than the summit at 2105m below sea level.
We started on the southern flank of the western ridge of Mata Ua, and initially worked our way more or less north-eastwards and then westwards up this flank. By the end of the dive at 6:15pm, we had worked our way around to the northern flank of the ridge, encountered nests of lava tubes, individually a meter or so in diameter, broken pillow lava fragments and steep talus slopes, intense zones of fossilized, hydrothermally altered pillow lavas exposed along precipitous walls, and a major fault scarp some 30 to 40m high with highly unstable walls interlaced by dykes and fault breccias. We obtained several lava samples which on post-recovery examination, we can tell have the microcrystals of very pale green olivine typical of boninite. The location of a single hydrothermal plume source evaded our best efforts despite sustained pursuit of an extensive layer of "smoke" at about 2150m depth, mantling the ridge. And although we encountered sporadic bacterial mats, squat lobsters, polychaete worms, shrimp and other denizens of hydrothermal vents, we could find no vector of increasing occurrence of these pointing to a vent source.
We have learned much about the morphology of the western flanks of Mata Ua, but a single hydrothermal plume source, if one exists, evaded our dive of exploration. Nevertheless, combining our dive observations with those obtained through remote sensing, we believe the probability of discovery of such a source has been significantly increased.