September 17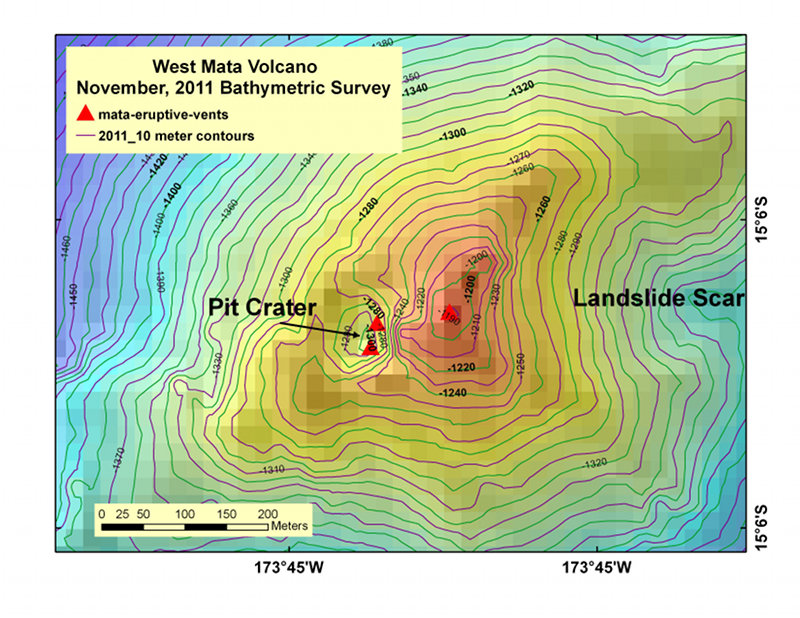 With all the new technology we have available to us in oceanography, some things never change. As I hauled on the line to recover the hydrophone mooring this afternoon on the fantail of the R/V Roger Revelle, my thoughts drifted back more than 35 years to my first voyage when nearly everything was deployed and recovered by hand. Some of the methods haven't changed much, but the instruments we use have undergone a revolution, allowing us to map the seafloor with ever-increasing precision and locate and sense phenomena that I never dreamed of in my early career.
The hydrophone and other instruments on the vertical mooring (the top has a large float to hold it vertical) have been recording for more than two years and we hope these recordings contain critical new information about the nearby submarine volcano, West Mata. West Mata was undergoing an amazing deep-sea eruption when we saw it last through the robotic eyes of the Jason remotely operated vehicle. Glowing magma and lava bursting from an underwater vent in May of 2009 held us awestruck for more than a week while we hovered over the volcano. But what happened at the volcano in the past several years since that last amazing visit?
Over the continents, we can monitor volcanoes by satellite so we know, usually within minutes to hours, when even the most remote volcano is erupting. Because light does not penetrate the ocean below about 300 m, we have to monitor the deep ocean with sound. Specialized underwater microphones or "hydrophones", like the one on the mooring we recovered this afternoon, are designed to listen for the range of sounds typically given off by underwater volcanoes. We are especially excited by the data that came up on the hydrophone today because we know that the volcano underwent a major event sometime in 2011. A resurvey of the volcano in November 2011 revealed that a large pit almost 70 meters deep and about 100 meters across formed on the summit sometime in 2011 at the location where the eruption was occurring in 2009. The same remapping of the volcano also showed that a substantial portion of the NE summit slumped off into deep water. Our dive to the summit of West Mata on Wednesday should reveal what exactly happened at the top of this amazing submarine volcano and the hydrophone recording should tell us exactly when this event or events occurred. Were these events related? Did the eruption shut down at the same time or is it still ongoing? We have to wait for the hydrophone data to be processed but tonight we sit in the laboratory on the R/V Roger Revelle as the CTDO package descends into the ocean to sense whether the volcano shows any sign of activity.