August 15, 2014
Today we are expecting visitors! When we had originally scheduled our cruises, we had set aside two days at the end of the project to have additional boats available to come out to join us.
The primary purpose for this was in case we had found any concretions during testing that we might want to shuttle to shore for x-ray analysis in hopes of identifying historic material. At this stage, we have not found any concretions other than the one we identified as being associated with shrimp boat wreckage, so we will not need to transport any artifacts to shore.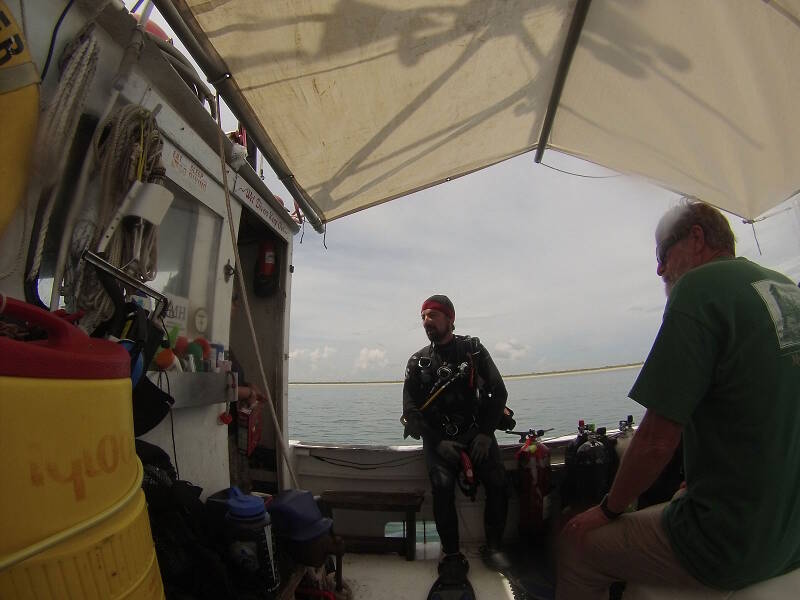 But, since we have a chartered boat on standby, we can take this opportunity to bring out some of our student volunteers, who otherwise wouldn't be able to dive with us on the project. We also have a representative from the Canaveral National Seashore who is our VIP guest.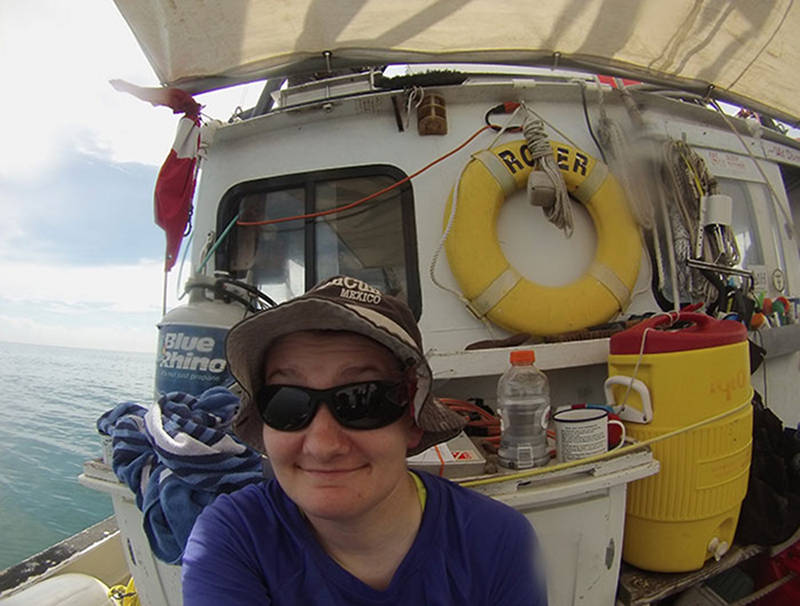 At around 8:20 am the vessel, That's Right, arrives from New Smyrna Beach. On board are two of our student volunteers, Shelly Gray and Florian Funk, along with Brian McNamara, who participated on the first two cruises. In addition, we have John Stiner, who recently retired from the National Park Service as the Resource Manager for Canaveral National Seashore.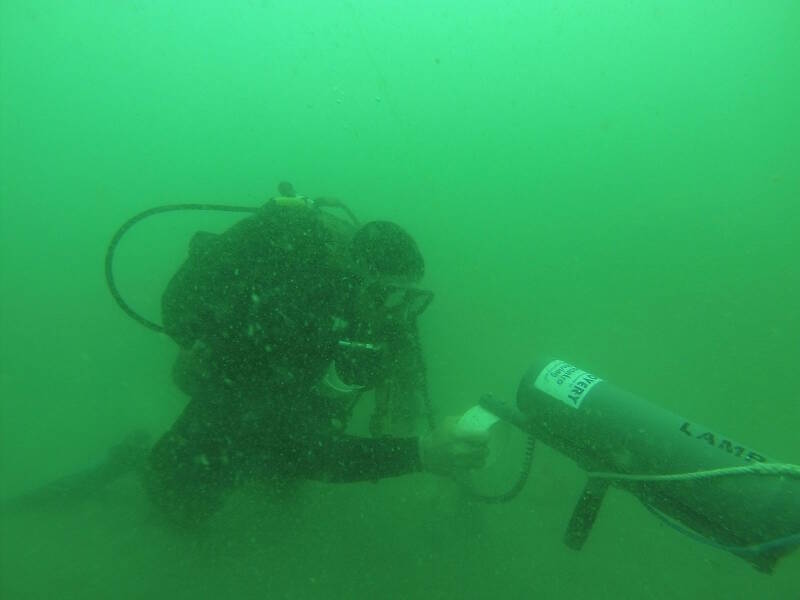 Target E4T
The first task of the day is to set a stern anchor out, so that we can hold the boat with two anchors over the site of Target E4T. Once it is set, we are ready to start diving.
The first pair of divers in the water are myself and Shelly. We have decided to give the handheld magnetometer a try in the immediate area of the buoy drop, since our probing yesterday did not result in any positive hits (other than one possible return on the east-west line, which we will also investigate further).
So far the handheld mag has not been as successful as we had anticipated, based on its performance during other surveys. After comparing the GPS plotted locations of our drop buoys, we have realized that on other targets the handheld mag led us away from, not towards, the strongest magnetic signature as plotted by our refinement surveys.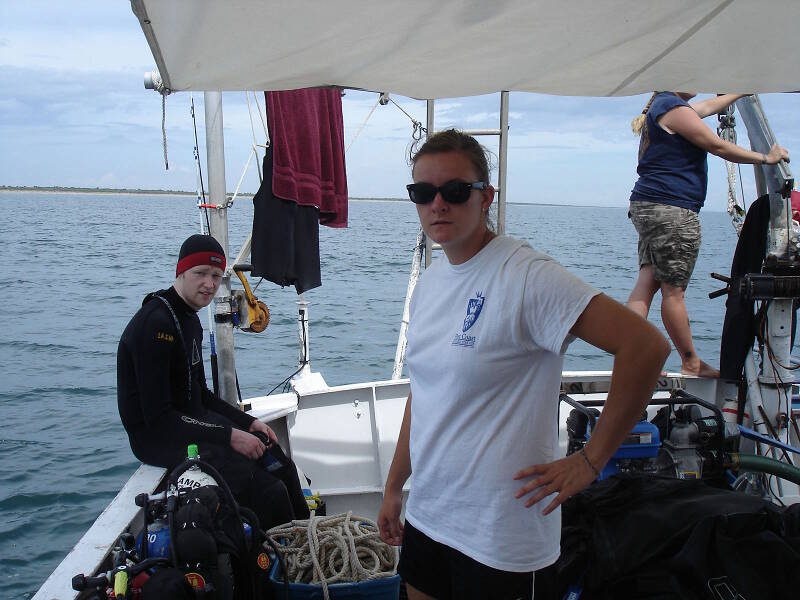 Once again, the results of the handheld magnetometer are somewhat inconclusive, and it does not indicate with any clarity the location of particularly strong magnetism. Instead of abandoning this site, however, we have decided to continue probing. Chuck and Shelly lay out the next transect on the bottom, and this time it is positioned at an angle of 60 degrees. This should place a line of probe tests right between the high and low readings of the magnetic contour map for this target, a prime location for whatever it is causing the anomaly. For this target, we have decided to probe in an X pattern in addition to our cross-pattern, so that we should really have some good coverage.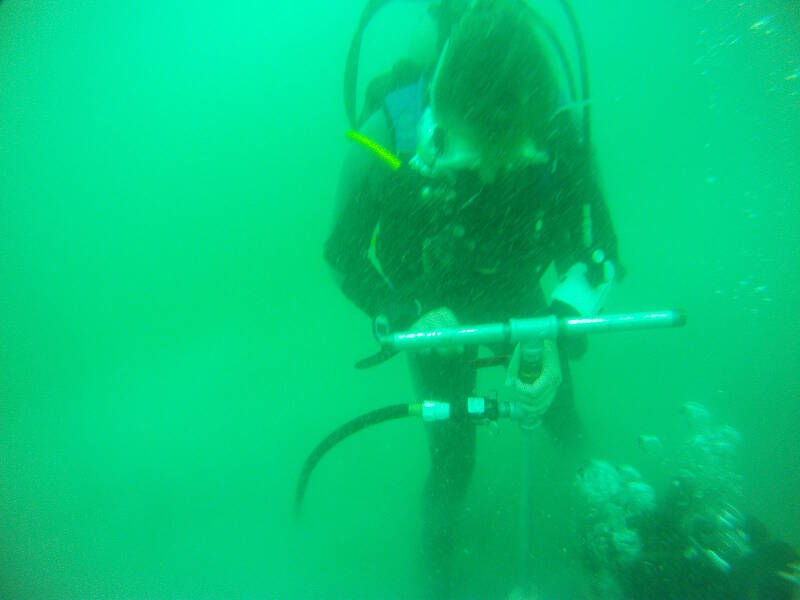 But the seas off Canaveral have challenged us once again. The winds and seas have changed and our boat's position is no longer suitable for probing the site without pulling up and re-deploying the stern anchors. This is a strenuous and time-consuming task, but at least we have some fresh, young bodies to help out! Brian and Florian swim out the stern anchor, using a large buoy to float it at the surface until they swim all the way out to its new position, where they drop it to the seafloor. Once that anchor is set we can pull the boat into position and start the next dive.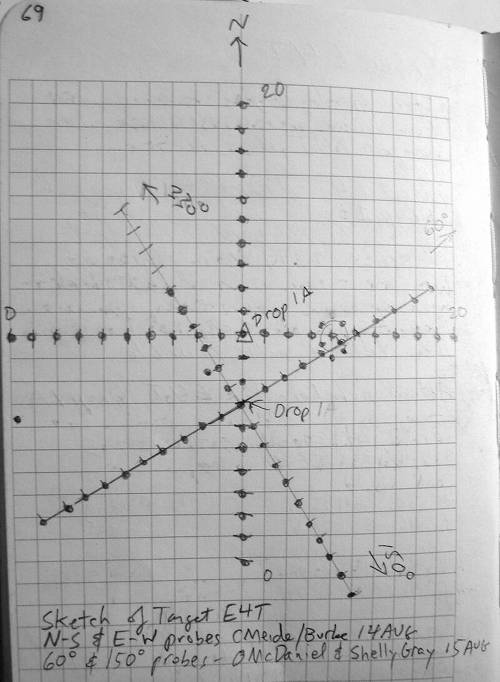 Brian and Florian complete the 60-degree transect without any positive hits, and they also place a few extra probe tests around the possible hit that we thought we had the previous day, at the 14-meter mark on the east-west line.
For the next dive, Shelly and Olivia dive together to manhandle (or woman-handle?) the probe. They first lay in the next transect line, this one oriented at an angle of 150 degrees. Now we have a giant X pattern on the bottom superimposed on our cross pattern. They proceed to complete another 16 probe holes. Alas, nothing is found once again! If there is historic wreckage here, it may be buried deeper than 10 feet in the sand, which would be very difficult to access archaeologically.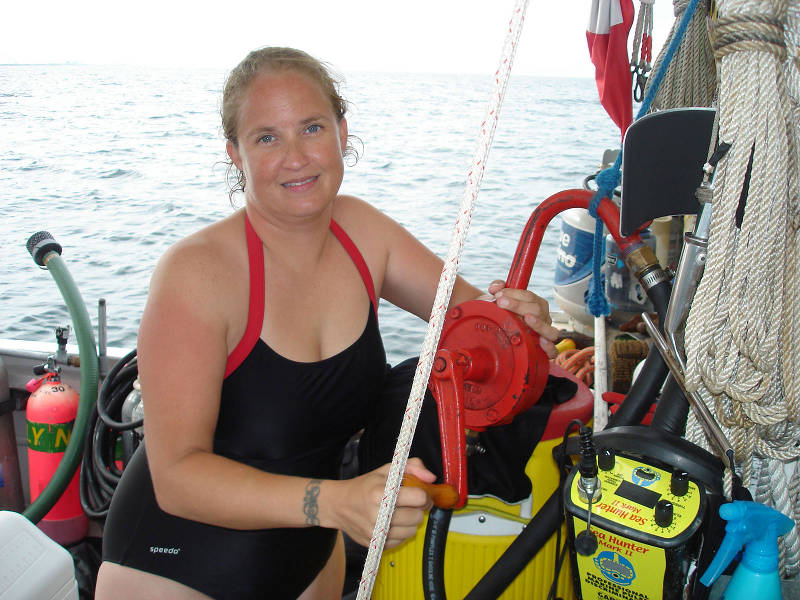 Target 1, Drop 1
After our guests depart on the That's Right, we pull up our materials and depart for Target 1, Drop 1. After analyzing the location of our drop buoys as pinpointed by the survey GPS, we have decided to do some more probing at this site closer to the magnetic anomaly as identified by the refinement survey. We had relied on the handheld mag and we now think that it might have led us away from the source of the magnetism.
Upon arriving on site, we drop the buoy at the spot indicated by our boat GPS. Before doing anything further, we need to fuel the generator.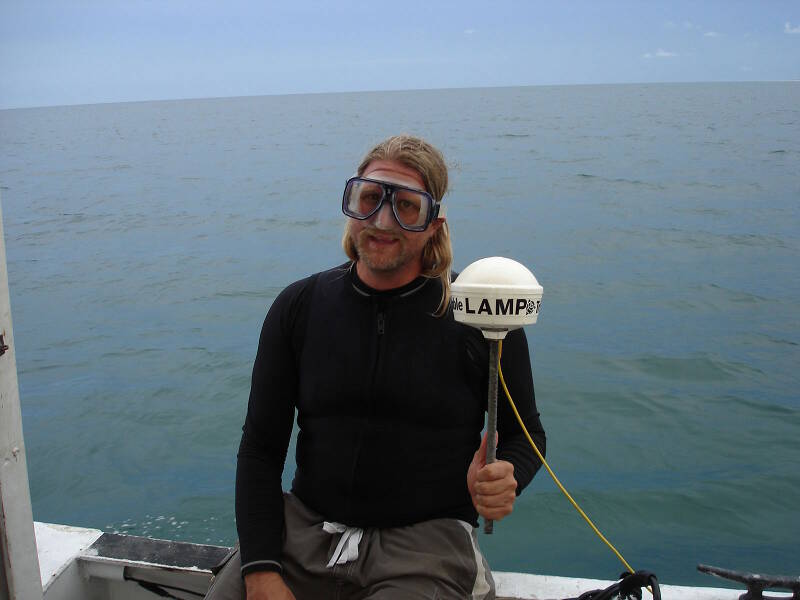 At this time, the sun is about to set and we decide to get some dinner and a good night's sleep, in preparation for tomorrow's work.
We have another boat coming out tomorrow with some Jacksonville news media, who are very interested in the project, along with a film crew working to produce a documentary on St. Augustine's colonial history.
With both press and work to do, tomorrow will be another busy day!