August 29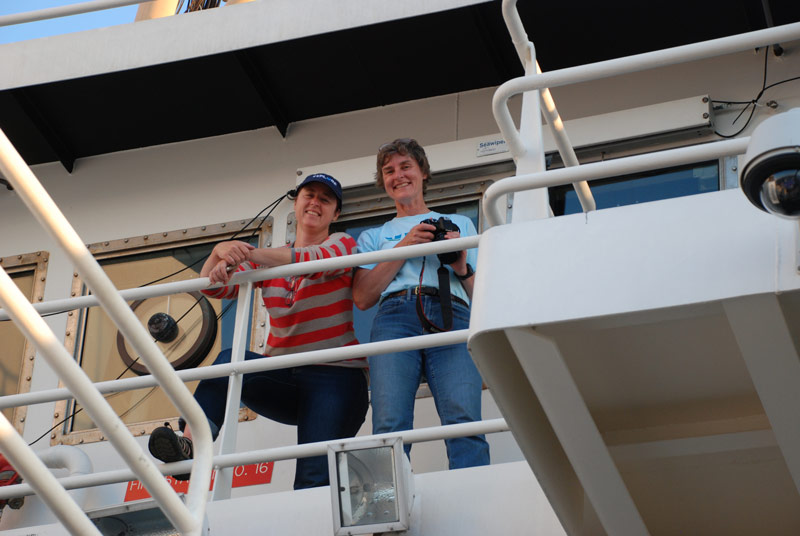 Have you ever wondered how people become scientists? Have you ever wondered if you could work on a research vessel? Or study the ocean? Or find a new species?
We provide some background information about the science team on the Explorers page. However, we want to give a sense of who they were before they were scientists. Stay tuned to the Mission Logs page as we feature members of the science team throughout the expedition. Next up is Liz Shea, curator of mollusks.
As a child, Liz says she was interested in oceanography and astronomy. At the time, these areas of interest appeared to be very different. But reflecting on it now, she realizes that "exploration" is the overriding theme of both.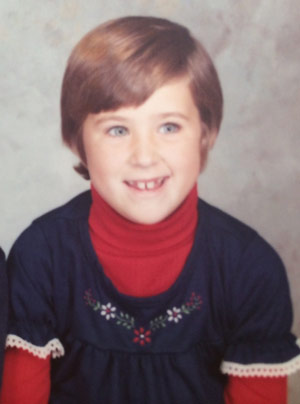 A self-professed tomboy, Liz's family moved around quite a bit when she was a growing up, including a year in Holland as a third grader. Liz says she was a quiet kid, but always felt grounded and happy when she was at the beach for vacations. Liz remembers collecting shells, sand crabs, and stones at the shore. Being immersed in the natural world spurred her curiosity.
As an undergrad, Liz liked the open-ended, unanswered questions of biology rather than the courses that had things to memorize. She says that, "Science is constant questioning. You do what you can to figure out the answers." Unlike some people who have a direct path to a PhD in mind when they start college, Liz stopped to explore other possibilities along the way.
During two summers while she was in college, Liz interned at the Smithsonian's National Museum of Natural History, working with Dr. Mike Vecchione and Dr. Clyde Roper to support an international cephalopod research meeting. Liz's intern duties were varied, including everything from tracking down dry ice, to moving library materials across town, to measuring squids. But she also found herself surrounded by fascinating people. She says they were "interesting people doing interesting work in interesting places."
She was intrigued by the lifestyle of the researchers in the museum, who travelled the world to do their field work. When she was inspired to go to grad school, she called her connections at the Smithsonian and asked, "What is a good project? Where can I go? Who can I talk to?"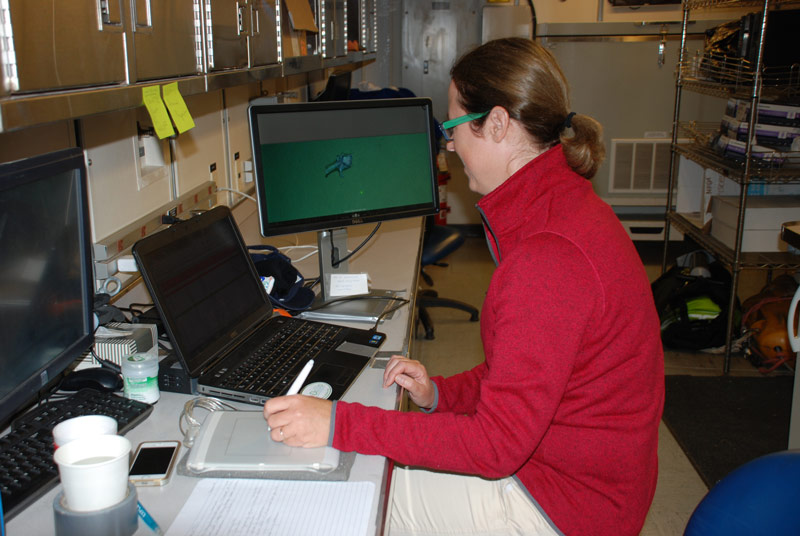 After earning a Master's degree from the Virginia Institute of Marine Science, where she met Martha Nizinski (the Chief Scientist for this expedition), Liz explored the intersection of science and public policy as a Knauss Sea Grant fellow at NOAA. When that ended, an opportunity to move back into the museum world opened up, and she became the collections manager at the Delaware Museum of Natural History. After two years, she knew the combination of research, collections, and informal science education was the right mix for her. She then transitioned into a PhD program at Bryn Mawr College where there were professors interested in both marine science and cephalopods.
In some ways, Liz has come full circle. Now, she takes her children to the beach in the summer and gives them time to explore outdoors. She is back at the Delaware Museum of Natural History as one of two research curators. She still studies cephalopods and is fascinated with life in these poorly known deepwater canyons of the Atlantic. She says she has "a great life that is never boring and is always full of new challenges." She has become one of those "interesting people doing interesting work in interesting places."