September 2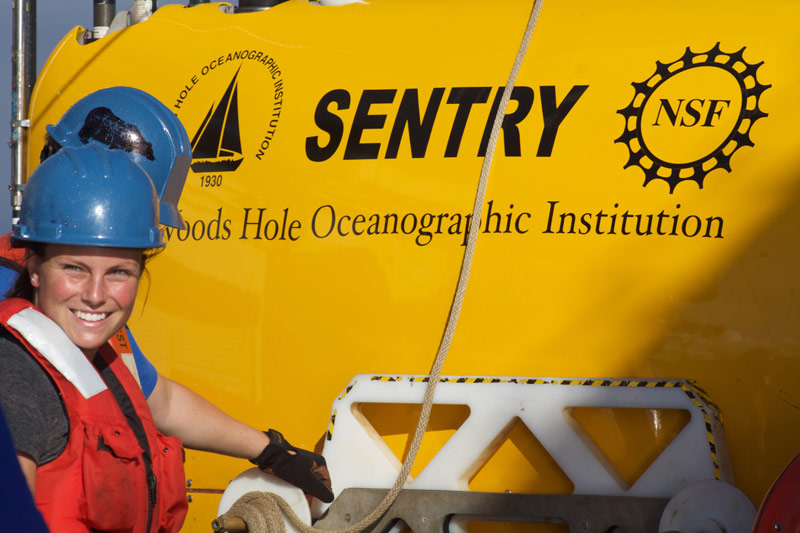 Have you ever wondered how people become scientists? Have you ever wondered if you could work on a research vessel? Or study the ocean? Or find a new species?
We provide some background information about the science team on the Explorers page. However, we want to give a sense of who they were before they were scientists. Stay tuned to the Mission Logs page as we feature members of the science team throughout the expedition. Next up is Molly Curran, Mechanical Engineer.
"BZZZZZZZZPT" is the sound you hear on the back deck of the ship as Molly uses the impact driver to remove the bolts securing the cradle for the AUV Sentry. It's obvious that she is comfortable with power tools as she confidently works to deploy and recover Sentry.
When asked when she began to use power tools, she laughs. She's been around them all her life. Molly spent most of her childhood outdoors on a small farm in Pennsylvania. From a young age, Molly and her brother built things, inspired by their parents who are engineers. They built all kinds of things, ranging from fences for the farm to rockets!
They once tried to make a "pool" in a stream by building their own dam. Their dad ended up helping out with some heavy machinery, but after a few days the two of them were swimming in their new "swampy, muddy, deep stream pool." She admits, "Maybe we were a little young to use hammers and nails, but we got to do it all." The kids helped build a treehouse—adding a zip line, ropes, and pulleys, and even building an obstacle course. She says "Building it was almost more fun than playing in it."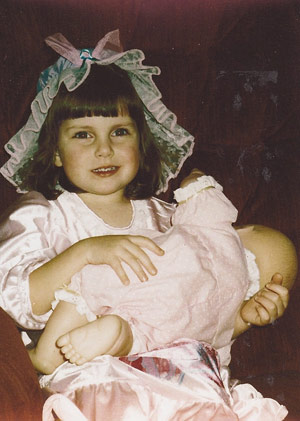 As a little girl, Molly loved dressing up and playing with baby dolls. And like many girls, she took ballet, tap, and jazz and competed in gymnastics. While she always loved math and science, Molly had an excellent math teacher at North Pocono High School who nurtured that interest. As a high school student, she was on the volleyball, track, and downhill ski racing teams. In 2009, she was the Pennsylvania Downhill Ski Racing State Champion.
It was not just downhill skiing where Molly liked to race. Molly and her family shared a passion for jet ski racing, spending nearly every weekend during the season in competition. She grew up in this environment, where teamwork and working until the task was complete were the key to success. If a ski broke down, the team would stay up all night to help repair it. Her understanding of mechanical engineering and the necessity to work long hours began here. She usually raced against boys. Her dad would tell her "You can do it! You can beat the guys!" It didn't matter that she was a girl; she had the ability to compete and win. Molly learned not to be intimidated.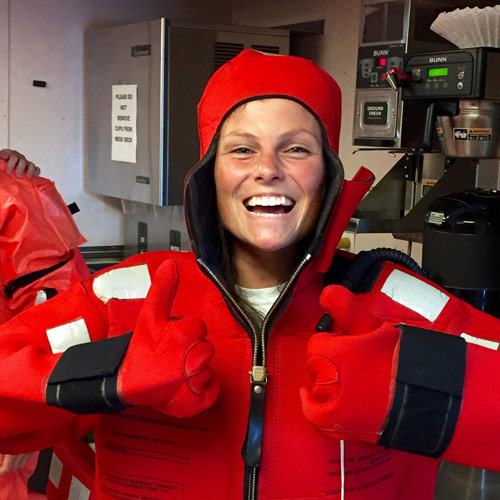 Having always loved math and physics, Molly decided to major in mechanical engineering at the University of New Hampshire. As one of 10 women out of almost 140 mechanical engineering students in her class, it was beneficial that she knew she could compete as an equal with the men. She also added a minor in ocean engineering where she worked with a team on a wave energy conversion buoy. They designed, built, and deployed a buoy off the coast of New Hampshire in a nine-month time frame.
Molly thrives on the challenge of change. She likes the excitement of the out-of-the-ordinary. She likes extreme weather. Whereas most people chose to stay home during a snowstorm, Molly and her family would head to the mountains to ski rather than stay at home!
She knew that she did not want to be an engineer stuck behind a desk and began looking for opportunities in a rich, diverse, and challenging environment. She learned about Woods Hole Oceanographic Institution (WHOI) and researched who was working in her areas of interest. She sent them an email asking for a tour and to learn a bit more about WHOI. Once her tour was scheduled, she sent her resume, just in case anyone knew of potential opportunities. Her "tour" actually turned out to be an interview and she was offered a probationary position with WHOI.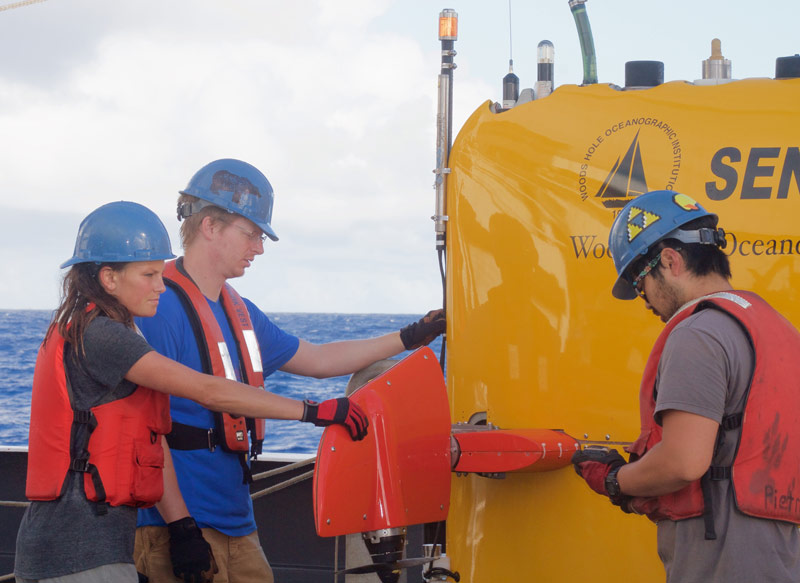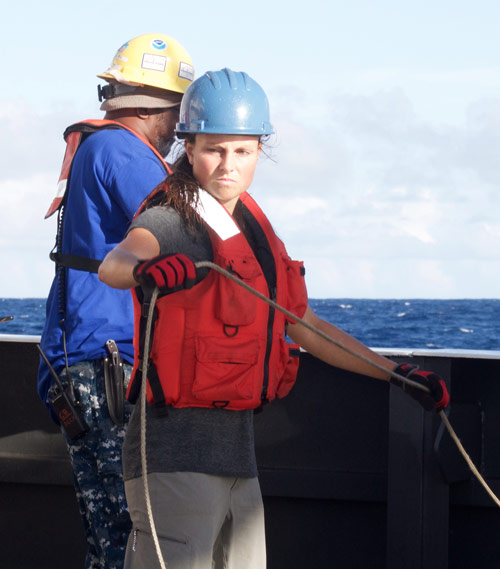 To job seekers, she recommends, "Don't wait for a job opening! Find people doing what you love and talk to them. They can point you in the right direction. And don't be afraid to show your passion. Getting a position is not just about what you know, it's also about having passion for the position."
Molly loves her job with WHOI. The best part, she says, is the combination of designing, building, and field testing. She likes having the opportunity to design new technology using computer-aided design and modeling programs, based on her ideas. The design can then be built in WHOI's machine shop. She then gets to test the designs in the field, out at sea. Molly can literally see her ideas coming to life.
It sounds as if she has found the perfect match for her skills and interests—a place where she can build and play with what she builds.