September 3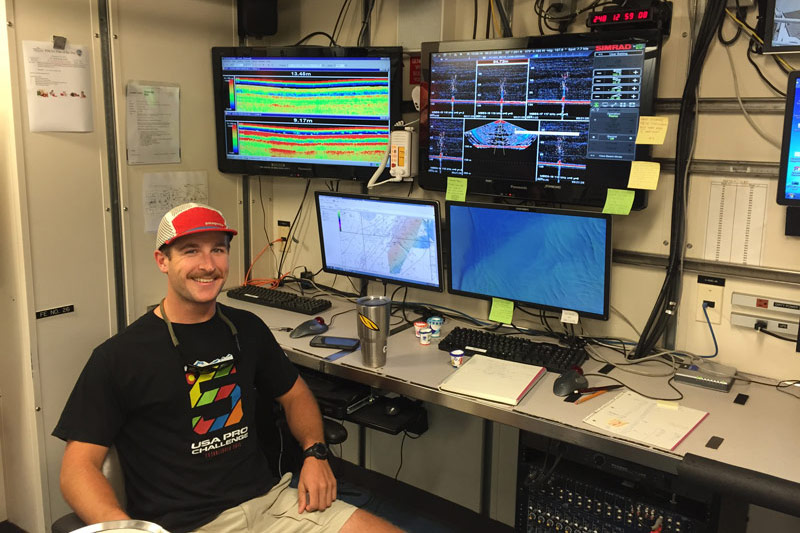 Have you ever wondered how people become scientists? Have you ever wondered if you could work on a research vessel? Or study the ocean? Or find a new species?
We provide some background information about the science team on the Explorers page. However, we want to give a sense of who they were before they were scientists. Stay tuned to the Mission Logs page as we feature members of the science team throughout the expedition. Next up is Will Hefner, Multibeam Processor.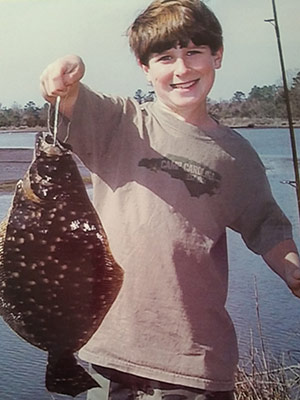 Growing up, Will spent a lot of time on his grandfather's farm near Monck's Corner, South Carolina. He loved to build forts, have stick fights with his friends, and run through the mud. His grandfather taught him to fish and hunt and from him, Will learned the value of understanding migrations, knowing where fish like to spend time, and the power of patience.
His childhood photo shows him proudly holding up a flounder. To this day, flounder is still one of his favorite fish to catch and eat. Will still fishes with friends of more than 15 years and enjoys being out on the water. When Will considered his career choices, he knew that he wanted to do something that would allow him to be outside.
As a child, Will didn''t think he was particularly athletic. He did karate and dreaded going over to friend's houses where they wanted to play football and baseball. However, in middle school he discovered basketball and played until high school, when he decided to join the golf team instead. His high school golf team was very successful and was even invited to play in a tournament in Scotland. While they didn't do very well in competition, Will loved meeting players from all over and enjoyed the challenge of the Scottish links.
While he had always ridden mountain bikes, in college Will joined the club road racing team and began working at a bike shop. He would go for a ride early in the morning, head to class, go fishing after class, and then do it all again the next day. Between biking and fishing, Will got to be outside.
Will is quick to point out that his "worst grades" were in high school biology, chemistry, and physics. He was much more interested in history. His grandfather was a historian and shared his knowledge through stories, linking the past to the present in dynamic ways. However, in senior year, Will took an advanced placement environmental science class with Ms. Langley at Academic Magnet High School in Charleston. He says "it wasn't chemistry lab or physics problems—it was all the pieces together that made it interesting." He thought about pursuing a degree in forestry, but the College of Charleston did not have a forestry program. He looked into geology, and with Dr. Leslie Sautter as his advisor, he never looked back. In some ways, geology is history, but on a much larger scale.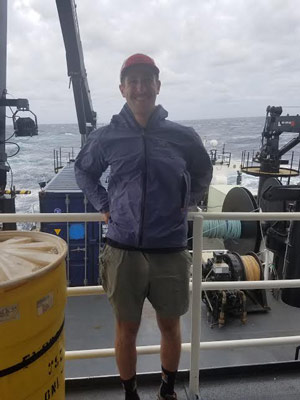 Will likes the way that geology integrates so many different areas of study, combining those areas—biology, chemistry, and physics—that he had not enjoyed previously. He says that many people graduate from high school not really understanding the field of geology. Some of his friends, who were studying other areas of science, would hear about his opportunities to work in the field, and say, "That is so much cooler than what I get to do!" While at College of Charleston, he was part of the BEAMS (Benthic Acoustic Mapping and Survey) Program. As part of this, he spent a semester learning about seafloor mapping and a semester actually doing it. He and his fellow "BEAMers" had the opportunity to present their research findings at the National Ocean Sciences meeting in New Orleans in February of 2016.
Looking toward the future, Will is weighing his options. He is grateful that his parents have been supportive as he decides what to do next. He is pursuing a few job possibilities and will start an internship with eTrac in September, helping with a mapping project. He is considering graduate school in one of the resource management areas, such as fisheries or forestry.
Whatever it is, he hopes it will continue to take him outside.