Archaeology is Discovery
Archaeology, simply defined, is the science of learning about past human behavior by examining the physical remains left behind by people of the past. Archaeological remains—including sites, structures, features, and artifacts—provide tangible links to our collective human history and are glimpses into the social, economic, and cultural evolution of our species. Archaeology—at its core—is about discovery. We discover how people in the past lived, how they adapted to their environment, how they utilized natural resources, and how they changed the world around them.
To the maritime archaeologist who studies historic shipwrecks, sailing vessels capable of crossing our ocean represent one of the greatest, and most influential, human inventions of all time. Ships brought people to new places enabling their own discoveries; ships provided the conduit for contact and the exchange of ideas between different cultures from far-flung places; ships moved materials, resources, and goods from one part of the globe to another; ships allowed for the establishment of trade networks that eventually transformed over the centuries into a global economy; and, incidentally, ships transported invasive aquatic species to many of our water bodies. Although previous archaeological research has taught us much about how ships influenced the course of human history, we are only beginning to learn how sunken ships influence ecology in the deepwater marine environment.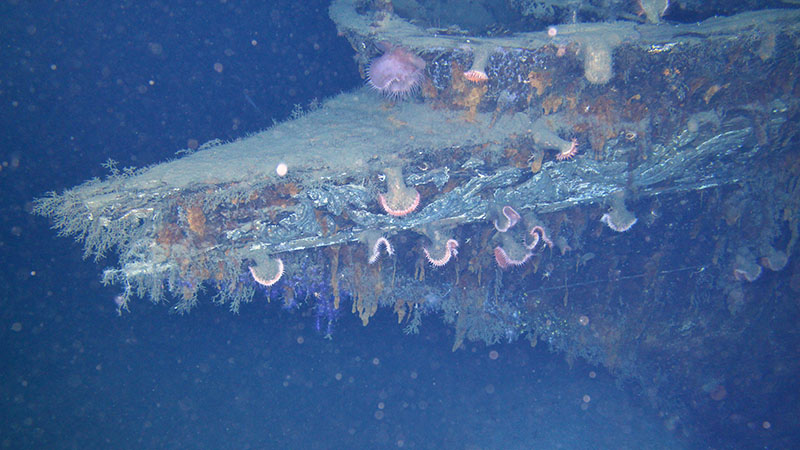 The Gulf of Mexico's maritime history spans more than 500 years, from early 16th century Spanish explorers through the 20th century and its two World Wars. Over those centuries, thousands of wooden-hulled sailing vessels met their demise within the Gulf's deep waters, an untold number of which haven't yet been found in historical records and were lost to time. This expedition will use modern-day technology, including a remotely operated vehicle (ROV) and its high-resolution cameras, to investigate and document two such wooden-hulled shipwrecks in the deepwater Gulf of Mexico to discover their secrets.
While we know both shipwrecks have wooden hulls, based on only a handful of photographs collected by an autonomous underwater vehicle, we know little more about them than that. Archaeologists will study how these technological innovations of their day were constructed, what materials were used, and what items they were carrying to learn what stories they have to tell. In addition, high-resolution photographs collected by the ROV will be digitally stitched together to create a three-dimensional (3D) representation of each shipwreck site. This method, called 3D photogrammetry, will not only allow archaeologists to examine the shipwrecks in fine detail and interpret their archaeological characteristics, but it will also provide highly detailed 3D models that viewers from around the world can virtually explore from the comfort of their home and make their own discoveries!