October 31, 2018
2018 National Ocean Exploration Forum: All Hands on Deck
October 31, 2018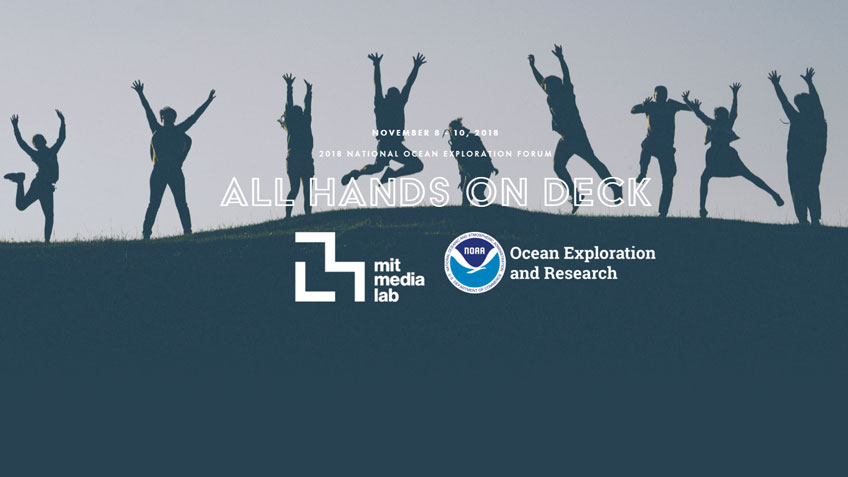 On November 8 - 9, 2018, MIT Media Lab Open Ocean is hosting the 2018 National Ocean Exploration Forum: All Hands on Deck . This forum builds on the past National Ocean Exploration Forums. The goal of the 2018 Forum is to imagine creative new ways to make the ocean so pervasive in modern culture that everyone has a positive association with and understanding of the sea.
The forum will bring together leaders in ocean exploration, industry, entertainment, recreation, art, and design to empower an open, inclusive global community of ocean explorers addressing the following themes:
PLAY | Sparking curiosity in the ocean through play
IMAGINE | Imagining a bright, optimistic future for the ocean
IMMERSE | Bringing people to the ocean and the ocean to people
CREATE | Engaging the heart and soul through the arts
EXPLORE | Empowering a global community of ocean explorers
CONNECT | Connecting people to the ocean and to each other
The NOAA Office of Ocean Exploration and Research is a key partner in the 2018 Forum, along with the National Marine Sanctuary Foundation . The agenda for the upcoming Forum can be found here .
On November 10, Boston will host the Boston Ocean Day , a public day of opportunities to participate in ocean exploration. NOAA Ship Okeanos Explorer and exploration partners will host a live interaction and panel discussion from 3 - 4 pm ET for visitors at the New England Aquarium IMAX theater.