Funding Opportunity - 2023 DEIA Ocean Exploration Education Grant
Funding Opportunity - 2023 DEIA Ocean Exploration Education Grant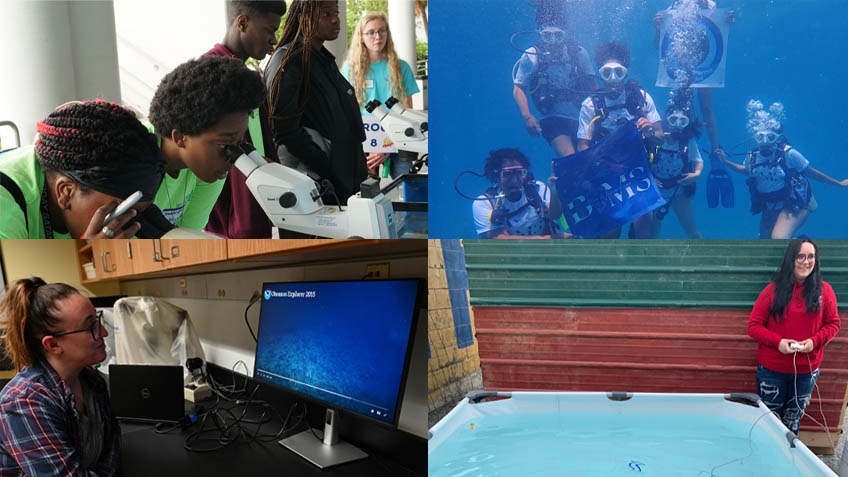 NOAA Ocean Exploration and the National Marine Sanctuary Foundation are proud to announce that the request for proposals for this year's Ocean Exploration Education Grants to support diversity, equity, inclusion, and accessibility (DEIA) efforts related to ocean literacy and workforce development is now open.
The ultimate goal of this funding opportunity is to advance ocean exploration learning opportunities by investing in projects and partners that support the Science, Technology, Engineering, Arts, and Math (STEAM) workforce development pipeline and engage diverse learners from communities that have been historically underserved and underrepresented in ocean science and exploration across U.S. states and territories. These grants are for use by educators and/or education program implementers working with diverse learners (in middle school, high school, undergraduate, and/or community college) through projects that reduce or minimize historic barriers to the field.
This funding opportunity was created in 2021 in response to the need to support and encourage STEAM education/identity for students from underserved and/or underrepresented communities and to build the capacity for STEAM educators to bring ocean science and exploration alive in the classroom and beyond. During its first year, seven DEIA Ocean Exploration Education Grants (previously called Ocean Exploration Education Mini-Grants) were awarded to organizations across the country for projects working at the intersection of STEAM education and DEIA to support the workforce development pipeline where barriers are most prohibitive to recruitment and retention of diverse learners.
This year, DEIA Ocean Exploration Education Grants will be offered in the range of $10,000-$20,000 for new proposals. The period of performance is January 1, 2023 - July 30, 2023. Previous awardees may also apply for up to $7,500 of additional funding to support program improvements that increase the long-term financial sustainability of a previously funded project beyond the original grant period.
Priority will be given to proposals that incorporate NOAA data and/or educational resources related to ocean exploration and can demonstrate program impact in a relatively short period of time. Proposals are due by November 7, 2022.
Learn more and submit a proposal today.
Published October 7, 2022