January 25, 2022
The Deep Ocean Education Project Website Earns Gold
January 25, 2022

---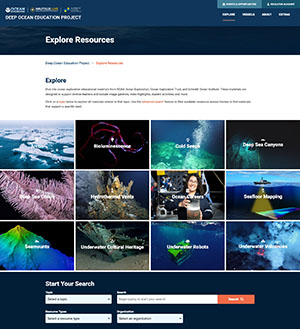 The Deep Ocean Education Project is a collaboration among NOAA Ocean Exploration, Ocean Exploration Trust, and Schmidt Ocean Institute featuring high-quality ocean exploration and science education materials from the three organizations. The website functions as a one-stop resource hub that brings together standards-aligned student activities, high-resolution images and videos, and stories from the field in one place, making learning about the deep sea more accessible to all. Once users find what they're looking for, they can save it directly to a collection that they build and organize, by creating a free account. Through the account feature, users can also share their collections directly with a colleague or friend via email.
In addition to great ocean education resources, the Deep Ocean Education Project website offers additional ways to connect with the deep sea and each of the organizations. The Vessels page features an interactive map, tri-ship calendar, and livestreaming notifications, to make it easy to connect with current or upcoming expeditions aboard one of the three research vessels. The Events & Opportunities page makes it easy to connect directly with the mission teams through live events, classroom programs, professional development workshops, and opportunities to join one of the teams at sea or onshore!
The website was created in cooperation with the National Marine Sanctuary Foundation, funded by NOAA Ocean Exploration and NOAA Education.
Published January 25, 2022