April 17 Log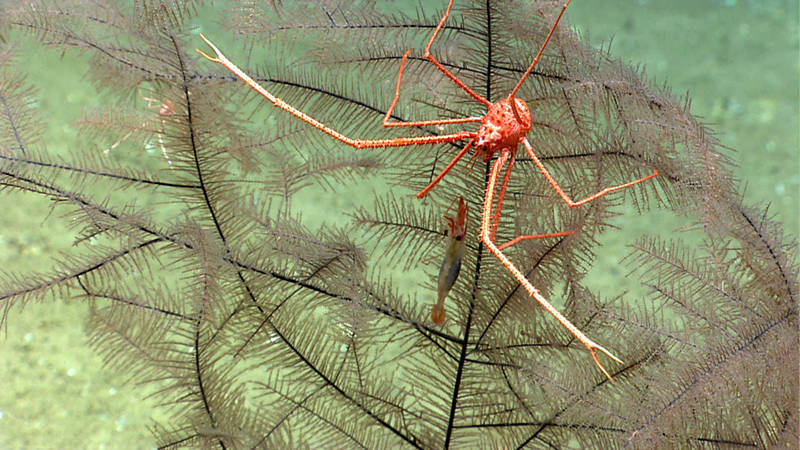 Many people assume that deep-sea crustaceans (crabs, shrimps and lobsters) of the Gulf of Mexico are mostly unknown, and that any study will uncover species unknown to scientists. But such is not the case.
Many species originally were collected and described during the late 1800s when expeditions sponsored by Harvard University, the U.S. Bureau of Fisheries and the U.S. National Museum joined to collect and study vast amounts of specimens. Even now, the preferred way to collect specimens is by dragging a big net, called a trawl, behind the ship, bringing everything to the surface, preserving it, and then sending specimens to scientists. As you might guess, these crustacean samples are dead and mangled. Even today, biologists have a poor idea of what these crustaceans look like when alive. The biologist must use old expedition reports, technical guides, or actual specimens to compare photographs to previous illustrations.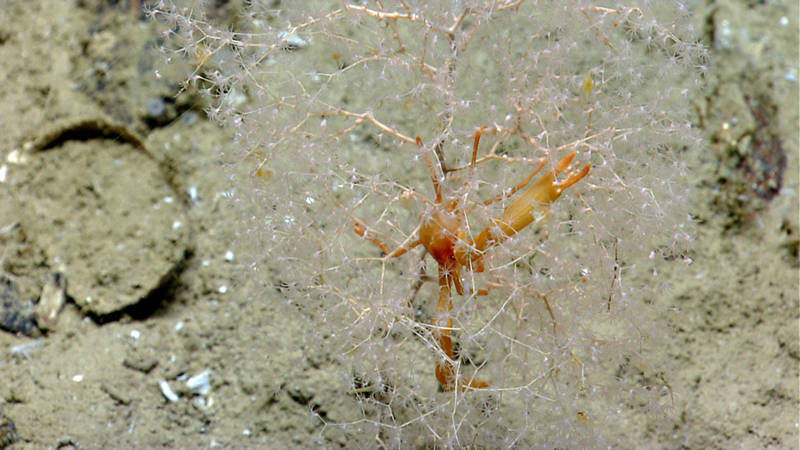 The ROV (remotely operated vehicle) allows biologists finally to see the color patterns, behavior, and biological associations of deep-sea animals. Our latest photographs gave us great views of squat lobsters of the family Chirostylidae (kye-roh-STYLE-i-dee) (which I will now call "coral squat lobsters"). These animals only live on deep-sea corals (including black corals and sea fans).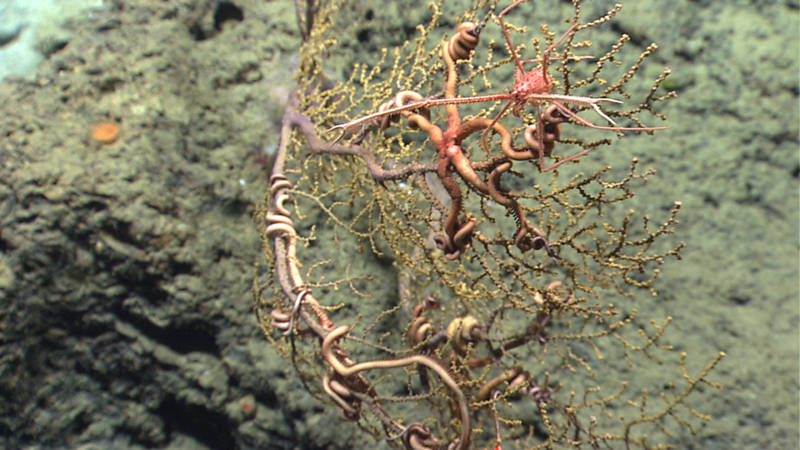 Previous studies had shown that, the flat-claw coral squat lobsters (Uroptychus nitidus) live among one kind of sea fan (Chrysogorgia). But we saw numerous examples of the spiny coral squat lobster (probably Gastroptychus spinifer, yet to be identified with certainty) living on black corals and sea fans, not just one species of sea fan. What's more, we could tell that the number of these squat lobsters per coral host depended on the size of the host. They sit with their long claws outstretched—to catch food, chase away other crabs, or perhaps try in vain to frighten off the ROV? We saw enough of them to know that both adult males (whose pincers do not fully close) and females (whose fingers do close) are there, but where are the little fellows? Nobody knows the life history of these squat lobsters.
Some of our photos show the deep-sea golden crab, Chaceon fenneri. Golden crabs and related crabs just about always put their pincers up when approached by a submersible vehicle or ROV. These "feisty" crabs use those pincers to crack open shells, but they seem just as happy to feed on garbage or dead stuff.