A Fish-eye View
August 16, 2004
Alison Sweeney
Graduate Student
Department of Biology
Duke University
In a camera store, lenses of all shapes, sizes, and prices are available, along with light filters that change the color, intensity, or polarization of light entering the camera. Photographers use this specialized equipment to accentuate a certain feature or adjust the color of light in a photograph. Animals have developed an even more impressive array of equipment to modify the properties of the light entering their eyes.
Just like camera equipment, animal lenses can focus an image with incredible precision, let just the right amount of light through an opening, or change the color of light entering their eyes. The kind of "eye equipment" the animal uses allows it to see the world with relevance to the problems it needs to solve, just like the photographer choosing to emphasize certain objects in a photograph. I'm here studying the eye equipment, or evolutionary modifications that animals use to help them survive in the deep ocean.
Today, the submersible team collected a fish with really cool lenses. They glowed fluorescent, with a bright green light, in the blue light cast from the submarine. Striking features like this usually have a function in an animal, so we wondered how this bright fluorescent green glow might help the fish.
The deep sea is a giant game of hide-and-seek. In this habitat, the only sunlight comes straight down from the ocean's surface, and is deep blue in color. Therefore, most deep-sea fish have eyes that point straight up. In this position, they can look for shadows of prey in the dim surface above. These bioluminescent prey are doing their best to avoid being lunch for another fish. To hide from things staring up from below, these potential deep-sea lunches often have what is known as counter-illuminating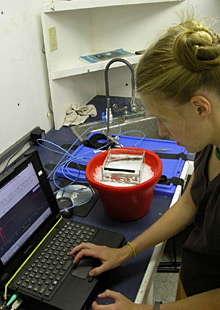 ---
bioluminescence. (Their bellies glow dimly in an attempt to cancel out the shadow cast by their bodies from the surface light.) So, it would make sense for a fish trying to find lunch to have visual tricks to increase its ability to see bioluminescent food that is trying to hide. We think that the chemical in the lens that made it glow with green fluorescence probably does just this.
This afternoon, we used an instrument called a "spectrometer" to measure the color of light that passes through the lens of the fish specimen collected by the scientists. It turns out that the fluorescent chemical in the lens absorbs exactly the deep-blue-colored light that comes down from the surface of the ocean, but it lets through the turquoise-colored light of most bioluminescence. It seems, therefore, like the lens has special color-filtering properties that allow the eye to discern the slight color differences between the dim bioluminescence of its prey and the dim light coming from the sky. The fish, like a good photographer, has used a lens to highlight the most interesting feature of the scene – food.