Slideshow
These images represent a visual collection from the Shanghai Expo that took place on July 8 - 14, 2005.. You can scroll through them one by one, or select the play button for an automatic slideshow. This page is best viewed in Netscape 7.1+ or Internet Explorer 5+.
Number of Pictures: of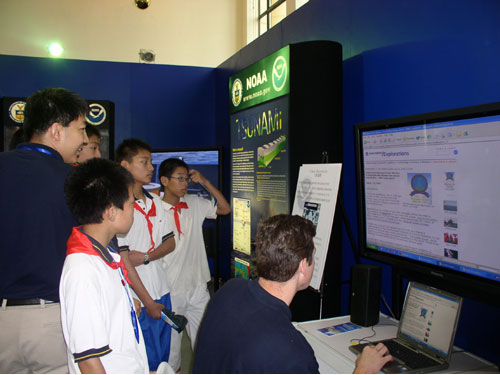 ---
NOAA recently exhibited at " Zheng He Ocean Voyages Exhibition and International Marine Expo " held in Shanghai, China July 8-15, 2005. The Expo, hosted by the Chinese government, commemorated the 600th Anniversary of China's ocean explorer ZHENG He and promoted awareness of marine technologies and ocean issues.
The Expo was a large-scale national event. Senior Chinese political leaders attended, including members of the Standing Committee of the Politburo, the President, Premier, and Party General Secretary. Principal Chinese marine management, academic, and research institutions also attended. This major campaign resulted in approximately 20,000 visitors per day. NOAA targeted the participating ocean management and science institutions, scientists and researchers, Chinese political leaders, and the general public.

Related Links
The Hidden Ocean, Arctic 2005: Zheng He Ocean Voyages