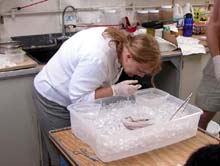 ---
Teacher at Sea
August 30, 2005
Paula M. Carlton
Teacher at Sea
Hickory Middle School
Chesapeake, VA
As a teacher my biggest challenge is to come up with lessons that engage my students and get them asking questions. Lecturing is no longer an effective mode of teaching, so planning lessons in which the students are active participants is very important. Because I teach special education, this becomes even more important, as I teach to students with a range of learning disabilities. Although I teach all four core subjects, my love of science, especially that of oceanography and geology, is evident in all my classes.
To say that I am privileged to be a participant in this cruise would be an understatement. This has been the experience of a lifetime for me and I could do this for another four weeks very easily. I've had the thrill of seeing the ocean floor, which is a perspective from which few people ever view the ocean. Each day, when the ROVs are brought up and the bio boxes are opened, it is like Christmas as we get to see and examine the specimens collected during the dive. Finding new species or variations of known species has been exciting and awe inspiring. For each thing we learn, more questions are raised. Seeing the desolation caused by trawling is heartbreaking, but it is wonderful to see life starting to form again as sponges, sea urchins and little tiny corals start to inhabit the area again. The experience of working side by side with some incredible scientists is one that will be difficult, if not impossible to duplicate. I've worked regular shifts logging data in the control van as I watch the topography of the ocean floor go by and see fishes, corals, sponges and other live species. I've worked in the lab taking pictures of each specimen and I've even picked through slurp (an apparatus for collecting specimens) collections, looking for worms, crinoids and other sea animals. I can't wait to share this experience and knowledge with my students, showing them videos and pictures of the wonderful things I've seen.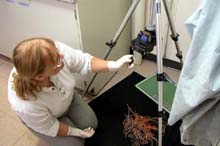 ---
How will this translate into the classroom? By utilizing the information I've gathered on this trip, I will be able to develop better questions for my students to explore and hopefully they will begin asking their own questions. By having teacher in-services to introduce them to the NOAA website and providing them with lesson plans and WebQuests for their students to use, it is my hope that more life science and geology lessons will focus on our oceans. Lastly, it is my intent to start a program that will introduce more young people, especially students from underrepresented groups, to marine science. I've already contacted some key people back in Virginia Beach and will figure out how to write grants for funding when I return home.
Thanks to University of Rhode Island's Armada Project, of which I am a participant and the University of Connecticut, who funded my participation in this project, I've been able to participate in something that has been a dream of mine for many years. Do I want to do this again? Most definitely! It is my intention to apply for every empty berth on any deep ocean research project NOAA has available, during the summer when I'm not teaching.
---
Sign up for the Ocean Explorer E-mail Update List.