Expedition Education Module
Expedition Education Module
Ocean Explorer Expedition Education Modules (EEM) are designed to reach out in new ways to teachers, students, and the general public, and share the excitement of daily at-sea discoveries and the science behind NOAA's major ocean exploration initiatives with the people around the world. The Exploring the Hidden World of the Maritime Maya 2011 Expedition offers a unique opportunity to engage explorers of all ages as we continue our journeys to parts of our ocean planet that few have seen - an ancient Maya seaport at the northern tip of the Yucatán Peninsula.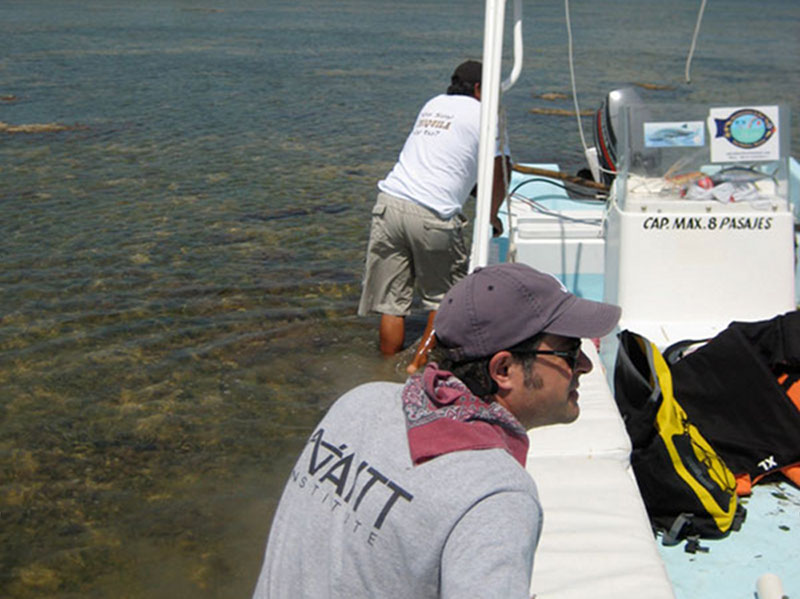 Expedition Purpose
Why Are Scientists Exploring an Ancient Mayan Seaport?
Learn more
Classroom Lessons
A collection of inquiry-based lesson plans for students in grades 5-12 that have been specifically designed for this expedition. These lessons have been correlated to the Framework for K-12 Science Education as well as the Ocean Literacy Essential Principles and Fundamental Concepts. You will also find links to other lesson plans residing on the Ocean Explorer Web site that have been developed for previous NOAA expeditions, and have content that relates to the Exploring the Hidden World of the Maritime Maya 2011 Expedition.
View Lessons
OceanAGE Careers
See highlights of some of the careers that will be represented during this expedition:
Other Resources and Links
The web links below are provided for informational purposes only. Links outside of Ocean Explorer have been checked at the time of this page's publication, but the linking sites may become outdated or non-operational over time.
Web site for the Exploring the Hidden World of the Maritime Maya 2011 Expedition
Discover Your World with NOAA: An Activity Book - A free printable book for home and school use introduced in 2004 to celebrate the 200th anniversary of NOAA; nearly 200 pages of lessons focusing on the exploration, understanding, and protection of Earth as a whole system
Glover, J. B., D. Rissolo, and J. P. Mathews, 2011. The Hidden World of the Maritime Maya: Lost Landscapes Along the North Coast of Quintana Roo, Mexico. -in- B. Ford, ed. When the Land Meets the Sea. Volume 2, The Archaeology of Maritime Landscapes. Springer Science+Business Media. New York. (pp. 195-216)
www.smm.org/sln/ma/ - Maya Adventure, from the Science Museum of Minnesota; includes science activities and information related to ancient and modern Maya culture
http://teacher.scholastic.com - Peoples of Mexico - The Maya from Scholastic.com
www.pbs.org/wgbh/nova/teachers/programs/2804_maya.html – Teacher's Guide to accompany the NOVA production, Lost King of the Maya; includes an activity using the Mayan calendar
Fedick, S. L. and B. A. Morrison. 2004. Ancient use and manipulation of landscape in the Yalahau region of the northern Maya lowlands. Agriculture and Human Values 21:207-219
Fedick, S. L., M. de L. Flores Delgadillo, S. Sedov, E. Solleiro Rebolledo, and S. Palacios Mayor. 2008. Adaptation of Maya home gardens by "container gardening" in limestone bedrock cavities. Journal of Ethnobiology 28(2): 290-304