September 22
It was a balmy late afternoon at Vista Alegre, and the team was hoping to squeeze in one last core in the East Harbor before calling it a day. As the flotilla made its way into the little bay, we remarked upon the interesting features along the shoreline that we had noted during our earlier reconnaissance. Visible were the remains of a stone dock-like feature that a colleague, Sam Meacham, and I first noted way back in 2005. Also of interest was an ancient landing area, which appeared to be associated with a platform mound at the site. Clearly the original inhabitants of Vista Alegre were modifying this area, perhaps to better accommodate the arrival and departure of sea-going canoes.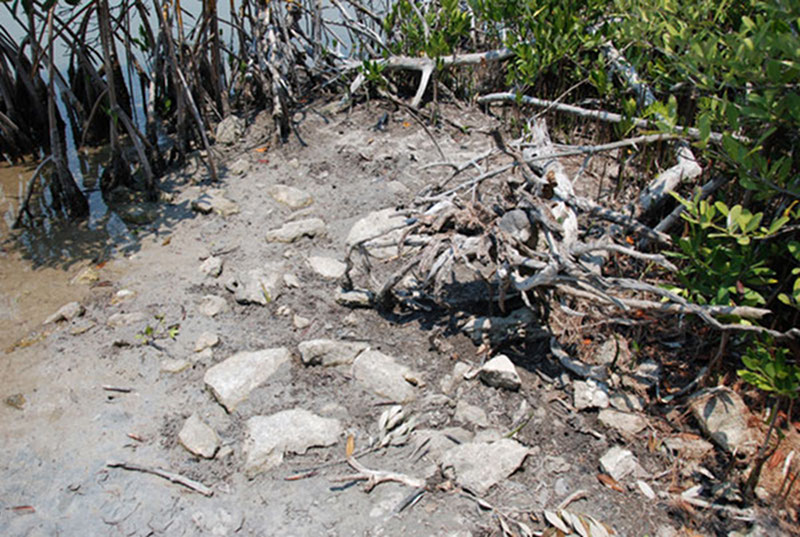 Given everything that Jeffrey and I knew (and were learning) about Vista Alegre, it was hard to imagine this little sheltered cove as anything but a lost and forgotten harbor for intrepid and enterprising Maya traders. Few locales along the north coast were more idyllic, and no other such place was adjacent to a major site. All you had to do was close your eyes and imagine dozens of dugout canoes, loaded with everything from cotton to cacao, moving in and out of this ancient harbor.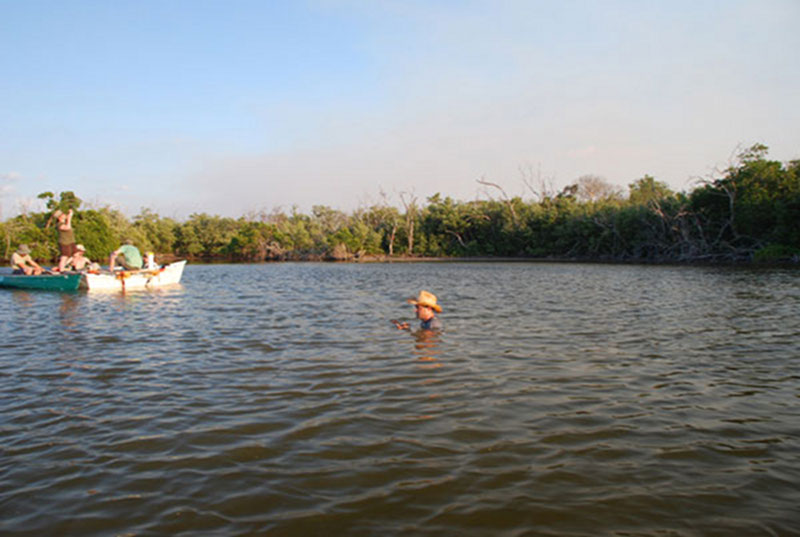 As the team prepared to sink its first core in the East harbor, I decided to slip into the water and have a look (or feel) around. Earlier that day, Derek had been swimming a number of transects across the harbor, characterizing the bottom sediments and vegetation. While successfully avoiding our friends, the stingrays, he probed an area of the harbor bottom that seemed a bit harder or more consolidated than the usual deep, soupy seds. Derek had marked the spot with a long pole, and I floated over to check it out.
The visibility was next to zero so it didn't really matter that I hadn't brought a dive mask with me that day. Standing in chest-deep water, I reached down and start dragging my fingers gently through the muck. Within seconds my hands were filled with pottery sherds! I reached down again and confirmed that I was standing atop a dense pile of sherds and shells. A midden in the middle of the harbor? Feeling my way around with hands and feet, I determined that the deposit was concentrated along a north-south ridge, roughly a few meters long, with the ubiquitous soft, deep muds on both sides.
Emily and Derek paddled over to have a look. Jeffrey was in the water too, steadying the coring platform a few meters away. I held up the sherds for him to inspect. Even from afar, a few of the big tecomate rim sherds were readily identifiable: Vista Alegre Striated type, a Terminal Classic unslipped ware that took its name after the site. What were the sherds doing there?
As with any archaeological site, what gets behind left for us to find – that is, what preserves in the archaeological record – provides and incomplete picture of what was originally there. We know that the ancient inhabitants of Vista Alegre were modifying the shoreline, mostly likely to facilitate the loading and unloading of canoes. Such stone features tend to stick around for the archaeologist to discover. But maybe the Maya had also constructed wooden docks that extended further out into the harbor. Certainly it would not have been hard to do. Perhaps the occasional basket of trash (sherds and shells) was dumped off the end of the pier. Of course, such a wooden feature would be long gone, but the pile of trash on the bottom of the harbor would remain.
Our colleague in Belize, Heather McKillop, has located and mapped dozens of submerged wooden posts at the ancient Maya coastal site of Paynes Creek. Could such pilings await discovery just beneath the muds of the East Harbor? After some initial probing, Trish was convinced that we were dealing with anoxic conditions, and along with the sherds and shells I pulled out was what appeared to be a human-modified manatee bone. So perhaps that elusive Maya canoe might be lurking under my feet after all. Clearly we have more mucking around to do.