New Frontiers in Ocean Exploration 2011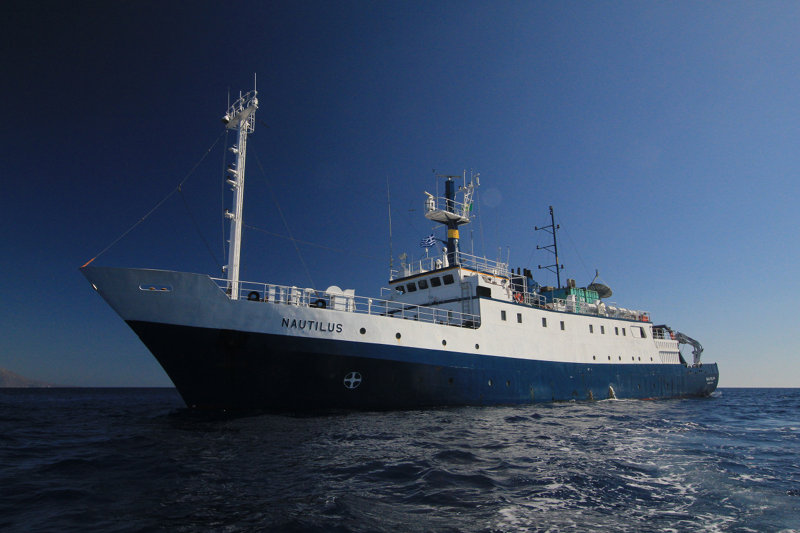 The Institute for Exploration (IFE), Ocean Exploration Trust (OET) and University of Rhode Island (URI) Center for Ocean Exploration (COE) are collaborating to lead an expedition during the summer and fall of 2011 to conduct ocean exploration projects in the Black, Aegean, and Mediterranean Seas, and eastern Atlantic Ocean. The first two legs took place off the Turkish Black Sea and Aegean coasts, focused on seafloor imaging.  The main objectives of the subsequent six legs are to explore the geology and biology of the Santorini volcanic field in Greece, underwater volcanic fields off Italy, escarpments off the coast of Spain, Gorringe Bank off Portugal in the Atlantic, and the continental shelf and abyssal plain off Israel.
The supplement to the March 2012 issue of Oceanography is dedicated to the continuing expeditions of the NOAA Ship Okeanos Explorer and Exploration Vessel (E/V) Nautilus. The mission of these two ships is to explore the most unknown areas of the world's ocean, while engaging the interest of scientists, educators, students, and the general public in undersea exploration and discovery through active participation in real time.
Teams are operating from the Exploration Vessel (E/V) Nautilus, a 64-meter research vessel based in Yalikavak, Turkey, operated by the Ocean Exploration Trust. Nautilus is equipped with the remotely operated vehicles (ROVs) Hercules, Argus, Diana, and Echo, operated by IFE. A high bandwidth satellite system on board is in use for the duration of the field season to facilitate remote science and education via the Inner Space Center (ISC) at the URI Graduate School of Oceanography and Exploration Command Consoles (ECCs) located around the world.
The work supported by NOAA OER on the E/V Nautilus and the NOAA Ship Okeanos Explorer is part of NOAA's systematic program in ocean exploration enabled by telepresence technologies.
Key Objectives:
The development and integration of exploratory technologies, educational programs, field operations, and public outreach programs for ocean exploration.
The development and implementation of new seafloor imaging and mapping capabilities, as well as new interdisciplinary research programs following on the initial exploration of previously undocumented areas of the world's ocean.
In support of efforts to identify and train the next generation of scientists and engineers, a strong component of this program will be to train and educate students at all levels in a variety of fields associated with telepresence-enabled ocean exploration.
Cruise Legs and Locations:
July 23 - Aug 14: Black Sea, Turkey (archaeological imaging)
Aug 18-28: Bodrum, Turkey (archaeological imaging)
Sept 1 - 10: Santorini (geological/biological exploration of Kolumbo and other areas)
Sept 14 - 23: Italy (geological/biological exploration of Aeolian Arc volcanoes and/or south of Sicily)
Sept 29 - Oct 7: Spain/Mediterranean (geological/biological exploration of submarine canyons)
Oct 8 - 19: Portugal/Atlantic (geological/biological exploration of seamounts)
Oct 26 - Nov 3: Italy (geological/biological exploration of Aeolian Arc volcanoes and/or south of Sicily)
Nov 10 - 16: Israel (geological/biological exploration of submarine canyons)