July 23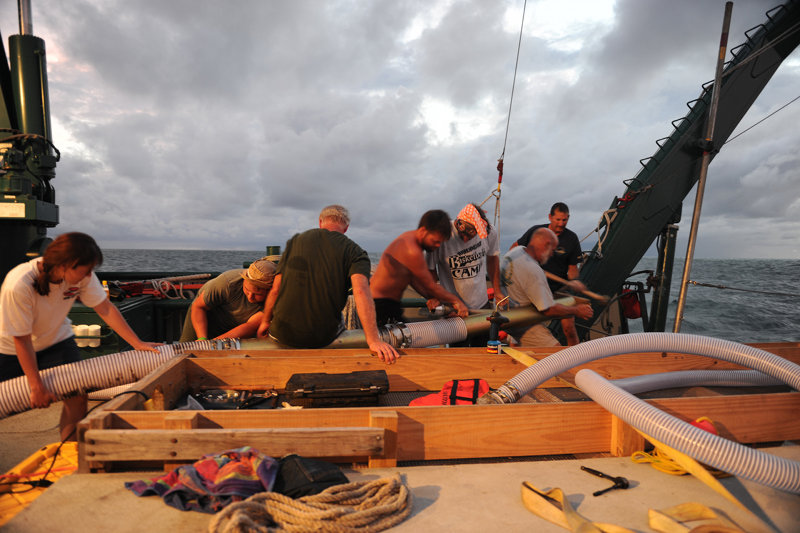 Weather conditions have been less than ideal for the last 24 hours. Small storms with approximately 10-15 knot winds and 3-5 foot sea swells have left us aboard the ship for much of the day. The few breaks in storm cells were seized, however, to complete dives and forge ahead. Our first dive was conducted briefly at noon to collect samples of the low grade chert, or glassy dolostone, in nearby areas. The purpose of this is to determine which areas have chert sufficient enough for knapping and if any particular areas have a better quality knappable material over the other. Due to an impending storm this dive was completed in 7 minutes.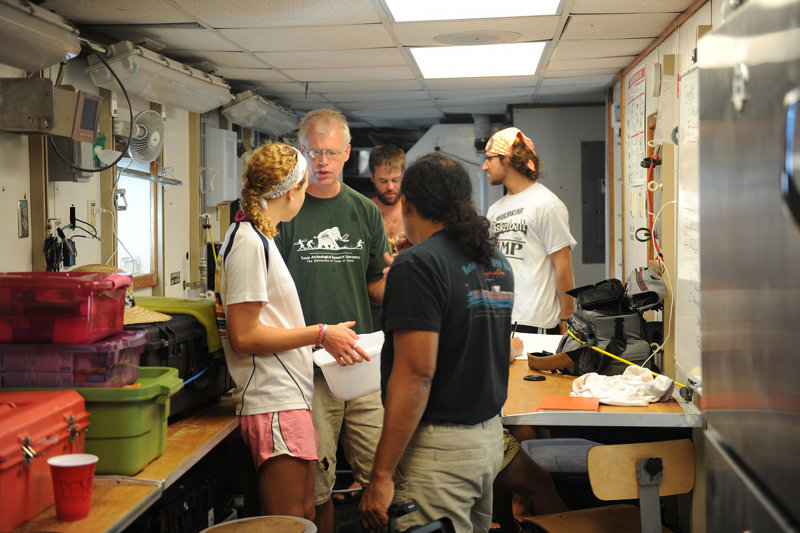 The stone material recovered from dive one was retrieved from two distinct areas and was cursorily analyzed aboard the Weatherbird. The material exhibits distinct qualities of low grade chert/dolostone with one sample being of slightly higher quality over the other. Both are exactly what we're looking for.
The afternoon was far more productive than the morning. The small storm cells had passed and we were able to complete all necessary dredge repairs (refitting an engine and combining two 100 ft hoses) and put divers in the water to redeploy the dredge hose. The hose and temporary marker buoy were placed over one area in which the sufficient chert was identified earlier. After repositioning the dredge hoses in the water a new datum post was placed and excavations began. Unfortunately, one of the hoses was clogged and the operation temporarily shut down to evacuate the sand from the hoses. At this time, a new round of storms was establishing and we were forced to shut down for the day. Tomorrow our task will be to make certain all dredge hoses are clear of debris and continue excavations.