February 27, 2017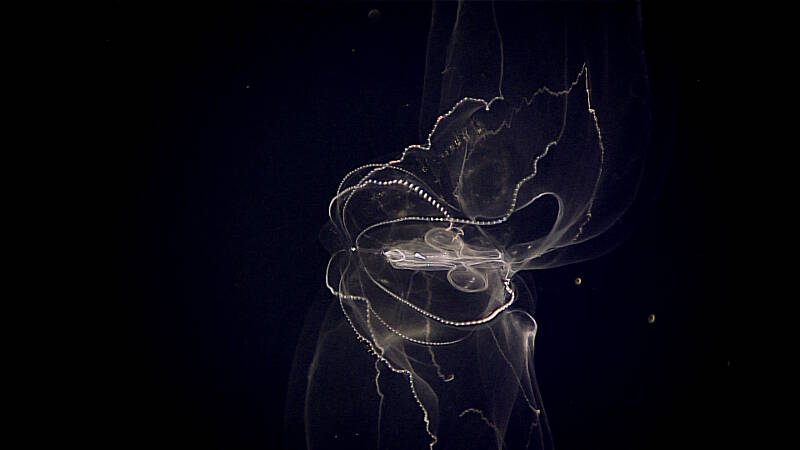 Though it makes up between 95 to 99 percent of the total livable volume of the planet, the water column (all the water in the ocean between the surface and the seafloor) remains one of the most poorly explored environments.
The organisms that live in the water column are an essential link in the marine ecosystem. Many zooplankton and small fish feed in the surface layer at night and then swim to depth during the day, where they become an important food resource in what would otherwise be a food desert.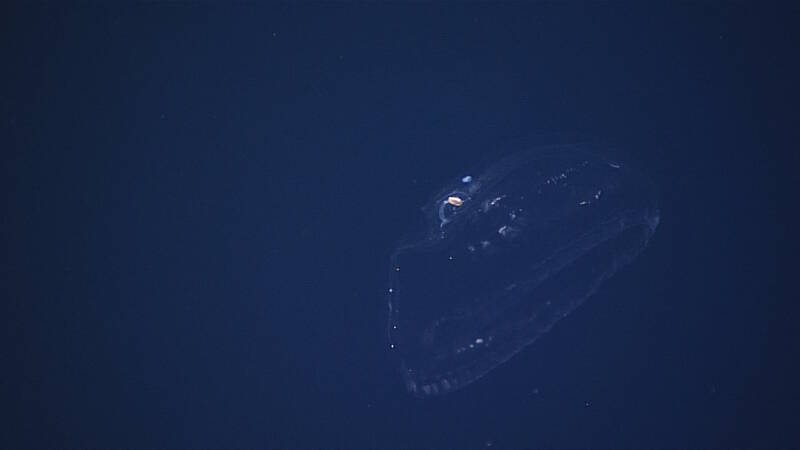 Throughout the global ocean, there is high density of animals in mesopelagic depths (200-1,000 meters) that is poorly studied. Especially in remote areas of the globe like the Pacific Islands, there have been very few opportunities to explore the deepwater column, and this expedition provided a rare opportunity to do so in this unique region of the ocean.
After we completed the benthic (seafloor) portion of the dive on Malulu Seamount on February 27, we conducted several hours of exploration in the midwater. We conducted 10-minute transects at a series of depths: 1,500; 1,200; 900; 700; 600; 500; and 375 meters. These depths were chosen based on features (for example, changes in temperature and oxygen concentration) revealed by the environmental data collected by the remotely operated vehicle (ROV) Deep Discoverer on the way down to the seafloor at the start of the dive.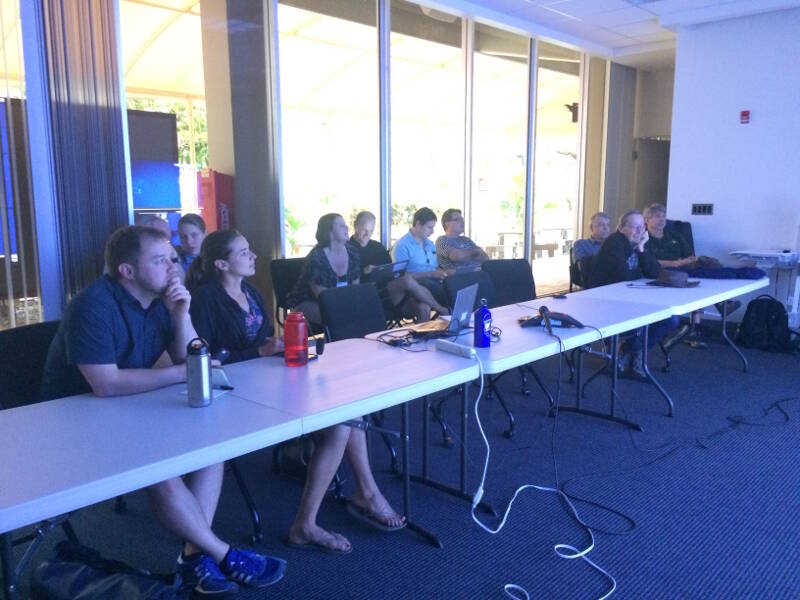 For this dive, we had a unique opportunity to bring together a group of water column experts to participate in the dive at the University of Hawaii Manoa Exploration Command Center. These scientists were in Hawaii for an oceanography conference and a workshop on water column exploration. The group contained experts in cephalopods (squids and octopuses), fishes, jellyfish, and other zooplankton.
We made many fascinating observations throughout this dive, including multiple individuals of an undescribed lobate ctenophore (comb jelly); large numbers of Halicreatid medusa, particularly in the deeper transects; and high numbers of the Prayid siphonophore (colonial jellyfish) in the shallowest transect at 375 meters. We also encountered a high diversity of single-celled Rhizaria, each with a different characteristic shape.
There were many sitings that were likely first records in the southern hemisphere. These included a species of sea tadpole (larvacean oikopleurid), a carnivorous pelagic sea squirt, a medusoid comb jellyfish (Thalassocalycida), another comb jelly in the family Lampoctenidae, and the physonect siphonophore Erenna.
In just a couple of hours, we made all of these and more new observations, demonstrating just how useful ROV-based exploration can be to understanding the diversity and distributions of these notoriously challenging animals to study.