Expedition Summary
The Windows to the Deep 2021: U.S. Southeast ROV and Mapping expedition was a 21-day telepresence-enabled expedition led by NOAA Ocean Exploration on NOAA Ship Okeanos Explorer. During this expedition, we mapped and explored a variety of habitats and features in areas along the Southeast U.S. continental margin identified by the ocean management and scientific communities. Findings from this expedition build on our previous expeditions in the region. Collectively, these expeditions have contributed greatly to what we now know about environments along the southeastern edge of our continent.
Major accomplishments of this expedition are summarized below. For more information, download the summary fact sheet. (pdf, 2.5 MB).
Operational Summary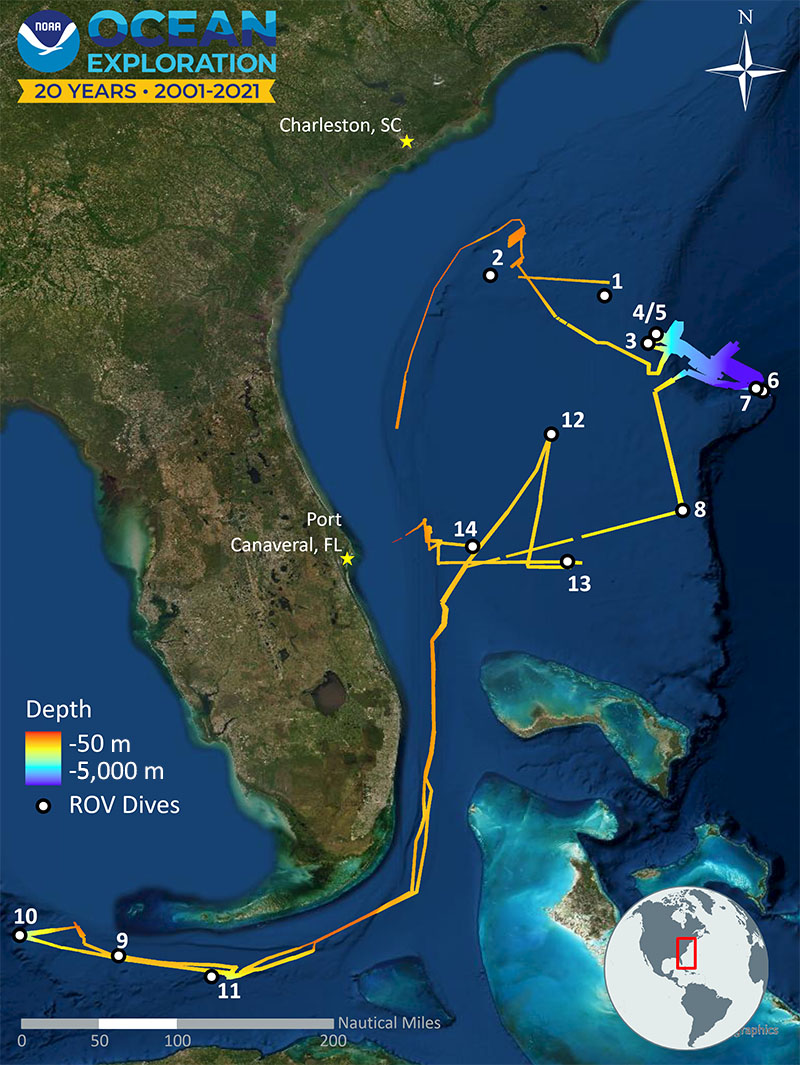 21 days at sea
14 remotely operated vehicle (ROV) dives ranging in depth from 475 to 3,650 meters (1,558-11,975 feet)
15,800 square kilometers of seafloor area mapped (6,100 square miles)
79 biological samples collected (45 primary, 34 associates)
4 geological samples collected
127+ science party participants (from 11 countries)
71,000+ live video views
Deep-Sea Coral and Sponge Communities
Corals and sponges provide shelter, food, and nursery habitat for a variety of marine animals, including commercially important fish and other invertebrates. They also provide other services that we are just beginning to understand (e.g., some produce substances that have benefits for human health). Through exploration, we gain valuable information needed to help protect and manage these important and sensitive deep-sea resources.
Deep-sea corals and sponges were observed on every seafloor ROV dive during Windows to the Deep 2021. A high diversity of deep-sea corals and sponges was noted at dive sites on the Blake Spur wall and in the Blake Spur canyon along the Blake Escarpment, and two dives in the Stetson-Miami Terrace Deepwater Coral Habitat Area of Particular Concern revealed high-density/high-diversity coral communities. Among the expedition highlights was our return to the largest nearly continuous deep-sea coral mound ecosystem discovered to date. These dives added additional evidence to the theory that the numerous mounds on the Stetson Mesa offshore of Florida and Georgia are due to the slow accumulation of Lophelia pertusa skeletal material over hundreds of thousands of years.
Biological Discoveries: New and Unusual Observations, New Records, New Species
Every ROV expedition encounters something new — or particularly unusual: potential new species, range and depth extensions (animals in unexpected places and at unexpected depths), rare sightings, and possible predation events.
Throughout the expedition, a limited number of biological samples were collected, some of which likely represent previously unknown species. Among the potential new species collected were two comb jellies (ctenophores) and two sea pens.
Potential depth range extensions included bubblegum coral (Paragorgia sp.) and an eel-like fish (Bythites gerdae) that's only been seen in situ once or twice before. Potential geographic range extensions included several fish: a birdbeak dogfish (Deania calcea), a boreal slope fish (Gaidropsarus ensis), and a Holcomycteronus sp. (first in situ footage of this rarely observed genus).
Other unexpected sightings included a rarely seen bigfin squid (Magnapinna sp.) and a number of possible predation events. These events included sea stars (Gilbertaster caribaea and Circeaster americanus) dining on small corals, a sea spider feeding on an anemone, and a sun star making a meal of a slime star.
Mapping Our World Ocean: A Milestone and More
Ocean mapping is the first step in exploring our ocean and is critical to understanding, managing, and protecting the ocean and its resources and uses. It's a key element of every expedition on Okeanos Explorer.
During this expedition, NOAA Ocean Exploration mapped 15,800 square kilometers (6,100 square miles) of seafloor, an area larger than the state of Connecticut. This included mapping as many as 200 newly discovered deep-sea coral mounds.
Windows to the Deep 2021 marked the conclusion of NOAA Ocean Exploration's focused multiyear effort on the Blake Plateau. Through a series of targeted expeditions, we mapped the vast majority of the plateau in high resolution. This expedition allowed us to fill most of the remaining mapping gaps in areas of the plateau deeper than 250 meters (820 feet).
In addition, during this expedition, we met the milestone of 2 million square kilometers (772 square miles) mapped using the high-resolution multibeam sonar system on Okeanos Explorer.
Other Highlights
Other highlights of the expedition include:
The discovery of what is likely the remains of SS Bloody Marsh, a World War II-era oil tanker that was sunk by a torpedo from a German submarine in 1943.
The collection of 57 water samples for environmental DNA (eDNA) processing. eDNA is the genetic material that organisms leave behind in their environment, enabling scientists to detect their presence without seeing them. For any given area, eDNA can tell us about species composition (including invasive, endangered, and commercially important species) and biodiversity.
Two water column dives to inform our understanding of the diversity and abundance of midwater animals, of which we know very little about.
The exploration of a variety of geological features, including a steep wall, a canyon, scarps, mounds (both coral and otherwise) and an unusual sinkhole (in which we saw a soccer ball!). A rock sample was collected from the sinkhole to help scientists solve the mystery of its origin.
Engaging the Scientific Community and the Public
NOAA Ship Okeanos Explorer is a leading platform for telepresence-enabled exploration, which allows us to livestream data, including video of the ROV dives, and connect onshore scientists to the activities taking place at sea. During Windows to the Deep 2021, more than 127 scientists, resource managers, and students actively participated from around the world, including representatives from 22 U.S. states, Canada, Mexico, Colombia, Portugal, Italy, the United Kingdom, Malta, Australia, Russia, and Japan.
Using the same technology, we also invited anyone with a computer/mobile device and an internet connection to join the expedition and experience deep-sea exploration and the wonders of science and discovery in real time. In addition, our expedition web coverage and live interactions (including one sponsored by the White House Office of Science and Technology Policy and the Smithsonian National Museum of Natural History) also extended the expedition's reach beyond that of the participating scientists, opening a window of understanding into the deep sea for audiences worldwide.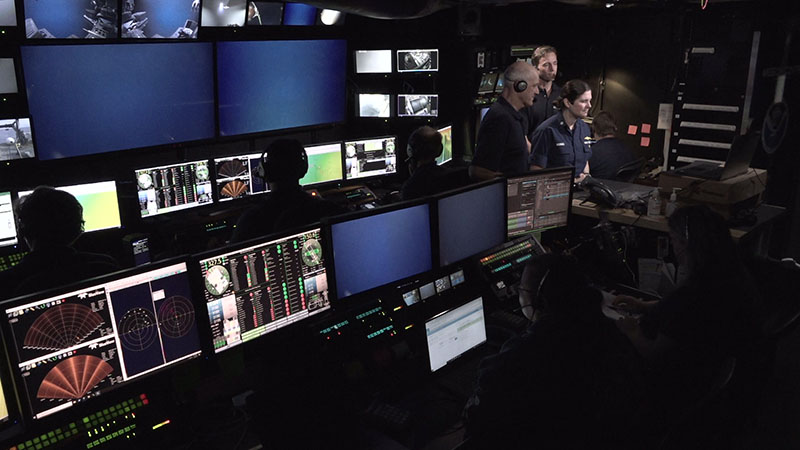 Collecting and Sharing Data
Data from this expedition will help improve our understanding of the deep-ocean habitats of the Southeast U.S. continental margin and the connections between communities throughout the Atlantic basin. It will also inform deep-sea management plans for habitat areas of particular concern, support local scientists and managers seeking to understand and manage deep-sea resources, and stimulate subsequent exploration, research, and management activities.
During Windows to the Deep 2021, we collected navigational, geophysical, and oceanographic data as well as physical samples, high-resolution videos, and images. Dive summaries produced by the science leads provide detailed recaps of each of the dives. Collectively, these publicly accessible data will help scientists identify and evaluate the natural and cultural resource properties of the sites visited. All data from this expedition will be publicly available through national archives. A direct link to the expedition data archive will be provided on the expedition website once the data are available.
The Windows to the Deep 2021: U.S. Southeast ROV and Mapping expedition was NOAA Ocean Exploration's last expedition on NOAA Ship Okeanos Explorer focused on the Blake Plateau region for the Atlantic Seafloor Partnership for Integrated Research and Exploration (ASPIRE) campaign. ASPIRE is a major multiyear, multinational collaborative field program focused on raising collective knowledge and understanding of the North Atlantic Ocean.
Published January 24, 2021