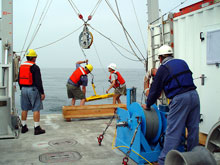 ---
Mission Plan: Steamship Portland
Ben Cowie-Haskell
Operations Coordinator
Stellwagen Bank National Marine Sanctuary
Principal Investigator, Portland Expedition
Bruce G. Terrell
Maritime Archaeologist
National Marine Sanctuary Program, NOAA
Previous Work
American Underwater Search and Survey (AUSS: Arne Carr and John Fish) searched extensively for the steamship Portland at this and other sites north and east of Cape Cod for the past 15 years. These activities, which included remote sensing with a sidescan sonar as well as using a remotely operated vehicle (ROV) to ground-truth targets, resulted in the discovery of the Portland. The U.S. Geological Survey conducted multibeam sonar surveys that resulted in a detailed bathymetric image of the sanctuary. Two remote sensing surveys in July and August 2002 identified several historic shipwrecks within the sanctuary, including the remains of the Portland and also the Frank A. Palmer and Louise B. Crary, which were locked together in a collision in 1902. Additional sonar images of the Portland were collected in cooperation with Klein Sonar Associates in 2002 and 2003.
Historical Research
The location of the Stellwagen Bank National Marine Sanctuary at the entrance to Massachusetts Bay and the bank's significance as an early colonial fishing ground have made it a likely resting place for ships of commerce involved in the Boston trade, as well as for fishing vessels.
The wreck of the Portland remains one of the Northeast's most captivating and unsolved maritime mysteries. Since the ship's loss in November 1898, many interested parties have attempted to find the wreck with no success. Nearly 200 people lost their lives in the shipwreck, but the exact number is unknown. After the disaster, ship captains began to send copies of their passenger lists ashore in case a vessel sank.
The Portland measured 280.9 ft long with a 42.1-foot beam. Built in 1889 by the New England Company of Bath, Maine, the steamer was one of New England's largest and most luxurious sidewheel packet steamers, accommodating 800 passengers. A walking beam steam engine generating 1,500 horsepower propelled the ship at 13-14 knots with 50 psi in its boiler. Shipwrights built the steamer's hull from white oak, yellow pine, and hackmatack with iron strapping for greater strength. The Portland drew 10 ft of water to allow it access to shallow harbors; the vessel's shallow draft, however, made it less stable in open ocean conditions (Bachelder and Smith 1998).
At 7 pm pm Nov. 26, 1898, the Portland left its wharf in Boston Harbor bound for Portland, Maine. Hollis Blanchard, the steamer's captain, knew a storm was building south of Boston, but believed that his ship would reach its destination before the storm's arrival. As the steamer progressed northward, several vessels saw it pass, until its last confirmed sighting around 9:30 p.m. near Thatcher Island off Cape Ann.
The storm developed over Massachusetts Bay more quickly than the local mariners anticipated. Local weather stations registered wind gusts near 90 mph and driving snow. Ferocious winds through the evening and into the following day, together with mounting wave heights, drove hundreds of vessels ashore and sank others outright. During the storm, sailors riding out the weather in the bay, as well as a lifesaving serviceman on Cape Cod, reportedly saw or heard the steamer. Beginning late in the day on Nov. 27, debris identified as belonging to the Portland, and the bodies of those on board, started washing up on the outer Cape Cod beaches. American Underwater Search and Survey's documentation in 2002 provided the first indication of the ship's true resting place.
Opinion as to where and how the steamer sank has varied widely. Initially, newspapers reported that the steamer went down on the sand bars surrounding Cape Cod. Searches in these areas shortly after the Portland sank turned up no evidence of the vessel. Speculation then turned to the possibility that the steamer collided with another vessel in deep water, as the Portland's remains washed up with the remains from several other ships, including the screw steamer Pentagoet. Scallop draggers brought up suspected pieces of the Portland during the 1920s and 1930s, and a hardhat diver dove on a wreck believed to be the Portland in 1945. None of the finds provided conclusive evidence as to the wreck's location, however.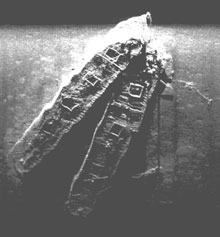 ---
In December 1902, the schooners Frank A. Palmer and Louise B. Crary crashed and sank together near the site of the Portland's demise. The Palmer was the largest four-masted schooner ever built (274.5 ft) while the Crary was a similarly sized five-masted vessel (267 ft). Both ships were colliers (coal carriers), which plied regular routes between the coal-producing regions of the Mid-Atlantic and the energy-needy Northeast.
That December, a record cold snap (temperatures reached below 0 degrees F) and a series of coastal storms created a serious energy crisis in the Boston area. The Palmer, based out of Maine, and the Crary out of New York City, were two of a fleet of vessels bringing coal to the beleaguered city and its environs. An apparent miscalculation on the part of the Crary's first mate, who was at the helm, led to the collision during the clear but cold evening of Dec. 17, 1902. The bow of the Crary plowed into the portside of the Palmer, leaving both vessels fatally damaged. Reports note that the vessels quickly disappeared from view, with some crew members unable to abandon the ships before they sank. Of the 21 crew of both schooners, only 15 made it into one of the Palmer's lifeboats. Among this group, four died from exposure and one committed suicide by jumping overboard, according to survivors. Lack of communications prevented rescuers from learning of the crash, and the lifeboat drifted for four days until a fishing boat spotted it off Cape Cod.
Proposed Activities on this Expedition
Summary:NOAA's Stellwagen Bank National Marine Sanctuary Staff, as well as the Office of National Marine Sanctuaries' senior archaeologist, will partner with the National Undersea Research Center (NURC) at the University of Connecticut to further document the archaeological sites of the steamship Portland, the schooners Crary and Palmer, and several unidentified shipwrecks in the sanctuary.
The surveys will take place during successive day cruises aboard the R/V Connecticut between September 13 and September 20, 2003.
Description of submerged archaeological resources: The Portland is a previously documented wooden-hulled sidewheeled steamer. The Palmer and Crary are wooden-hulled multi-masted schooners. Other unidentified targets include an apparent late 20th-century fishing trawler and an apparent 19th-century wooden sailing ship.
Description of potential natural resources: Large schools of cod, pollock, and stripers visit the site, while longhorn sculpin congregate on the sea floor around the site. Benthic organisms encrust the site.
Description of methodology: The archaeological methodology consists of sidescan sonar imaging followed by remotely operated vehicle (ROV) investigation of the sites. Sidescan sonar imaging will consist of spaced lane surveys of the area surrounding a site's coordinates. Upon completing the survey area and identifying the main location of the site, as well as any outlying components, archaeologists will commence with a close-order survey to gather detailed acoustic imagery of the site. Following acoustic identification, ROV investigation of the structures will commence. The ROV investigation will gather still photographs and video of the sites, focusing on diagnostic features identified during the acoustic imaging.
Vessel and equipment: Phase I: University of Connecticut ship R/V Connecticut, Edgetech DF 1000 100/500 KHz dual-frequency towfish, Edgetech 560D sonar computer running Triton Elics Incorporator's Isis software, Phantom III S2 ROV modified with at least one 600W HMI light.
Survey Goals: Survey goals are to remotely document at least four historic shipwrecks as well as an unidentified modern fishing trawler. Below is the research plan.
I. Survey of Steamer Portland

A. Research Plan
ROV documentation will attempt to answer the accompanying research questions:

1. Ship Construction
How was the ship built? Document main features and machinery to compare against original plans. Look for repairs and inconsistencies with contemporary blueprints.
Document:

- hull
- machinery, engine detail, engine space, boilers and boiler space

2. Ship design
Is it possible to document enough of the hull to construct a hull model with which to determine handling characteristics?

3. Culture/Material Culture
Assess the existence of artifacts that may answer questions about how the crew worked, how passengers traveled (particularly second class who may have been in the lower hull), what might extant cargo remains say about the ship's economy and the economy of Boston and Portland?
Document:

- personal artifacts
- tools
- cargo remnants
- decorative design of ship elements

4. Wrecking Event
Is evidence of the wrecking event evident in the ship remains? Can the remains tell us how the ship sank, how passengers and crew behaved during the storm, what happened to the superstructure? Are machinery breakages a result of storm damage that led to the ship's loss, or did they happen during the descent to the bottom?
Document:

- Superstructure evidence (any signs of stress or loss?)
- Condition of machinery (are there stress signs or breaks?)
- Walking beam connecting rod (is it snapped or did the bushing corrode over time?)
- Paddlewheel hub and axles (are they shifted off axis?)
- Engines (assess condition)
- Boilers (signs of explosions?)
- Firebox (is coal evident?)
- Coal Bunkers (are bunkers empty?)

5. Human Behavior
Is there artifactual evidence that might indicate human behavior during the storm and sinking?

B. Documentation Plan
Operations may not take place in this order. Sequence determinations will be made in collaboration between chief scientist, chief archaeologist, ship captain and ROV driver.
ROV video and still imaging will make all attempts to record in a systematic manner to provide perspectives that will permit archaeologists to obtain meaningful dimensions and perspectives to aid in the accurate documentation of ship features and to enhance the assessment of the ship's condition.

1. Map Ghost Gear (net hangs)

- Reduce danger to subsequent sonar and ROV deployments.

2. Attempt plan view (from above) of deck from bow to stern

- Data will be used to create a seamless mosaic plan.

3. Starboard documentation

- Fly ROV along lower hull and main deck level. ROV flies bow to stern (longitudinally) while the cameras look athwart hull.
- Document starboard wheel hub.
- Get better documenation of debris off bow (includes door and other debris).

4. Id. Features

- Document walking beam and A-frame (from forward and side profile).
- Document stacks (from aft and side profile).
- Document engine space (downward looking).
- Document stairway.
- Document paddlewheels.
- Document debris pile at starboard bow.

5. Attempt side profile imagery for photo mosaic documentation (hull, deck level, port sidewheel hub, A-frame and walking beam, and stacks).

6. Assess for future expeditions
- Can tech divers access site w/out damaging site?

II. Survey of Louise B. Crary and Frank A. Palmer Wrecks


A. Research Plan
Research Questions

1. Ghost Gear and Rigging
What are hazards to remote sensing? Can these vessels be studied without damage to remote gear? Can research subs safely visit site? Sonar image suggests that masts and rigging may be strewn over site. Late 19th/early 20th-century sailing vessels had begun using wire cable for standing rigging. Wire strewn about site may present entanglement risks.
Document:

- Use sonar to identify snags, cables, rigging, ghost gear
- It may be possible for ROV to approach site from outside of Crary hull (south?) to video.

2. What is condition of ship remains?
Sonar image suggests that hull decking may have eroded. Can hulls withstand tech diver visitation?

B. Documentation Plan

1. Map ghost gear and wire rigging.
2. Select safest vessel and image deck.

III. Survey of Unidentified Vessel

A. Research Plan
Research Questions
Sonar image suggests late 20th-century ship, possibly a fishing trawler. What is vessel type? What is vessel construction? What is vessel's age? What is vessel identity? How did vessel sink? Information will be used to determine if loss of this vessel is known. Such information would be useful to local fishing industry.

B. Documentation Plan

1. Video and still documentation of vessel profile. Obtain approximate length and beam measurements.

2. Video and still documentation of stern and bow to look for name board.

3. Video and still documentation of plan view.

IV. Survey of Unidentified Wooden Sailing Vessel (Kozak target)

A. Research Plan
The sonar image suggests that this is a 19th-century or earlier wooden sailing ship. It appears to have wooden debris on inside as well as debris surrounding the hull. There appears to be a significant amount of hull structure that should make it possible to determine vessel age and type.

Research questions for this cruise include:

1. Are there significant threats to ROV?

2. What is the extent of vessel's remains?

3. What is vessel's construction material?

4. What is vessel's relative date?

5. What was vessel's use?

B. Documentation Plan

1. Overhead video and still ROV documentation from one end to the other. Obtain approximate length and beam dimensions.

2. ROV along one rail w/cameras looking perpendicularly (if possible).

3. Document hull features including bow stem, stern and rudder, lower hull (sheathing), framing and hull interior. Determine frame dimensions and spacing dimensions.