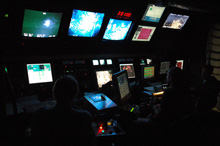 The Jason control room is filled with all the equipment needed to monitor the remotely operated vehicle's instruments and video, while maneuvering it for days on end. In this image, Matt Heintz "flies" Jason around a complex coral habitat ,1,400 meters below the ocean surface. Click image for larger view and image credit.
---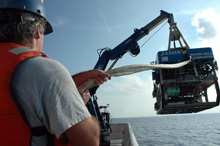 During remotely operated vehicle (ROV) recovery, Jason engineer Casey Agee grasps the neutrally buoyant tether that connects Jason and Medea. Click image for larger view and image credit.
---
It Keeps Going and Going and Going . . .
June 13, 2007
27° 32.44 N
90° 59.53 W

During dive operations, the remotely operated vehicle control van becomes the center of activity for scientists aboard the NOAA ship Ronald H. Brown. (Quicktime, 892 Kb.)
Time is flying by! We're now almost one-third of the way through this month-long expedition, and I still feel like we've just started! Given how precious ship and submersible time is, we feel a lot of pressure to make the best use of every day and every hour. One of the big advantages of working with a remotely operated vehicle (ROV) like the Jason is that we get so much time per day on the bottom to get work done.
Jason is a two-body ROV system. A 10-kilometer (6-mile) fiber-optic cable delivers electrical power and commands from the ship through Medea. A neutrally-buoyant tether connects Medea and Jason. The tether and cable also return real-time data and video imagery to the ship. Medea acts like a shock absorber, buffering Jason from the movements of the ship, while providing lighting and a bird's-eye view of the ROV during science operations.
Pilots, engineers, navigators, and scientists work from a control room specifically designed for Jason operations. The control room is actually made out of two standard 20-foot shipping containers. The vans, now more than 10 years old, don't look particularly impressive from the outside. If you didn't happen to see the "Woods Hole Oceanographic Institution Deep Submergence Group" sign on the door, you might think it was just another set of old metal containers filled with boxes and random rusting equipment. But step inside while Jason is in the water and it's as if you've been transported into something out of a science fiction movie.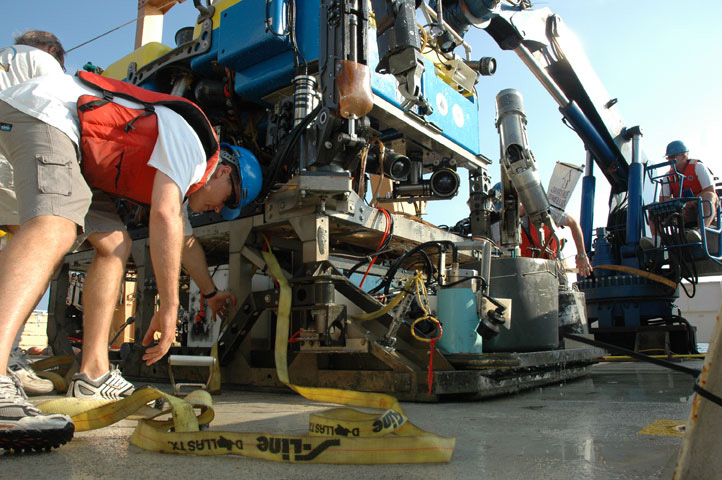 Immediately after ROV pilot Tito Collasius lowers the Jason onto the aft deck of the Ronald H. Brown with the Effer crane, navigator Brian Bingham straps the ROV down to the deck. Click image for larger view and image credit.
---
Pull back the dark curtain that prevents outside light from filling the room and you're immediately surrounded by computers, electrical equipment, and dozens of multi-colored lights. Countless cords run from every corner and along every wall in the room. One entire wall seems to be covered with video monitors.
Even more impressive than the control room itself is what the 10 people in the Jason group are able to accomplish with all of the equipment. Once Jason is in the water, it takes 3 people to operate it: a pilot who "flies" the ROV; an engineer who monitors all the systems (electrical, mechanical, hydraulic, etc) and operates the winch which pays out/hauls in the fiber optic cable, which is attached to Medea; and a navigator who positions the research vessel so that Medea and Jason can operate in the desired area.
Behind the three Jason operators are the scientists. Two of these seats are taken by scientists that rotate every 4 hours. One is responsible for changing and labeling the many DVDs of video and data generated every dive as well as keeping a written log for easy reference. The other is responsible for keeping our digital log on the "Virtual Van." Finally, there are the other scientists overseeing specific operations on the sea floor: usually a watch-leader with at least one other co-worker to help operate the extra cameras and chemical sensors that are part of every dive.
Because the vehicles are capable of operating 24 hours per day, three shifts of three people each are required to run it. Rounding out the group of 10, is one person dedicated to overseeing all data collected by Jason and Medea.
It hard to keep up with Jason. It's about 3 am right now and I've been awake for just under 24 hours. I'm fading fast and have to call it a night. Jason and Medea have been 1,400 meters below the ocean surface working hard for just under 36 hours . . . and they're still going strong!