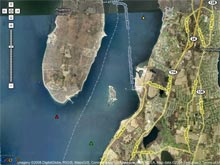 Explore the AUVfest 2008 expedition research-area shipwreck sites.
---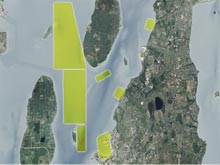 The AUVfest 2008 expedition research area is located in Rhode Island's Narragansett Bay. The primary goal of this expedition is to document four shipwreck sites, using multiple autonomous underwater vehicle (AUV) systems that have been outfitted with various sensors. The non-disturbance archaeological operations activity will not physically impact the sites. Click image for larger view and image credit.
---
The AUVfest 2008 Expedition

NOAA Podcast:
Learn what Frank Cantelas hopes to discover on this expedition with a video or audio podcast on AUVfest 2008.
AUVfest 2008 will take place in Rhode Island's Narragansett Bay from May 12 to 23. The event is a demonstration of 13 autonomous underwater vehicle (AUV) systems originally developed by the Office of Naval Research (ONR) for mine hunting. As part of a collaborative effort to examine and evaluate the dual use of this technology, eight of these AUVs, and their associated sensors and systems, will also be sent on archaeological missions to shipwreck sites in Narragansett Bay.
Each of the 13 AUVs is equipped with one to three sensors. These may include sidescan sonar, synthetic aperture sonar, Didson sonar, blazed array sonar, iPUMA phased array sonar, laser scalar gradiometer, low frequency bottom penetrating sonar, still digital camera, and video.
AUVfest requires the use of nine boats, divided into four support groups. Support Groups 1, 3, and 4 will deploy from Stillwater Landing for daytime operations between 6 am and 6 pm. Group 2, comprised of the research vessel Endeavor, will operate from a dock near the aircraft carriers in Coddington Cove. Some mine countermeasure operations will be held at night, but all of the archaeological missions take place during the day. The archaeological missions will span six days, with most taking place between May 12 and 23.
The primary goal of archaeological operations is to document four shipwreck sites with multiple AUV systems, outfitted with a number of different sensors. This is a non-disturbance activity, which means that we will not impact the sites in any physical way. The four shipwrecks represent a range of vessel types, site conditions, preservation conditions, and construction material. These sites are known, but the data collected is new. This new information will be of interest to academic archaeologists and state and federal cultural resource managers. Certain information concerning position and cultural material is sensitive and protected from public disclosure under the National Historic Preservation Act.
The four shipwrecks targeted for AUVfest 2008 exploration are:
The Prudence Island wreck: This is an early 20th-century vessel of steel construction, roughly 120 feet long. Discovered by NOAA ship Rude in 2004, the site lies in about 60 feet of water. Little is known about it.
Wooden barge: Near Prudence Island, this site measures roughly 100 feet long and lies in about 60 feet of water. A nearby unknown object discovered during the 2004 Rude survey will be investigated in the same mission.
The British frigate HMS Cerberus: This large vessel was scuttled by its captain during the Revolutionary War to avoid seizure by the French, who were in Narragansett Bay to assist American forces in 1778. The site contains the buried lower wooden hull, ballast pile, and several cannons. There is likely to be a scatter of small artifacts buried under a thin layer of sediment. These artifacts are composed of iron, copper alloys, glass, ceramic, and wood.
The British frigate HMS Lark: The captain of the Lark destroyed his ship when he saw the captain of the Cerberus doing the same. The vessel subsequently exploded, scattering material over a wide area. Site conditions and materials are similar to that of the Cerberus.
NOAA has invited a group of archaeologists to participate in the event, including deployment and recovery of the vehicles on the water, data analysis, and interpretations at the Naval Undersea Warfare Center's Integrated Data Center. A May 17 archaeology workshop at the University of Rhode Island Narragansett Bay Campus features a review of the week's activities and findings, as well as an examination of how maritime archaeologists can gain better access to AUVs.
Media day will be May 21, followed by our May 22 Distinguished Visitors Day, with invited guests from NOAA, the Navy, Congress, and the local community.
Through AUVfest 2008, we hope begin a dialogue between maritime archaeologists and AUVs technologists. The conversation can look at how AUVs can provide benefits for both groups: archaeologists can gain experience using AUVs; and technologists can think about expanding current object detection, classification, and identification to historical materials associated with shipwrecks. Through these valuable connections, we hope to encourage innovation, dual-use technology, accelerated discovery of cultural resources, and effective use of public resources in technology development.
---
Sign up for the Ocean Explorer E-mail Update List.