Background
Background Information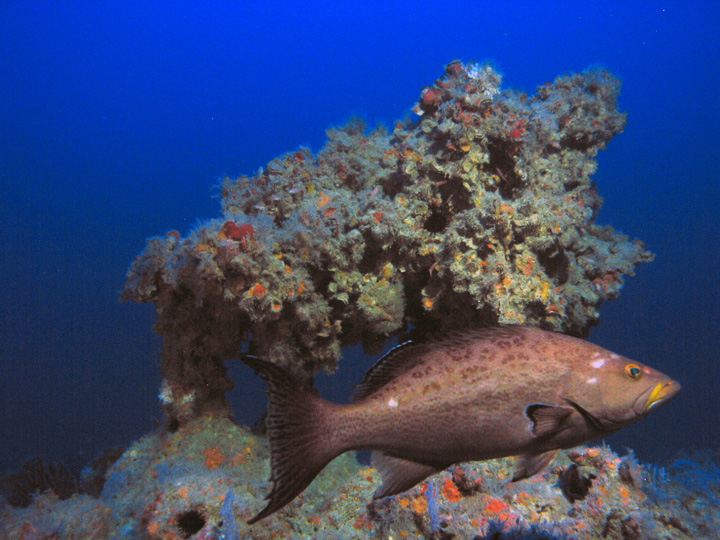 The Coral Ecosystem Connectivity 2015: From Pulley Ridge to the Florida Keys expedition is funded by NOAA's National Centers for Coastal Ocean Science and Office of Ocean Exploration and Research, in partnership with NOAA's Office of National Marine Sanctuaries, National Marine Fisheries Service's Southeast Regional Office, and Gulf of Mexico Regional Collaboration Team.
The project is led by the University of Miami and represents a collaboration of over 35 scientists at 11 different universities pooling their expertise with state and federal agency scientists through NOAA's Cooperative Institute for Marine and Atmospheric Studies at the University of Miami in coordination with the Cooperative Institute for Ocean Exploration, Research, and Technology at Florida Atlantic University. This is the project's fourth and final field season and the third highlighted on the Ocean Explorer website; see Coral Ecosystem Connectivity 2013 expedition and Coral Ecosystem Connectivity 2014 expedition to read about our 2013 and 2014 field seasons.
The project is focused on investigating the role that the relatively healthy deep, mesophotic reefs of Pulley Ridge (off the southwest coast of Florida) may play in replenishing key fish species, such as grouper and snapper, and other organisms in the downstream reefs of the Florida Keys and Dry Tortugas. Because of the well-documented decline of Florida's reefs, it is important to identify, protect, and manage sources of larval reef species that can help sustain Florida's reef ecosystems and the tourism economy that depends on it.
A unique aspect of our project is a Stakeholder Advisory Board, a collaboration of federal, state, and nongovernmental stakeholders that are helping to guide outputs and ensure their utility for resource managers.
The goal of this study is to not only provide a better understanding of the underlying processes that regulate Pulley Ridge and whether Pulley Ridge helps sustain the coral reef communities in the Florida Keys and Dry Tortugas, but also help determine if the area would benefit from further protection.
Why We Care
The coral reef ecosystems of the southeast United States provide habitat, food, and shelter to hundreds of species of fish and invertebrates. Their economic role in supporting commercial fisheries, tourism, and recreational industries is also considerable. In addition to their aesthetic value, coral reefs provide structural buffers from storms and currents along the highly populated southeast Florida coast.
Observations of relatively healthy mesophotic reefs on Pulley Ridge have opened up questions as to the ecological role that these reefs may play in the replenishment of shallow and other mesophotic coral ecosystems, such as in the Florida Keys and Dry Tortugas. In an era of rapid coastal ocean changes, it is important to understand the degree of connectivity between Pulley Ridge, a comparatively healthy coral ecosystem, and other coral ecosystems located downstream.
Administered by:
NOAA's National Centers for Coastal Ocean Science
Participating Institutions:
University of Miami
Florida Atlantic University
California Academy of Sciences
City University of New York
Florida International University
Florida Fish and Wildlife Conservation Commission
Florida State University
NOAA Atlantic Oceanographic and Meteorological Laboratory
NOAA National Marine Fisheries Service's Southeast Fisheries Science Center
Nova Southeastern University
Oregon State University
University of British Columbia
University of Florida
University of North Carolina, Wilmington

Stakeholder Advisory Board:
Bureau of Ocean Energy Management
Everglades and Dry Tortugas National Parks
Florida Fish and Wildlife Research Institute
Gulf Coast Ecosystem Restoration Task Force
Gulf of Mexico Fishery Management Council
The Nature Conservancy
NOAA National Marine Fisheries Service's Southeast Fisheries Science Center
NOAA National Marine Fisheries Service's Southeast Regional Office
NOAA Office of National Marine Sanctuaries
NOAA Office of Ocean Exploration and Research
South Atlantic Fishery Management Council

Mission Background and Information