August 27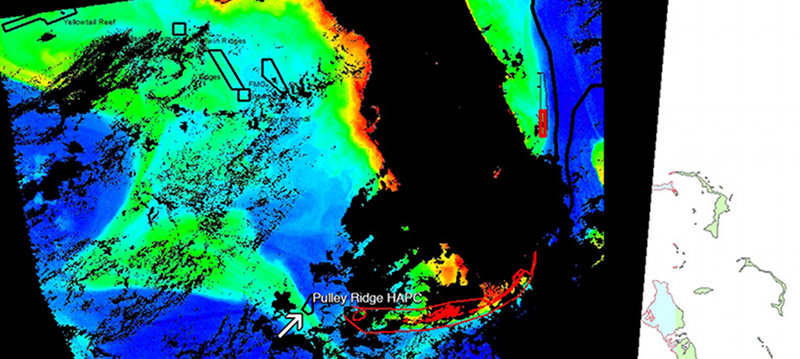 During our remotely operated vehicle (ROV) dives yesterday, we encountered dark water, with a salinity of only 32 parts per thousand (ppt). Normally, seawater has a salinity of 35-36 ppt. Upon further investigation, we noticed that this layer of lower salinity ran nearly 25 meters (82 feet) deep. This caused us to raise our eyebrows given our location in the open ocean, far from Florida Bay and other coastal waters.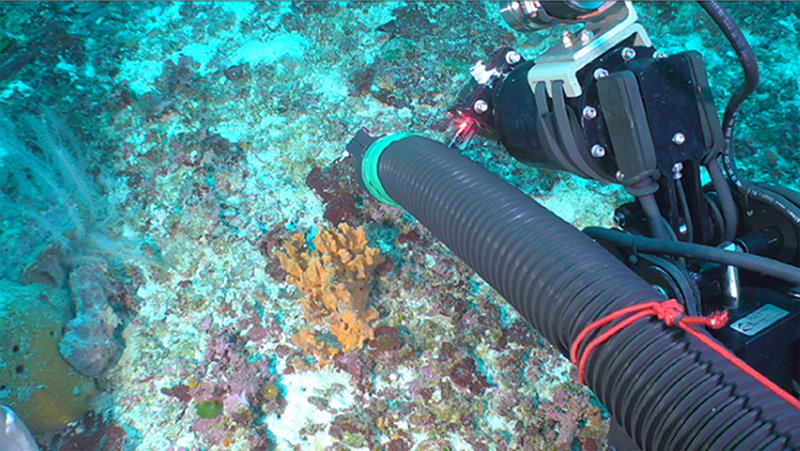 What could be the cause of this unexpected change?
Professor John Reed went looking for an answer and found it using satellite imagery from the NOAA CoastWatch web site. The dark water was the result of an increase in chlorophyll (a green pigment found in microscopic algae) in the water column and a 'freshwater' plume extending from the Mississippi River down into the Gulf of Mexico.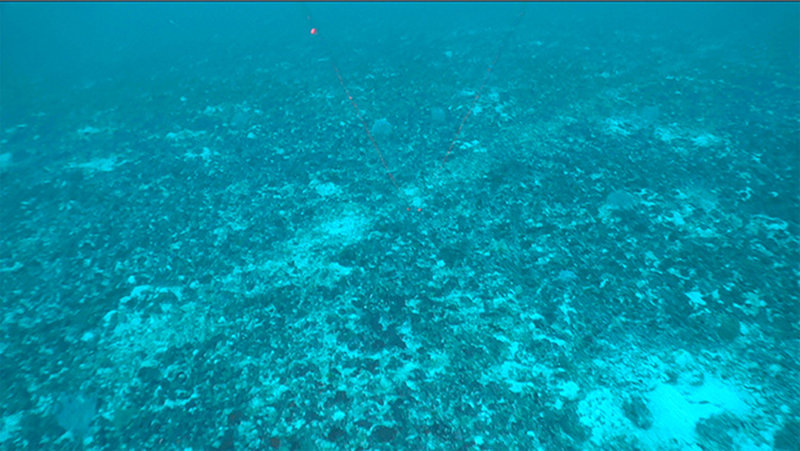 The satellite imagery showed a massive chlorophyll plume in green, crossing Yellowtail Reef off Alabama, and riding the outside edge of the Loop Current across southern Pulley Ridge, and then a branch splitting off and heading southeast into the Straits of Florida and the Florida Keys. This freshwater plume contains a cloud of excess nutrients and agricultural and industrial runoff. The increased nutrients result in an increase in algal growth, which led to the dark green water we saw. It seems unimaginable that freshwater and all it carries could find its way so far from its source, but it does. From the satellite images, John could even approximate a time that the plume began to affect us: sometime late Tuesday evening.
The currents moving the chlorophyll plume are the same that may transport planktonic larvae from Pulley Ridge towards the Florida Keys and south Florida. On the downside, those currents could also quickly drive a plume of oil from an offshore oil drilling accident in the Gulf onto the fragile reefs of the Florida Keys. Fortunately, this did not happen with the Deepwater Horizon spill in 2010. Today's observation is yet another reminder of how the Gulf of Mexico's ecosystems are connected by currents.