Historical Sketch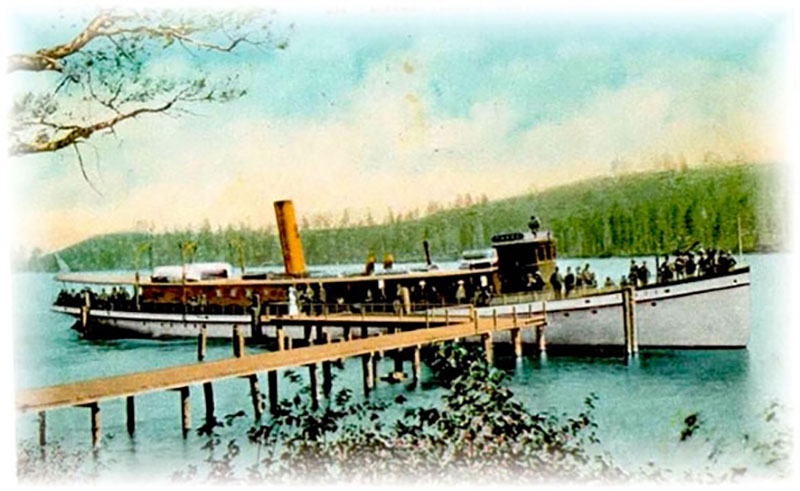 The largest, most beautiful, and most famous of all the steamers that ever existed on Lake Tahoe was the Steamer Tahoe, often designated SS Tahoe. She was launched with great festivity on June 24, 1896, and spent the next 40 years in service around the lake.
The ship's hull was built in sections at Union Iron Works in San Francisco and sent by rail to Carson City, Nevada, where the sections were loaded onto horse and mule team wagons and hauled over the Clear Creek grade to Glenbrook.
Measuring 169 feet in length, the steamer was twice the length of most of the other steamers traveling around Tahoe at the time. Her narrow, sleek profile, with a beam width of only 18 feet, allowed her to reach top speeds for the time.
SS Tahoe had two huge steam engines which turned two brass three-bladed propellers, one mounted on each side of a large rudder under her curved stern. The hull was divided into eight watertight compartments giving her strength and buoyancy. Brass fixtures accentuated by mahogany trim and lavish upholstery heightened the luxury status of the "Queen of the Lake."
The steamer Tahoe marks Lake Tahoe's golden age when northern California's elite were able to travel for pleasure and only the wealthy managed to escape the high summer temperatures of lower elevations. That soon changed as roads were being built and improved to accommodate the automobile, allowing folks with more modest means to access and enjoy the high country during the sweltering summer months.
Significant road improvements in the late 1920s created easier automobile access and the general economic decline of the early 1930s resulted in a steep decline in both freight and passenger revenue for the Tahoe. Laid up by the depression and having lost her lucrative mail contract, the "Queen" was abandoned and vandalized at her mooring.
Finally, her Bliss family owners decided to give Tahoe a proper burial and had her towed to Glenbrook on the Nevada shore. On August 29, 1940, she was scuttled and settled on a steep slope. Her bow rests in 380 feet; her stern is almost 500 feet deep.
In 2002, the SS Tahoe became Nevada's first submerged site listed on the National Register of Historic Places. She is an essential touchstone of Tahoe's collective identity and a treasured piece of the lake's history.
While other steamers were sunk in deep water, it was the intent of the Bliss family to sink the vessel in shallow water near where she was originally launched so she might be visible from the surface. Not knowing the location of the Glenbrook canyon shelf, the vessel was unintentionally sunk in deep water where only highly skilled technical divers have been able to visit.
OpenROV gives us the opportunity to visit, monitor, and appreciate a significant part of Tahoe's past from the safety of our laptops.