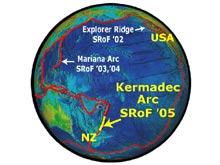 ---
The New Zealand American Submarine Ring of Fire 2005 Expedition


Bob Embley
Co-Chief Scientist for the New Zealand American Submarine Ring of Fire Expedition (Legs 1 and 2)
Geophysicist
NOAA Vents Program, Pacific Marine Environmental Laboratory – Newport, Oregon
Gary Massoth
Co-Chief Scientist for the New Zealand American Submarine Ring of Fire Expedition (Leg 1)
Principle Scientist
Institute of Geological and Nuclear Sciences Ltd
Lower Hutt, New Zealand
Alex Malahoff
Co-Chief Scientist for the New Zealand American Submarine Ring of Fire Expedition (Leg 2)
Chief Scientist, Chief Executive, Institute of Geological and Nuclear Sciences Ltd
Lower Hutt, New Zealand

The New Zealand American Submarine Ring of Fire 2005 (NZASRoF'05) expedition on the University of Hawaii research vessel Ka'imikai-o-Kanaloa will begin April 3 in Pago Pago, American Samoa and end in Tauranga, New Zealand on May 10. An international team of explorers from New Zealand and the United States will conduct dives at approximately six volcanoes using the human-occupied vehicles (submersibles) PISCES IV and V, operated by the Hawaii Undersea Research Laboratory (HURL). The submersibles will be used to explore the geology, biology and chemistry of submarine volcanoes along the largely unexplored Kermadec Arc that extends N-NE of New Zealand's North Island. These volcanoes and the adjacent Kermadec Ridge lie westward of the 800 mile-long Kermadec Trench, where the western edge of the vast Pacific plate descends beneath the Australasian plate to the west. The volcanoes form as gases and water rising off the down-going plate induce melting of the surrounding rocks forming magma lenses beneath the volcanoes. This expedition is the culmination of seafloor mapping and oceanographic surveys conducted jointly by New Zealand and U.S. scientists over the past 5 years. Two New Zealand Crown Research Institutes (Geological and Nuclear Sciences, or GNS, and National Institute of Water and Atmospheric Research, or NIWA), and the NOAA Ocean Exploration Program have joined together to provide the funding and the scientific expertise to make this expedition possible. Sixteen scientists representing the disciplines of geology, chemistry and biology will take part in the explorations.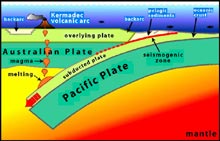 ---
Expedition is a Culmination of 5 Years of Preparation
Although most of the target volcanoes will be visited for the first time with a submersible, we will be relying on maps and other ocean surveys conducted over the past 5 years by New Zealand and U.S. scientists, many of whom are taking part in this expedition. Many of these volcanoes were unknown before new oceanographic and bathymetric surveys were conducted by the GNS

, the NIWA

, and the Pacific Marine Environmental Laboratory

NOAA Vents Program in 1999-2004. Three joint expeditions have been made on the New Zealand research vessel Tangaroa since 1999, known as NZAPLUME (New Zealand American PLUme Mapping Expedition) I, II and III

, that focused on locating the active vent sites by mapping and sampling hydrothermal plumes associated with active venting.

Deciding on the Dive Sites
How active are these submarine volcanoes? Several of the volcanoes have had historic activity detected by hydrophones and/or direct observations from ships or planes (e.g., Monowai, Rumble V) over the past 30 years. For most, however, the potential for activity is uncertain because submarine eruptions are difficult to monitor. However, one measure of a volcano's potential for eruption is the presence or absence of an underlying heat source. Heat sources beneath volcanoes above sea level usually give rise to hot springs and fumaroles on the surface. This is also the case for submarine volcanoes. A seafloor hot spring can actually be much "hotter' than one at sea level because of the higher pressures. Water boils at almost 250° C (~480°F) at only 350 meters (1165 ft.) depth. These seafloor hot springs can produce buoyant plumes of chemically anomalous water that are detectable with conventional oceanographic equipment and techniques. Hundreds of such measurements with a CTD made along the Kermadec and Tonga submarine volcanoes in the past 5 years have detected more than 30 hot spring sites. Because some of these sites are shallower than 100 meters (328 ft.) they reside within the photic zone. These zones are very unusual because they represent a coincidence of photosynthetic and chemosynthetic organisms. The implication of this is not presently known - It is a new area of research.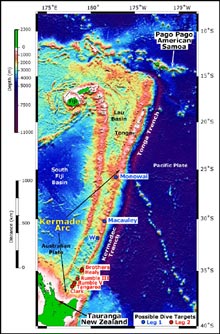 Southwest Pacific from Samoa (northeast) to New Zealand (southwest). Possible dive targets for Leg 1 and Leg 2 of the NZASRoF'05 expedition are indicated. Leg 1 sites are indicated by blue circles and blue text. Leg 2 sites are indicated by red circles and red text. Leg 1 starts in Pago Pago, ending in Tauranga. Leg 2 departs and returns from Tauranga. Bathymetry data are: satellite-derived (bottom, 3500 meter resolution); EM300 (top, along the arc, 25 meter resolution). Satellite-derived bathymetry from Sandwell and Smith. EM300 bathymetry data are courtesy of New Zealand National Institute of Water and Atmospheric Research. Click image for larger view.
---
Two Parts of the Expedition (Legs1 and 2)
The New Zealand American Submarine Ring of Fire Expedition will be divided into two parts. The first "Leg" will depart from Pago Pago, American Samoa on April 3 and arrive in Tauranga, New Zealand on April 22. After departing Pago Pago and transiting for several days the RV Ka'imikai-o-Kanaloa will arrive at Monowai Volcano. For each volcano visited, the first dive(s) will attempt to locate the source of the most active hydrothermal signals measured on prior cruises. After the sites are located, the dives will concentrate on sampling and more detailed observations, as well as mapping of the sites. Some volcanoes have more than one active site, requiring additional dives. The remotely operated vehicle (RCV-150) will be used in the evening hours after the PISCES returns onboard to locate and map other potential dive sites for the PISCES. In addition, the GNS MINTS plume profiling system

will be onboard for site reconnaissance. Dives are also planned at two other sites, Macaulay and "W" volcanoes during the first leg. After changing some personnel in Tauranga, the second leg of the expedition will conduct dives on several more volcanoes near New Zealand. In addition, 7 moored instrument packages deployed at Brothers Volcano during a joint cruise on the Tangaroa in September, 2004 will be recovered.. These instruments are part of a novel Fluid Flux Experiment designed to assess the amounts of fluids and gases going into the ocean from a submarine volcano.
The scientists involved in this expedition are very excited to be part of one of the first submersible expeditions to these Kermadec submarine volcanoes.