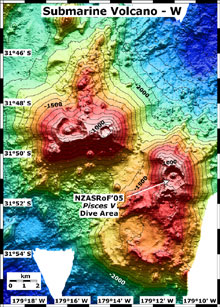 Map view of submarine Volcano-W. The Pisces V dive area indicated on the SE caldera. The contour interval is 100 meters. The resolution of the bathymetry data is 25 meters. Click image for larger view
---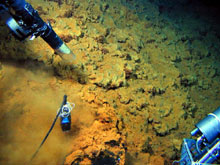 The suction sampler on Pisces V (upper left) vacuums up some orange microbial mat while a probe records the temperature (lower left) at Volcano W. Click image for larger view.
---
Dives on Volcano W
and Rumble V
April 22, 2005
Bob Embley
Co-Chief Scientist for the New Zealand American Submarine Ring of Fire Expedition (Legs 1 and 2)
Geophysicist
NOAA Vents Program, Pacific Marine Environmental Laboratory – Newport, Oregon
Gary Massoth
Co-Chief Scientist for the New Zealand American Submarine Ring of Fire Expedition (Leg 1)
Principle Scientist
Institute of Geological and Nuclear Sciences Ltd
Lower Hutt, New Zealand
Volcano W
After the final dive at Giggenbach Volcano we made one dive on Volcano "W". This volcano was discovered last October by the New Zealand research vessel Tangaroa during the " NZAPLUME III (New Zealand American PLUme Mapping Expedition)

" cruise. A CTD cast made from the Tangaroa revealed a hydrothermal plume in its southeastern caldera. On Dive PV-621 Ian Wright searched for the origin of a hydrothermal plume and conducted geologic mapping of the volcano. The dive traversed more than 3 kilometers (~1.5 miles) of seafloor and discovered low-level venting in several places. The biology samples included an unusual tube worm that may be new to science. Although Volcano "W" was an intriguing place, it did not have the intense hydrothermal emissions present on many of the other unexplored volcanos.
Rumble V Preview
PISCES V made its final dive of Leg I on Rumble V volcano with biologist Malcolm Clark. The submersible landed on a seafloor of young basalt flows festooned with a wide variety of strange "oval" sea urchins and large branching coral. The sub came upon an extensive field of large mussels that continued upslope. After taking some samples the PISCES V had to return to the surface after only three hours on the bottom, due to rising wind and seas. However, we will be returning to Rumble V on Leg II in search of the source of the intense plume rising off its summit. The unique biology observed during Dive 622 has only whetted our appetite for further exploration of Rumble V.
---
Sign up for the Ocean Explorer E-mail Update List.