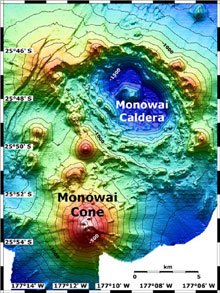 Map view of Monowai submarine volcano, featuring the cone in the south-southwest and the caldera to the northeast. The contour interval is 100 meters. The resolution of the bathymetry data is 25 meters. Click image for larger view.
---
Sometimes a submarine volcano can be too exciting
April 5, 2005
Bob Embley
Co-Chief Scientist for the New Zealand American Submarine Ring of Fire Expedition (Legs 1 and 2)
Geophysicist
NOAA Vents Program, Pacific Marine Environmental Laboratory – Newport, Oregon
There are volcanoes erupting somewhere on the Earth's surface every day. We can directly observe most eruptions occurring above sea level, sometimes directly and, in the case of remote locations, by satellite or airplane. Some volcanoes, such as Kilauea volcano on Hawaii, are so active that they have observatories devoted to their long-term monitoring. Kilauea has been erupting continuously for more than 20 years. Most volcanoes, however, have short periods of activity separated by long periods of inactivity. Mt. St. Helens awoke from a century and half slumber in 1980.
Most of Earth's volcanic activity occurs unseen beneath hundreds to thousands of feet of ocean. Only those relatively few volcanoes that rise up almost to the ocean surface produce effects visible to passing ships or airplanes. Otherwise, our ability to monitor submarine volcanoes is limited to sounds heard on underwater microphones called hydrophones or on seismometers on some islands that can hear ocean sounds. Even these relatively sensitive devices are limited to hearing the loudest sounds and there are very few areas that have even this rudimentary capability for real time monitoring.
Monowai, our first submarine volcano target, has had historical activity

on its large cone dating back to the 1940s. More recently, numerous earthquake swarms have been recorded on the French Polynesian Seismic Network since 1990. There have also been several large impulsive sounds that are likely submarine explosive eruptions. A very strong event in May of 2002 was heard on hydrophones maintained by the PMEL Ocean Acoustics Group in the easternmost Pacific 5000 miles east of Monowai. In October 2004 a group of us led by Dr. Cornel de Ronde on the New Zealand research vessel Tangaroa spent several days surveying Monowai's cone and caldera. A very strong hydrothermal plume was found overlying the top of the cone, in addition to several deeper plumes on the northwest flank of the cone. As the Tangaroa passed over the top of the cone, plumes of bubbles rising off the summit at a depth of ~150 meters (~500 feet) were recorded on the ship's echo sounder and several sulfur slicks were observed on the sea surface above the summit. Comparison of a bathymetric survey conducted in 1998 by the German vessel Sonne with the 2004 survey on Tangaroa (by Ian Wright of NIWA) revealed that the southwestern sector of the cone underwent a large collapse sometime during the period between the surveys, possibly during the May 2002 event. Our colleagues monitoring the seismometers in French Polynesia reported significant earthquake activity as recently as March 1-2 2005
Obviously it would be exciting and scientifically rewarding to conduct submersible dives on the cone, but with the abundant evidence of recent volcanic activity, we had to ask ourselves if it was prudent. Given the strong circumstantial evidence for unpredictable episodes of vigorous degassing, large landslides, and probably underwater explosive activity, we have decided that diving on the cone with a human-occupied submersible is too risky.
We also had to consider the safety of conducting surveys over Monowai Cone's summit using the remotely operated vehicle RCV-150 and the CTD system on board the R/V Ka'imikai-O-Kanaloa. Because the site is quite shallow (<150 m), underwater eruptions pose potential hazards to the vessel as well as the ROV or CTD. Extensive degassing from the volcano could make the ship less buoyant by lowering the density of the ocean, and explosive activity could directly damage the vessel. Even though there is only a small chance that Monowai Cone would erupt enough to affect a vessel above, we (in consultation with the Ka'imikai-O-Kanaloa's Captain, Ross Barnes) decided to take a cautionary approach to this as well and keep a safe distance. If we had an autonomous undersea vehicle (AUV) like ABE on board, we could conduct surveys remotely and in perfect safety. Perhaps in a few years we can return here with an AUV to explore the cone.
Nevertheless, there are other exciting areas to explore at Monowai volcano. There is also a strong hydrothermal signal emanating from the Monowai caldera, a huge crater lying 8 km north of the cone in deeper water, and it is here we plan to make the initial submersible dives. There is no indication of recent volcanic activity here so PISCES V will make its first dive onto the caldera's western wall at 8 a.m. Thursday
---
Sign up for the Ocean Explorer E-mail Update List.