Map view of Rumble V submarine volcano. The two Pisces V dives at Rumble V were near the summit of the volcano (dive P5-624 circumnavigated the summit). The resolution of the bathymetry data is 25 metres, and it is contoured at 100 metre intervals. Depths range from 392 - 2800 metres (1285 - 9185 feet). Click image for larger view.
---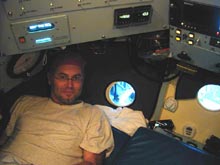 Ashley Rowden in the Pisces V submersible. Click image for larger view.
---
I could only imagine
May 6, 2005
Ashley A. Rowden
Ecologist
National Institute of Water and Atmospheric Research
Wellington, New Zealand

Anemones, sea urchins, and crabs were part of the rich biological community on the top of RumbleV volcano. (Quicktime, 2.0 Mb.)

Many species of fish live near the summit of RumbleV volcano, including a large school of Bluenose fish that followed PiscesV throughout the dive. (Quicktime, 1.9 Mb.)

The hydrothermal vent communities at RumbleV were dominated by dense colonies of mussels, which were in turn preyed upon by large numbers of sea stars. (Quicktime, 2.0 Mb.)

Several species of shrimp were present at more focused hydrothermal vents on RumbleV volcano. (Quicktime, 2.1 Mb.)
My first time in a submersible was amazing and something not to forget. Going down beneath hundreds of metres of dark water to see and realise the arrangement of animals on the flanks and summit of Rumble V Volcano, which up until now I'd only imagined from fragments of information obtained from the contents of biological dredges and seafloor photographs.
Rumble V is a classic-looking volcano. A cone that rises from the seabed at over 2 kilometres (>6500 feet) water depth to a summit only metres across, that occurs at just less than 400 metres (1300 feet) beneath the surface of sea. We planned to explore the upper slopes of the cone, to locate and describe the composition of the animal assemblages that live at sites of hydrothermal activity. A previous visit to Rumble V in 2001, using more traditional sampling methods, had indicated that we should expect to find venting and associated macro-organisms near the summit. A visit to the seabed with the Pisces V submersible would, we hoped, allow for a more complete understanding of the distribution and extent of the vent-associated assemblages. And indeed it proved to be the case.
After leaving the good ship KoK behind bobbing on the sea's surface, we descended to a seabed of dark sediment at over 500 metres (1640 feet) water depth. We took our bearings on the summit and motored off gently up the slope of the volcano. The darkness of the seabed here was sprinkled with small, white, sea urchins to create a vista out of our view ports that, in the words of the submersible's co-pilot Colin Wollerman, looked like the Milky Way. Such a description that evokes the analogy of deep-sea exploration with that of space is particularly apt.
Just over an hour after we began our dive we come across an extensive 'bed' of mussels. These mussels are a long, knife-like species different from the squatter mussels that were found to dominate on Monowai and Macauley volcanoes (see logs April 12 and 15). The live mussels are mostly buried in the sediment, with only the extreme end of their shells visible and parted to reveal white mantle tissue around siphons that busily draw water in and out of their shells. The mussels are tightly packed together, no room to even put a toothpick between them. Dead mussels are also littered about the bed and at its edges. These dead shells will, in part, have resulted from the attentions of the large red seastar that apparently preys upon the crowded mussels as they bathe in diffuse hydrothermal fluids at 12°C. Where dead mussel shells dominate the seabed surface, it is likely that venting at these locations ceased and the mussels were no longer able to thrive. (

View the dense colonies of mussels and their sea star predators.
As we approach the summit of Rumble V, the submersible pilot Terry Kerby is faced with a very unwelcome sight. Abandoned fishing lines are strung about the peak's pinnacle features like a spider's cobweb. It's a trap that a submersible does not want to get caught in. Terry manoeuvres the Pisces backwards, forwards, left and right to skilfully dodge the lines as they float above or stretch beneath us. Thoughts of observing seafloor life are now abandoned, as the co-pilot and I spot and call out to Terry when we see more filaments of the treacherous web. Eventually we move downwards over the top of the summit, leaving behind the venting we noticed among the pinnacles, and bring the submersible to a rest to assess our position. Amazingly where we have landed is very close to a small, active vent. Here, among the shimmering fluids that emanate at close to 40°C (104° F) from a white and yellow encrusted crack, are hundreds of vent shrimps. This species of pinkish vent shrimp has been known to science for only a few years now, but clearly it's well adapted to life in this extreme environment (

View several species of shrimp on RumbleV volcano). After we take samples from this vent, we eat our lunch and switch to a new bottle of oxygen - a telling sign of all that excitement at the summit.
In order to continue our exploration of Rumble V in safety we move down slope to the depth at which the mussel bed was observed, and at that depth plot a course to circumnavigate the entire cone. During this three-hour traverse it is possible to map the distribution of the various types of seabed and animals we encounter. On the north slope of the cone we find another mussel bed of similar dimensions to the first one we found, but here there are no seastar predators - rather the mussels are prey to a large gastropod or snail. Not far from this mussel bed there exists a flow of fresh-looking pillow lavas. These rocks are covered with anemones, some of which are quite large with purple tentacles swaying menacingly atop a white trunk. Among the cracks of the pillows and above them are numerous fish - bluenose, roughy and alfonsino (

View the Bluenose and other fish species on RumbleV volcano). No doubt once the target of the snagged fishing lines. On the remainder of the slope among the dark sediments sparsely populated by benthic fauna such as urchins, squat lobsters, hermit crabs, small seastars and seapens, are areas of brownish/yellowish and sometimes whitish crust. Here bacteria survive among percolating fluids at 20°C (68° F) where no larger organisms appear to be able to live. Clearly the cone of Rumble V is a mosaic of different biotic assemblages that result from the various forms of venting that occur on its slopes.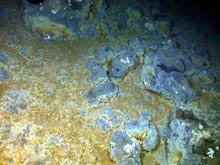 Areas of brownish/yellowish and sometimes whitish crust are observed on the slope of Rumble V. Here bacteria survive among percolating fluids at 20°C (68° F), where no larger organisms appear to be able to live. Click image for larger view.
---
Our exploration is just completed as it becomes time for us to return to the surface. The sampling basket of the submersible is full of animals, rocks, sediment and bottles of vent fluid. This dive on Rumble V has been a great success. The Pisces V drops its ballast weights and we begin to rise to the other world that we left over 6 hours ago. As the pilots check instruments and control our ascent I lay back on the small bench and let the whole enlightening and exciting experience re-run in my mind. The reflection ends as the submersible is recovered by the team aboard the KoK. As my feet touch the ship's deck after descending the ladder from the sub I know I have had a once in a lifetime experience. After all the imagining, all the nervous butterflies that flew with concern and expectation, I no longer have to imagine it. Now, of course, that the first time is over I can't wait to dive again, and again…
---
Sign up for the Ocean Explorer E-mail Update List.