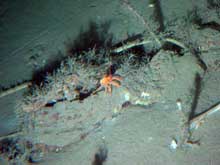 ---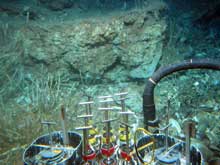 The front of the deep submergence vehicle (DSV) Alvin moves up to a rocky outcrop with tubeworms and mussels scattered along the base. On the front of the submersible, in the "basket," are two mussel pots with a series of 12 sediment cores in between. Click image for larger view and image credit.
---
A Day of Firsts
May 9, 2006
Erik Cordes
Harvard University

The first dive at Atwater Valley site at about 2,220 m depth. (Quicktime, 856 Kb.)
27° 38.85 N
088° 21.72 W
Today was a day of "firsts." It was:
The first Alvin science dive in 2006;
The first Alvin dive for our expedition;
The first Alvin dive for Bernie Bernard, a member of the science party;
The first solo dive for Alvin pilot Mark Spear; and most importantly for the science party
The first dive at Atwater Valley site 340.
The Atwater Valley site 340 is about 2,220 m deep. Thanks to Harry Roberts and the Mineral Management Service, we had some information about the geology of this site and a few pictures of the bottom that were taken just a few months ago with a still camera. We used that preliminary information to choose today's dive site, but since no one had ever been here before, we weren't quite sure what we'd find. It is always exciting go somewhere that you know no one has ever seen with their own eyes. Of course, we will be doing that a lot on this cruise!
When we first got down to the bottom, all we saw was plain-looking sediment — exciting for some people, but we are looking for seeps. We began to survey the area and moved among a few different "targets" that were chosen before the dive. Nothing . . .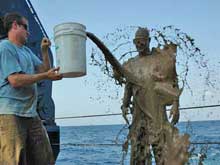 ---
Two hours into the dive, we reached our third target and finally discovered active seeps. There were lots of tubeworms in the area, and lots of dead mussels with a few live mussels mixed in. We took samples of the tubeworms and mussels, and took dozens of photos of the area. We also collected 12 sediment cores in bacterial mats and next to tubeworms. Collecting the cores, 6 in each area, will allow us to make comparisons between what lives in each of those areas.
Next, we deployed an experiment for the SEAS Classroom-to-Sea lab program

. The experiment was inspired by one designed by 8th grade students from Minnesota and conducted at sea during the 2004 SEAS program. The data we collect here will be used by students in the next school year.
During our last few minutes on the bottom, we placed a large marker at the site so we could find it a few weeks from now, when we come back. The few hours on the bottom at Atwater Valley 340 weren't enough to answer all of our questions.
We do need to give a huge congratulations to Alvin pilot Mark Spear for his first solo dive. He got quite a "reception" as he stepped back onto the research vessel Atlantis.
---
Sign up for the Ocean Explorer E-mail Update List.