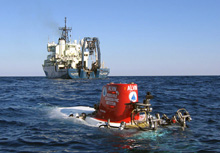 The research vessel (R/V) Atlantis and deep submergence vehicle (DSV) Alvin combine to form one of the premier ocean science exploration and research tandems in the world. Click image for larger view and image credit.
---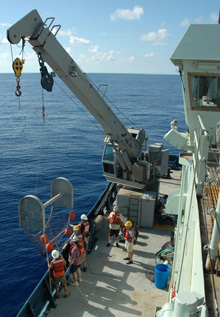 Bosun Wayne Bailey directs deployment of the beam trawl. The R/V Atlantis deck crew is instrumental in the deployment and recovery of all scientific equipment from the ship. Click image for larger view and image credit.
---
Can Do!
May 24, 2006
Jeremy Potter
NOAA Ocean Exploration
27° 06.60 N
091° 09.95 W

The research vessels Avon and Atlantis are a welcome sight for scientists after every DSV Alvin dive. (Quicktime, 1.99 Mb.)
The research vessel (R/V) Atlantis, operated by the Woods Hole Oceanographic Institution (WHOI), is one of the world's premier vessels dedicated to deep ocean research. Many of the most exciting deep-sea discoveries were made as a result of work that has been done on all 274 ft of her. Scientists from around the world clamor to sail on her, and they often have to wait for years for the opportunity.
Though I've heard about the R/V Atlantis for years, this cruise was my first opportunity to set foot on her. I don't have as many cruises under my belt as most of the other scientists out here, but I was interested to compare my experiences on other ships to this one. After only a few days, it's quite obvious that the Atlantis didn't just happen upon her stellar reputation.
The reason for the reputation is simple. It's the people. People who take pride in what they do, and do it well! There are 55 people onboard this ship. Keep in mind that only 24 are from the science party. That still leaves more than 56% of the current Atlantis population with different roles to play. Two of those people are science support technicians from the WHOI Shipboard Science Services Group. A total of seven pilots and technicians comprise the Alvin group. Last, but certainly not least, are the 22 Atlantis crew members.
---
Those 22 people are the key to keeping this "floating town" operating safely and efficiently. Without the crew's efforts, absolutely zero science would be accomplished. Unfortunately, it's rare that the Atlantis crew gets the recognition it deserves. Most of the time we hear about the scientific discoveries that result from all the work done onboard. We usually don't hear about the people that make it all happen!
This is dedicated to the captain and crew of the R/V Atlantis, cruise AT 15-3. We know you never hear it enough, but "THANKS!"
---
Sign up for the Ocean Explorer E-mail Update List.