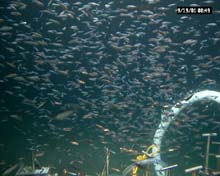 ---
Cold, Wet, and Thrilled Alvin First-timers
September 20, 2001
Tanya Podchaski, Teacher
Bernards High School, Bernardsville, NJ
"All day to watch the blue wave curl and break, all night to hear it plunging on the shore -- In this sea-dream such draughts of like I take, I cannot ask for more."
--Thomas Bailey
Yesterday, as we all sat down in the main lab to watch the video that Drs. Ken Able and Fred Grassle took during their Alvin dive, Holly Donovan and Grant Law got excited about what they might encounter on their dives this morning. Dr. Able described the fascinating creatures he and Dr. Grassle had encountered. For one thing, thousands of tiny lanternfish swam around the Alvin. Once the submersible reached the bottom, the little silver fish had become food for many creatures. They saw squid line up "like a pack of dogs" to feast on the lanternfish. As the squid chowed down, the fishes' silver scales floated in the sea. The web of life paints portraits of its own (which the Alvin captured on videotape).
When morning came, everyone on board was looking forward to the two dives of the day. Both dives would take place at the upper end of Hudson Canyon. The ocean was calm for Holly Donovan on her first Alvin dive. As she explored the ocean floor 200 m below the surface, the shipboard scientists packed up their equipment and tidied up the labs. As Ms. Donovan emerged from the deep sea, she climbed out of the submersible with a big smile on her face, carefully descended the steps, and was summarily doused with a bucked of ice water, as is the tradition for Alvin first-timers.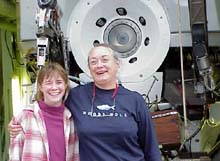 ---
At 1 pm, Grant Law and Jim Ammerman prepared for their first Alvin dives. Two hrs later, and the sub was due back at the surface. As the pontoon boat went out to meet Alvin, something strange happened. Alvin wasn't floating level, as it usually does; the sub's back end was still deep in the water, and its orange turret just barely broke the surface. The recovery swimmers dove into the water and under Alvin to see what the problem was. Once they realized what was wrong, both swimmers jumped back into the boat and returned to the research vessel (R/V) Atlantis. Everyone on board was a little worried about what they were witnessing, and so, followed the divers to hear what the problem was. As it turns out, Alvin was tangled in a fishing or crabbing line of some sort. The divers picked up some equipment to cut the line, then headed back out to the entangled sub. When Alvin had safely returned to the mother ship, we couldn't wait for the scientists to tell us what had happened. As they started to tell their story, they each received their traditional ice-water "baptism" (as if their first dive had not been "exciting" enough)!
---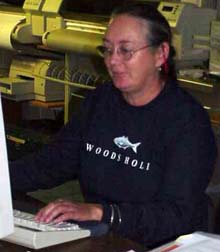 ---
Interview with Holly Donovan and Grant Law

Holly Donovan, 5th-grade Teacher
Robert Hunter Elementary, Flemington, NJ
Grant Law, Graduate Student
Institute of Marine and Coastal Sciences
Rutgers University
Ocean Explorer: What were your first impressions when you were asked to participate in the Deep East Expedition?
Holly Donovan: I thought it was the opportunity of a lifetime, and believed that the experience would change my life. I was excited to have a chance to learn firsthand about scientific explorations in the deep ocean. I knew there was a remote chance I'd go down in Alvin, but either way, it was exciting, and an honor, to be part of this expedition.
Grant Law: It is the coolest thing that could happen to me! I was told there was no chance I'd get to dive in the Alvin. I've wanted to go to sea since I was a kid. After I found out, I called my family and all of my friends.
Ocean Explorer: What was it like to work with several famous scientists aboard the R/V Atlantis?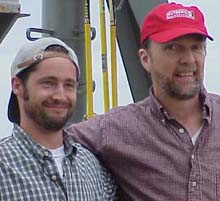 ---
Holly Donovan: Fascinating! Through all the formal interviews and informal conversations, I have learned so much about their work. I was impressed by their enthusiasm and their commitment to making our world a better place. I also appreciated the scientists' patience as they explained their work to me, someone without a strong science background. My educational background is in the humanities -- foreign languages and fine arts.
Grant Law: When I first met these scientists, I was intimidated. It was nice to get to know them on such a personal level. Being on this expedition has made me more comfortable working with scientists, especially in an interdisciplinary setting.
Ocean Explorer: How did you feel when you were invited to dive in Alvin?
Holly Donovan: It was a dream come true! It was also a mixture of wild excitement and fear. I gave up the chance to dive in a submersible once before, because I was afraid I might feel claustrophobic. I told myself that if I got a chance to dive in Alvin, I would do it!
Grant Law: Initially, I felt guilty because there were so many people on this ship that had not dived in Alvin. After I got over that, I felt an incredible responsiblity. I would have to make observations and collect data. I took it upon myself to learn as much about fish identification as I could.
Ocean Explorer: What was the most memorable thing you saw during your dive?
Holly Donovan: A "blizzard" of shrimp! Thousands of shrimp surrounded the Alvin, swirling and darting around us. They were transparent and bioluminescent, with long, flowing antennae.
Grant Law: I found looking at the animals in their natural environment utterly fascinating, especially the way that the krill spiraled through the water column, and the snake eels slithered across the ocean floor.
Ocean Explorer: How will you use the information and experience you gained on this expedition when you return home?
Holly Donovan: I will be sharing my experiences with teachers, students, and parents in workshops and presentations. I want to teach others about the ocean and share my belief in the importance of ocean exploration. The health of the ocean is so important for the health of our planet.
Grant Law: My experience has reinforced my commitment to in-situ experiments. As an ecologist, it is very important to get out and look at patterns in the environment. In a lab setting, it is difficult to predict the patterns that occur in nature.

---
Sign up for the Ocean Explorer E-mail Update List.