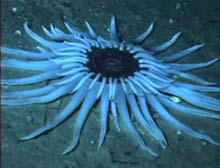 ---
A Giant Upside-Down Snowcone
September 26, 2001
Paula Keener-Chavis, Director
South Carolina Statewide Systemic Initiative's Charleston Math and Science Hub
Deep East Education Project Coordinator
it's always ourselves we find in the sea. -- e.e. cummings
After the Alvin launch this morning, we gathered around the conference table in the ship's library to debrief about how the sampling proceeded yesterday and to get more specific information about the dive site. The DSV (deep submergence vehicle) Alvin landed further than anticipated from the target site due to strong currents. Dr. Cindy Lee Van Dover reported heavy marine "snow" of particles in the water column with lots of stringy mucus. The strong current was welcomed, as it helped keep the suspended matter moving so the scientists could better see the unexplored world around them.
On the bottom of the sea floor were large sinkholes, and many mussels were clustered in the middle of them. "This was the first time that I have not seen commensals living in the mussels," Dr. Van Dover said. She also reported seeing strange, repeating "windrows" of bivalves that appeared to be dead.
Dr. Joan Bernhard filled us in on the results of her previous evening's work. Microscopic examinations of sediment cores late last night revealed that, in fact, bacterial mats of Beggiatoa were collected yesterday, the first chemoautotrophic bacteria to be collected at this site -- yet another historic find on the deep sea floor of Blake Ridge.
It's a hot, hazy day today, and the seas are calm. The music of Mark Knopfler (the former lead guitarist of the British band Dire Straits) is playing quietly on the bridge, gently interrupted from time to time by the high-pitched beep of the transponders that are part of Alvin's navigation system. Alvin pilot Phil Forte keeps track of Alvin from the surface today, as he intently tracks the submersible's position on the ocean floor at Blake Ridge through location data that is sent back to the R/V Atlantis in 15-sec intervals. A printer clicks away, printing Alvin's locations from the information received by the transponder.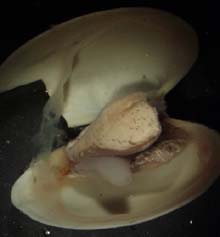 ---
Today's Dive
Dr. Barun Sen Gupta and Dr. Paul Aharon report back from the Alvin in crackled voices that they found the target site. They have also found the milk crate of mussels that was transplanted from their original seep site to a site approximately 10 m from the original location. They have collected one push core sample of about 40 cm in length, and deployed the 5-gal bucket of shells that will be used to study settlement rates. The speaker continues to crackle as pilot Dudley Foster reports from the submersible that they are moving from the target site in an attempt to relocate the site sampled yesterday.
"Chunks of ice -- clean ice -- were bubbling when I probed into the hydrate," said Dr. Barun Sen Gupta upon his return to the Atlantis. "Guess what The temperature was 3.2 degrees Centigrade. If this ice had formed from water on the Earth's surface, its temperature would have been -1 degree C. The fact that the temperature measured 3.2 degrees C on the bottom of the ocean indicates that it is a hydrate containing a mixture of water and methane." Dr. Paul Aharon continued, "Big, massive gas hydrates and mussels were everywhere. I've never seen so many mussels."
The most incredible find of the dive, however, was the "giant upside-down snowcone," as Lorene Smith, a research associate working with Dr. Sen Gupta. described it. As the videotape from today's dive is being duplicated in the computer lab this evening, I can glance over my shoulder at the monitor and see exactly what Dr. Sen Gupta and Dr. Aharon saw. The "snowcone" is about 2 m long, suspended from beneath an overhang from an outcrop. Tiny bubbles of methane emerge from the hydrate bed underneath and float their way up to the massive mound of ice. What we think may be "ice shrimp" swarm under the ice overhang and out of the hydrate ice cavity, probably in search of food. Unidentified attached "strings" drape from the top down toward the ice.
According to Dr. Aharon, "The gently sloping depressions were not more than 1 m in relief, and were chock full of mussels. The sea floor was covered with a fine, yellowish, silty sediment that formed clouds with the slightest disturbance of Alvin as it gently touched the sea floor. In addition to the small depressions, we found crater-like features with sedimentary beds oriented in a chaotic way; we believe that these craters resulted from the drilling undertaken in 1995." The massive gas hydrates are best exposed in these craters, which provide a "window" into the subsurface.
Dr. Aharon continued, "I can say, as an experienced submersible diver, that the large and massive fields of mussels were unlike anything I have ever seen. They are surely the ocean's equivalent of the Amazon tropical forests. Seeing hydrates form directly in front of my eyes was an experience I will never forget,given the fact that these hydrates form a giant depository of methane gas on Planet Earth."
"It was a good dive," Dr. Sen Gupta concluded, and Dr. Aharon agreed. Indeed, it was.
(top)

---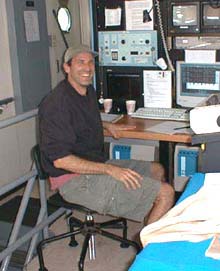 ---
Interview with Phil Forte
Alvin Pilot
Ocean Explorer Team: You have a job piloting one of the most famous submersibles in the world. How does it feel to have that responsibility?
Phil Forte: When I got this job a few years ago, I couldn't believe how lucky I was to be here. I guess, like a lot of jobs, part of this job has become somewhat routine, but I still get an incredible rush from it, too. I mean, I'm diving Alvin to the bottom of the ocean! I am an explorer. I'm going places where nobody has ever been before! I keep getting better at my job as a pilot and the other responsibilities on board, too. It is also fun to see how the scientists behave sometimes. We go to the bottom and might bring up a rock. I can see that there is stuff all over the rock, but when we get back on deck and that rock comes out of the basket, the scientists are all over that rock. It is great to see a group of people who are so excited about their work. There is a lot of responsibility with this job, but it's also a lot of fun.
Ocean Explorer Team: Your job is pretty unique. Obviously, you didn't just climb in and get dropped in the ocean. How did you get into a job like this?
Phil Forte: I have a pretty diverse background. I started out in a vocational program, and I was a welder and machinist for a few years. I got a little bored with that, and I started thinking about college. It seemed pretty natural to go into mechanical engineering, which is what I have my degree in. To get here, you don't apply to be the pilot. You apply to be a technician. All of the qualified pilots started out as technicians on Alvin. It usually takes about 2 yrs from the time you start as a technician until you become a pilot. Along the way, you have to independently study the aspects of Alvin's operations that aren't in your area of specialty. You might be good mechanically, but weaker in electronics, and you have to be well rounded for this job. Once you get up to speed, you do from 10 to 20 training dives.
Ocean Explorer Team: How many dives have you logged, and is Alvin the only submersible you've piloted?
Phil Forte: I have about 25 dives, I think. I've been a pilot for about 16 months. We usually don't dive every single day. So far, Alvin is the only one I've piloted.
Ocean Explorer Team: How often would you be likely to dive on a given cruise? Do you ever dive two or more days in a row?
Phil Forte: It depends on how many pilots we have on board. We like to have 3 or 4 on a cruise. We each rotate through either piloting the submersible or carrying out some of the other jobs associated with sub operations. It's pretty exhausting to be down there for 8 hrs. We have a 14-page pre-launch checklist. On a day when you are diving, the pilot has a pretty long day. Some of the environmental conditions in the sub can make you pretty tired, too. We run lower oxygen and higher carbon dioxide levels than you find in normal air. The low oxygen is to reduce the danger of fire, and the high carbon dioxide is because the scrubbers don't do a perfect job of removing it from the air. When you are piloting, you are also right on the line all day. It is very intense. When you get on deck, you are ready for some rest.
Ocean Explorer Team: What other responsibilities do you have on the Deep East Expedition, in addition to piloting the submersible?
Phil Forte: The rotation of pilots puts each of us into all the other jobs associated with launch, recovery, and monitoring. One day I might be a launch or recovery swimmer. The next day, I might work with communications during a dive. Then I might do some maintenance or repair work the next day. We have to work very well with each other, and we depend on each other. Each of us could be the next pilot, so we want to make sure it is all done right. Rotating through jobs also keeps us from getting bored. There is always something new going on.
Ocean Explorer Team: A lot of people would really love to do what you do. Do you have any advice for them?
Phil Forte: Yes. Education is important. I never had a clue that I'd end up piloting a research submersible. It wasn't part of my plan. My education has let me have this opportunity. My circle of acquaintances has grown through my education. Education allows you to appreciate the world in ways that you can't calculate. Figure out what you want to do, and find a way to make it happen! It's up to each person to figure out how to do that.
(top)

---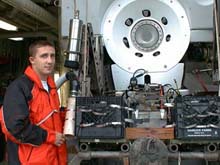 ---
Interview with Dan Foy
Undergraduate Student
University of South Carolina
Ocean Explorer Team: What is your role on the Deep East Expedition?
Dan Foy: This is my first cruise, and I'm here to help out and learn about what it is like to do research at sea. I am sectioning push core samples and replacing them on Alvin's basket for the next day's dive. I also sectioned the Giant Gravity core samples that were collected last night.
Ocean Explorer Team: As an undergraduate student, what is your perspective of the expedition?
Dan Foy: I think it's really neat to be out here. This is what science is really all about --exploring to gather information about things that you don't know. It's been incredible to meet all of the scientists on board and learn about their research interests. It's really cool to see the Alvin too -- it's like seeing a living legend.
Ocean Explorer Team: What and/or who influenced you to study ocean sciences?
Dan Foy: My high-school biology teacher gave a short lecture one day on marine biology and I found it really interesting. Then I got involved in a couple of high-school marine biology programs, including the Shedd Aquarium's High School Marine Biology Program, and I found that I really enjoyed it. I have been in the Bimini Islands studying plankton and have had the opportunity to go to Belize and study rainforest and coral reef ecology. From then on, I knew that this was what I wanted to pursue. In college, I get involved in as many research projects as I can to get experience. I'm very iterested in fishes and have done some research on age and growth, recruitment, and reproduction.
Ocean Explorer Team: What do you hope to do when you finish college?
Dan Foy: I'm not sure. I will either go to graduate school and do research in mid-water ecology, or I may get a job doing some kind of hands-on work in the field. I really just want to do field work. I will definitely pursue graduate school at some point.
Interview by Karl Stanford of the Ocean Explorer Team.
---
Sign up for the Ocean Explorer E-mail Update List.