Team Undergraduates- On The Scene Science Participants
Floating gently just below the surface with only the communications tower above the surface, the Gavia autonomous underwater vehicle (AUV) awaits another mission command. Taking photos of the robots while they are moving is difficult, so we often take advantage of the few still moments that we have between missions to film the robots. Click image for larger view and image credit.
---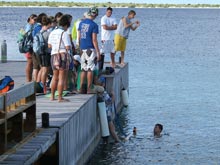 Student explorers from the University of Delaware gather dockside for an impromptu lecture by Art Trembanis, introducing the many features and capabilities of the Gavia AUV. Click image for larger view and image credit.
---
January 13, 2008
During our second day of autonomous underwater vehicle (AUV) operations, the undergraduate study abroad group from Delaware stopped by Pink Beach, where the AUV team was conducting operations. The undergraduates were on a geology field trip around the island but managed to catch the AUV team just as robots were getting ready to go into the water. This provided a unique opportunity for the students to go beyond the typical role of passive science observers and to become active science participants. The students quickly and eagerly stepped up to volunteer as assistants helping to launch both of the Gavia vehicles.
In AUV operations launch and recovery — i.e., getting the vehicles in and out of the water — is always one of the most challenging moments. The first few feet going from the shore and into the water can be potentially damaging to vehicles. AUVs are designed to operate and run in (and especially under the surface of) the water so the zone of crashing waves known as the swash can be tricky and requires careful set up and operation.
By the end of the day on Sunday, we had managed to run both Gavia vehicles in four separate operational sites along the leeward coast of Bonaire — from our science compound north of Kralendijk to Pink Beach opposite of the salt pans to the south. Already we are accumulating a massive and rapidly growing database of sonar data, photos, and oceanographic information about the condition of the reefs and the water surrounding Bonaire.
We still have a long way to go and many miles of AUV operations to contend with, but we are out of the gate and running now — picking up speed and gigabytes of data along the way.
---
Sign up for the Ocean Explorer E-mail Update List.