Jane of All Trades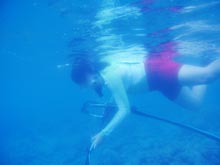 Hilary Stevens deploys the BOA array of temperature sensors at Nukove. This cable was carried over the reef on the water surface to prevent fouling and damage to the corals. It was then deployed by sinking the anchor in 52 meters (170 feet) of water, which pulled the array into a vertical position. Click image for larger view and image credit.
---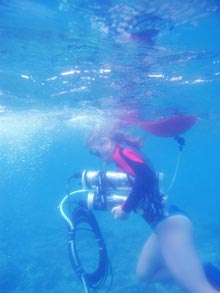 Dana carrying the data loggers over the reef at Nukove. These loggers collect and record the temperature data from the BOA array. They are connected to a float that maintains the upward position of the array. Click image for larger view and image credit.
---
January 15, 2008
As a research assistant, my role in this expedition enables me to take part in many of the projects and gain experience in different research methods. I am primarily working with the Gavia autonomous underwater vehicles (AUVs), as our lab at the University of Delaware will be acquiring one this spring. With a few Gavia technicians here in addition to representatives from GeoAcoustics, I will have a leg up when we finally get our AUV. I have already learned a great deal by assisting with operations, including trimming the vehicles for the warm saltwater, planning and plotting missions, and deploying the vehicle at several locations. As is always the case with operations of new technology, there have been some hang-ups along the way. Troubleshooting these problems and replacing a few damaged parts have taught me even more than all the things that have gone right!
In addition to this AUV work, I have also assisted with the deployment of the temperature arrays, set-up and assembly of ADCP acoustic doppler current profiler (ADCP) units, and diving transects to image coral cover and collect sediment samples. Deploying the arrays was quite a project. It involved moving 50-meter-long (165-foot-long) long arrays of sensors with data loggers at one end and heavy concrete anchors at the other. Fortunately, we had lots of hands and strong swimmers to help deploy the temperature arrays. I have been scuba diving for years, but rarely with a mission beyond enjoying the sights.
Here in Bonaire, we are taking video and photo images of the sea floor to analyze coral type and cover. This takes a lot of concentration and an octopus's arms to handle all the equipment, which in addition to all the normal scuba gear include a compass, a global positioning system (GPS) on a float with a reel, and the underwater camera.
In addition, I am collecting sediment samples for another scientist at the University of Delaware who was not able to join us. We were granted a special permit to collect a limited number of samples, as normally the Bonaire National Marine Park is off limits to any such activity.
I have also been working with the University of Delaware Study Abroad group. This is a tremendous opportunity for these students to get involved with this research, and they have responded with enthusiasm. I must also mention the work that goes into mounting and supporting an expedition like this. During the first week, a huge amount of time and energy went into logistics of getting our gear through customs, meeting with local officials, arranging for boats and dive tanks, and other ground support aspects that are vital but perhaps less romantic than the data collection itself.
---
Sign up for the Ocean Explorer E-mail Update List.