Student Log I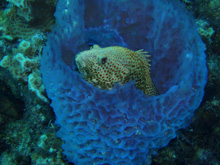 This rockhind in a sponge was caught on camera by free divers exploring the area off Klein Bonaire in about 6 meters (20 feet) of water. Click image for larger view and image credit.
---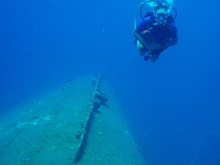 Kat McCole, a University of Delaware student, diving on the Hilma Hooker, the famous wreck located on the southwestern side of Bonaire. Click image for larger view and image credit.
---
January 24, 2008
Chris Coccaro
During my brief stay in Bonaire, I have truly enjoyed working with the science team. One of the graduate students, Noelle Relles, has been kind enough to encourage me and fellow Delaware dive team member, Kat McCole, to aid her in the research for her master's thesis. I have found this hands-on experience with using instruments and gathering data to be a breath of fresh air from the normal learning experience as an undergraduate. My undergraduate experience thus far has been spent learning a great deal about scientific theories, only to find (once in the field) that the "norm" always described in a textbook is normally not found. This experience of working in the field has been extremely rewarding and gives me a great deal of confidence for pursuing a career in oceanography in the future.
Kat McCole
As a junior at University of Delaware (UD), my time in Bonaire has been one of the most unbelievable experiences I have had thus far. Being able to wake up in paradise and scuba dive every day for 30 days is a once-in-a-lifetime experience that I will never forget. In addition, as a part of the scientific dive team, I have been fortunate enough to participate in the current research project by assisting Noelle Relles, a master's student at Virginia Institute of Marine Science, with her thesis. While helping Noelle, fellow science diver Chris Coccaro and I were able to dive in the marine reserve on the island, something I never imagined I would be able to do. This experience has reinforced my desire to attend graduate school following my graduation in 2009, and has inspired me to continue on with my desire to work in the field of ocean science and marine conservation. I have also been able to make some very good friends as a member of the study abroad program, and I hope to keep in touch with them upon returning to UD on January 31.
Cheryn Clark
I am finishing up my senior year at the University of Delaware with a major in Earth science. I plan on continuing to graduate school in environmental geology or hydrogeology in the fall. This is my first study abroad trip (and first overseas travel), and the best part is there are others on the trip with the same enthusiasm about geology as me. I mean, where else will you find a big group of students so excited about looking at the rock formations of an island?
We have the opportunity to snorkel with our professors to learn first hand about the marine diversity, which I believe is the best way to learn. I did not know about the Bonaire 2008 science project when I first applied to the program, but as I heard more about it, I got excited to be able to participate and meet the scientists involved. I have had the opportunity to sit down and have dinner with the ocean explorers and watch them in action with the autonomous underwater vehicles (AUVs). I was amazed when I saw these "small" torpedo-like devices at work, collecting tons of data, which transcribe into topographic maps of the ocean of Bonaire. I got to be a part of this, and it really is a life experience in the making.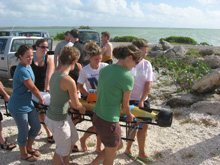 Students from the University of Delaware Bonaire Study Abroad Program carrying an autonomous underwater vehicle (AUV) toward the water. Click image for larger view and image credit.
---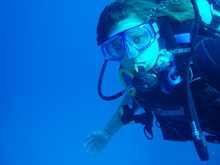 Ashley Schutt, a study abroad program student, diving off the coast of Bonaire. Click image for larger view and image credit.
---
Paul Grube
This trip to Bonaire was an opportunity of a lifetime; I've looked forward to an extended trip to a tropical climate with pristine waters and an abundance of fish species. I've been to the Caribbean a number of times (e.g., Nassau, Freeport, and Exuma in the Bahamas, Puerto Plata and Punta Cana in the Dominican Republic, Cancun, etc.), and I was very surprised to find Bonaire such an arid place. Since arriving, all the locals have repeatedly stated that this is the rainy season and they've gotten more rainfall than is typical even for the rainy season. Another surprising feature of Bonaire is its lack of sandy beaches: almost every beach is comprised of coral fragments. This is in stark contrast to all the other Caribbean islands I've visited, which were comprised of lush tropical rain-forest type of landscapes/environments with mostly sandy coastlines. Bonaire is quite out of the norm that I expected.
Natalie Simon
I am currently a senior majoring in criminal justice, with a minor in sociology and history. Before coming to Bonaire, I was not quite sure what to expect, but so far I have loved every minute of being here. On January 15, the study abroad students stopped by one of the AUV launch sites to assist the science party. I love the picture of all of the girls carrying the AUV; it's really awesome how the science team gets the students involved with the robots. I have always really enjoyed science, and it almost makes me second-guess my choice of study; but it's a bit too late because I'm graduating in the spring. I have to admit, it was really exciting for me to put one of the AUVs down into the water and meet the people who take part in the research. All of this is new to me and I've learned a lot from the experience of handling the equipment and hearing lectures from various members of the science team.
Krystal Golankiewicz
I was so excited when I learned about the opportunity to participate on a study abroad trip to Bonaire. For a biology major, it has been absolutely amazing. Being able to observe and explore the coral reefs every day has allowed me to see so many new things, and learn first hand about the biology we often learn about in classrooms. But this trip has also sparked some new interests for me. Before coming to Bonaire, I knew next to nothing about the world of AUVs and underwater robots. The science team has taught me so much about them, and it has been fascinating to observe how they actually work. While I do not know yet what I want to do when I graduate, this trip has definitely given me a new curiosity in oceanography and has only strengthened my interest for marine biology, something I will definitely have to consider for the future. Until then, though, I plan on spending as much time as we have left in Bonaire in the water, studying the incredible reefs.
Ashley Schutt
My time in Bonaire has opened my eyes to a world of possibilities in the field of marine science. Meeting the science team and hearing about their experiences in fellowships and work abroad have been useful in providing options for my future. Throughout the trip, I have learned about the different opportunities to work in environmental policy and other policy positions closely related to biology and the sciences. I have also confirmed that hands-on learning is essential to science education through watching the AUVs and helping with the science team. Though it is still my full intention to become a teacher, I will leave here knowing that there are many ways I can combine my interests in science and policy in both a local and worldwide level.
Ashley Beers
I am an undergraduate geology major at the University of Delaware. I was initially excited to be part of this trip because I wanted to further my understanding in the areas of tropical marine biology and carbonate geology. This trip has also provided me the opportunity to meet the research science team and the NOAA representatives that are involved with the Bonaire project. Previous to this trip, I never had the pleasure of being involved with an AUV project and only briefly knew what the AUVs were exactly used for. After being educated on the different functions of the AUVs and having the chance to work with some of the data retrieved from Gavia, I now have a better understanding not only of the importance of the fragile marine ecosystem but also of the incredible feats that are being overcome (or soon will be overcome) with the use of the underwater robots. The experience has been intriguing so far and could very well be something I would want to get involved with in the future.
---
Sign up for the Ocean Explorer E-mail Update List.