Student Log II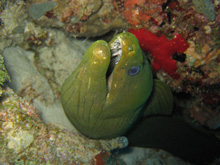 Moray eel peering out from its coral home. Click image for larger view and image credit.
---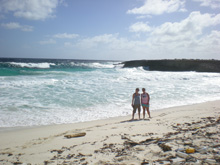 Two University of Delaware study abroad program students enjoying a typical island day on Bonaire. Click image for larger view and image credit.
---
January 25, 2008
Matthew Kern
During my stay so far in Bonaire, I have helped the science team launch autonomous underwater vehicles (AUVs) into the waters off the coast. Before we launched them, I learned about the various instruments in the Gavia AUV, including the side scan sonar and battery packs, to name a few. The AUVs are heavy and require several people to lift them; however, they can be made lighter and shorter if certain components are not needed. This also assists with prolonging battery life. What I also found interesting was that they are programmed using the Python program code, something I am unfamiliar with but interested in with my background in computer science as well as geology. This experience has given me a clear idea of something I would be interested in for graduate school and has generated interest in continuing my education.
Megan Wolters
As an animal science major and a diver, I was excited to come to Bonaire to learn about the marine life on the reefs around the island. I knew I would have a great chance of doing this through diving, but once we got here I quickly learned how much more there was to do. We've had the opportunity to observe the science team working with the AUVs, to snorkel, to kayak through the mangroves, and to hear presentations from scientists from around the world. All of this has provided a unique way to see the reefs around the island, and a great chance to learn to understand them better.
Maggie Beird
I am currently a senior geology major at the University of Delaware. Before I left for Bonaire, I did not have much interest in marine science and coastal work. However, my experiences here have given me a new perspective on this field. I recently received my scuba certification and have been able to see the reefs and vast marine life. Since my certification, I have been diving nearly everyday and cannot stay out of the water. In addition to diving, interacting with the science team and helping to launch the AUVs has heightened my interests in marine sciences. I am very pleased to be a part of this experience, as it is a chance of a lifetime.
Jonathon Gordon
I am a senior at the University of Delaware hoping to pursue a career in aquaculture after graduation. After seeing a flyer about this multidisciplinary trip, I knew I had to come; especially since I had heard of both professors (Doug Miller and Art Trembanis) in the past and knew that with their backgrounds, there was a lot I could learn from them. Something I did not realize was we would be learning from a whole team of scientists from many different fields.
Since I have been here, I have had the opportunity to see the AUVs in action, assist in ground-truthing side scan sonar images, and talk with the people who build and operate all three AUVs. I was also able to learn from international marine biologists who have studied in just about every environment on the planet as well as a geologist who has shown me more about Earth processes using real world examples in Bonaire then I have ever learned from textbooks. As an added bonus, I have also been able to observe the terrestrial organisms such as birds, plants, and many species of lizards, and to experience a little bit of what island life is like in the Antilles. This has truly been a once in a lifetime opportunity, and I am glad I was able to be a part of it.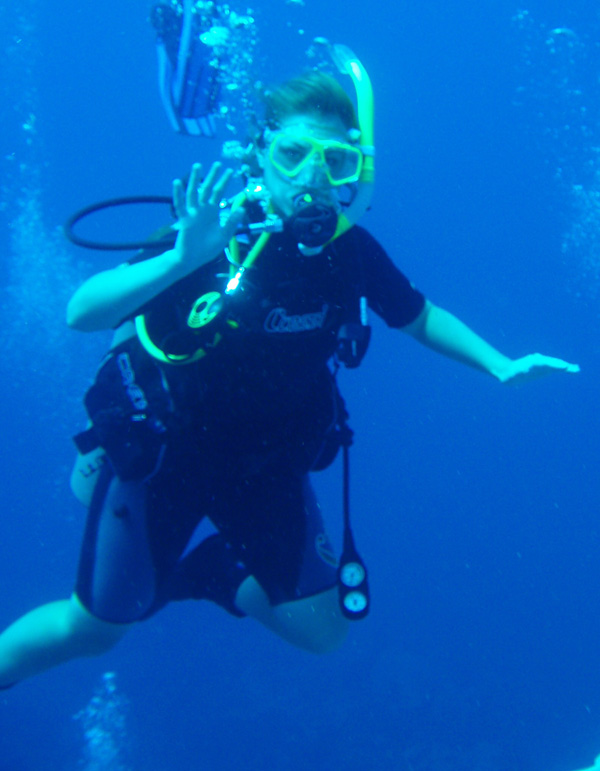 Another University of Delaware student, Sarah Hendrickson, scuba diving in Bonaire. Click image for larger view and image credit.
---
Laura Hegarty
As a senior environmental science major, I have found that our studies on Bonaire have encompassed many of my interests. When I arrived here, I mainly had an interest in biological activity in the environment. With exploring the amazing geologic features here, such as the marine terraces and ocean floor topography, my interest in geologic activity has certainly been heightened. Learning about the science team's research has shown that there are many fields of science that work together in order to understand the reef system. It has also been fascinating to observe the constant technological innovation that is necessary to obtain new data and information about marine systems. My time here on Bonaire has positively influenced my plans to pursue a career in which I may travel while conducting research.
Nathan Maier
As an undergraduate geology major at the University of Delaware, the opportunity to come to Bonaire to study carbonate geology and reef ecology was something I could not pass up. As a firm believer that one learns best outside of the classroom, I find Bonaire has much more to offer than just the obvious. Besides the pristine reef environment, there are mangroves, sea grasses, hyper-saline lakes, caves, and igneous formations to study and explore that would not be readily accessible back in Delaware. The science team and the Shifting Baselines project have added an additional, valuable dimension to the trip. Their lectures and observing them out in the field really put into perspective how scientists from different backgrounds collaborate effectively towards the same goal of assessing the health of the reef. They are also exposing us to the cutting-edge technology with the AUV operations that most of us will most likely be using in the future for our own work and research. Bonaire will definitely be something I draw my experience from in the future.
Kenny Bijansky
I am an undergraduate student studying geology. I plan on graduating shortly in the spring semester of 2008. The study abroad program to Bonaire was appealing to me in that it is heavily based on research and technology. I have had the chance to observe first hand a team of scientists working together to perform research off the coast of Bonaire. Being an undergraduate, I know that this is certainly some good experience in the field of geology. I plan to gain some very useful knowledge in the area of field work by the end of our stay on the island.
Sarah Hendrickson
I am currently a senior in environmental science with a concentration in marine studies and a minor in biology. I will be graduating in the spring with hopes of attending graduate school in the near future. My time here on Bonaire this month has been fascinating. I have snorkeled in the coral reefs every day, observing the vast diversity of marine life. I recently finished my open water dive certification and have visited the famous Hilma Hooker, a shipwreck off the south end of the island. I now have a new interest in AUVs through spending time with the science team and hope to learn even more while I'm here. Overall my time on Bonaire has been extremely educational and eye opening to the captivating world of coral reefs.
---
Sign up for the Ocean Explorer E-mail Update List.