Comparing Coral Reefs in Bonaire: One Graduate Student's Thesis Work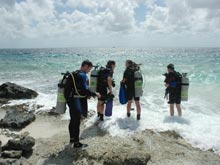 Several members of the scientific dive team enter the water. For her thesis work, Noelle Relles is conducting video transects to determine percent coral cover. To accomplish this, she needs help with data collection. One member of the dive team will navigate along a predetermined heading, while another controls a global positioning system (GPS) unit attached to a surface buoy by a line and reel. Relles follows closely behind the navigator and collects video images of the sea floor. Click image for larger view and image credit.
---
January 19, 2008
My work here in Bonaire is the basis of my master's thesis and will involve the comparison of today's reefs with Dr. Fleur van Duyl's Atlas of the Living Reefs of Curacao and Bonaire survey taken between 1980 and 1985. At several locations along the leeward coast, we started conducting video transects and still frame photographs to determine percent coral cover and coral species type. The data we are collecting while on scuba will be compared to still-frame photography, underwater video, and side scan and multibeam sonar data collected by three autonomous underwater vehicles, as well as reef coverage information extrapolated from high resolution satellite maps of the area.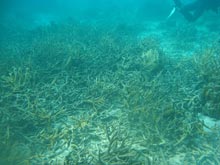 Expanse of staghorn coral, Acropora cervicornis, at a dive site located north of the major development on the island. Once prevalent along the leeward coast of Bonaire, staghorn coral has been greatly reduced in abundance, most likely the result of several hurricanes passing through the region. Click image for larger view and image credit.
---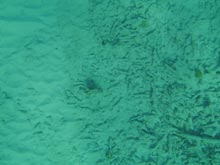 Much of the healthy coral cover recorded by Dr. Fleur van Duyl in the 1980s has been reduced to coral rubble and sand. Notice (to the right) the remnants of old Acropora cervicornis (staghorn coral), desecrated by Hurricane Lenny, which impacted the island in 1999. Click image for larger view and image credit.
---
We have already noticed that the abundance of Acropora palmate (elkhorn) and A. cervicornis (staghorn) coral has decreased dramatically since van Duyl's data was collected, which we have hypothesized is a result of hurricane activity in the area. We have also observed that the abundance and variation in species of coral seems to differ greatly along the coast when comparing dive sites within the towns to dive sites outside of these developed areas. The three general areas we hope to focus on are: areas of increased development since van Duyl's data collection, areas that have experienced relatively little development, and areas within the marine reserve where diving and dropping anchor have been completely restricted.
The depth of the beginning of the reef also seems to have changed since van Duyl's analysis; where she found rich coral abundance close to shore, we are finding mostly sand and coral rubble. This preliminary data is purely observational, while the subsequent data will be rigorously analyzed with comparison to the satellite imagery and the information collected by the AUVs.
---
Sign up for the Ocean Explorer E-mail Update List.