Ocean Discovery Day in Galveston, Texas:
A Report from First-time SSE Volunteers

June 1, 2001
Ron and Camillé Stephenson
San Marcos, Texas

Coincidental or Divine?

Was it just an incredible coincidence, or perhaps something divine, that brought together two noteworthy events on June 1, 2001? The place was Pier 27 on the waterfront in Galveston, Texas. The first event was the Galveston Ocean Discovery Day celebration, which coincided with the NOAA Ship McArthur coming into port. The McArthur is an oceanographic research vessel providing state-of-the-art facilities for a substantial portion of the third field season of the Sustainable Seas Expeditions (SSE), a collaborative project between NOAA and the National Geographic Society. The title of this mission is "Islands in the Stream," and its research focus is the Gulf of Mexico. Not only would we, as first-time SSE volunteers, be actively involved in the day's educational activities, we would also be working with other SSE volunteers who came to Galveston to participate in the effort to save our world's oceans. Additionally, we would spend the day with one of the foremost women scientists in the world: Dr. Sylvia Earle, a National Geographic Society Explorer-in-Residence and Director of the SSE.

The second event making June 1, 2001, incredibly coincidental or perhaps divine, was the official designation of the Flower Garden Banks National Marine Sanctuary (NMS) as an International No Anchor Zone. This designation is extremely significant in the annals of ocean conservation, not only for the sanctuary, located about 100 mi offshore of Texas in the Gulf of Mexico, but also for the United States, Mexico, and the entire international maritime community.
An Eventful Day
Some 250 people toured the NOAA Ship McArthur as it was berthed for its brief but important visit to Galveston Harbor. People of all ages turned up at the waterfront, following the signs and colorful balloons to the Pier 27 venue. Folding chairs were available for visitors during opening remarks from George Schmahl, manager of the Flower Garden Banks NMS; sanctuary education coordinator Shelley DuPuy; sanctuary research coordinator Emma Hickerson; Lieutenant Commander Michele Bullock, captain of the McArthur; and Dr. Sylvia Earle.

A variety of marine-related display booths and exhibits were open to visitors. Exhibitors included Moody Gardens, the Texas State Aquarium at Corpus Christi, the Galveston Laboratory of the National Marine Fisheries Service, and the Texas Marine Mammal Stranding Network. Kerr McGee Oil Company, a major sponsor of Galveston's Ocean Discovery Day, also had an information booth.

SSE volunteers were given responsibilities aligned with their areas of interest, and generally provided assistance wherever it was needed. What an honor it was for us to have been selected to serve such a meaningful cause. Many of the volunteers came from Texas, but some came long distances at their own expense -- one from as far away as Georgia! -- to participate and to serve. For the most part, the volunteers focused on working with the many children and young people who came to learn more about the oceans and the animals that live there.

Fun For 'Children' of all Ages

Attractions included the Coral Activity Booth, which offered fun and educational games and activities for children of all ages. A favorite activity involved constructing edible coral polyps out of marshmallows (to represent the body of the coral polyp), peanut butter (an edible "glue" for construction purposes only), pretzel sticks (the tentacles of the coral polyps) and cake-decorating glitter (to represent the tiny organisms that live on corals). Volunteers taught the children that the coral polyps they were making had to have six tentacles, because hard corals like those found in the Flower Gardens NMS always have tentacles in arrangements of six or multiples of six. After making their coral polyps, the children were encouraged to pretend they were parrotfish and to eat their polyps. This experience proved to be tasty, educational, messy and fun. The "parrotfish" were not allowed to use their hands when consuming their prey (their parents loved us!).

The Creativity Corner provided another opportunity for youngsters to actively participate and learn. Materials included cutouts and scissors, glue and construction materials, colored paper and pipe cleaners, and crayons and tape. Kids were challenged to use their imaginations to make something representative of the sea. Some youngsters made paper fish and turtles, or replicas of the DeepWorker 2000 submersibles, while others made strange "creatures" that were difficult to identify except by the most imaginative of volunteers. The Coral Reef Survivor Game gave youthful visitors the opportunity to learn about the many threats that coral reefs face in their struggle to survive against both natural and human pressures.

While all of this was going on, Dr. Earle spent nearly 3 hrs signing and personalizing posters for admirers of all ages. She showed no signs of fatigue or writer's cramp, and commented to some of the volunteers on the importance of the activity. Two posters were available: One highlighting the Sustainable Seas Expedition in the U.S. National Marine Sanctuaries, and another featuring an incredible photograph of a rare marbled grouper, which was taken by Frank and Joyce Burek in the Flower Gardens NMS.

A Memorable Experience

Volunteers received Flower Garden Banks NMS T-shirts and caps at the orientation on Friday morning. On our way to Pier 27, we put up small signs and attached colorful helium balloons at conspicuous locations to guide visitors to the site of the festivities. Decked out in our "official" garb, not only did we feel very welcome, but also very much a part of the official staff that was going to help make the day a success. We had driven from San Marcos, TX, the day before, while other volunteers came from the Houston-Galveston area. Some were first-timers like us, and others were veterans. It was a special honor for us to contribute our time to such an important activity, and to be members of "Team Ocean" as the volunteer program is known nationally.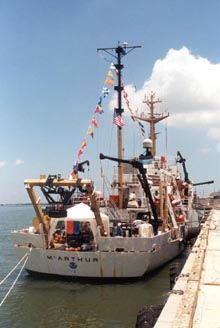 ---
As Team Ocean volunteers, we were invited to a tour and reception at NOAA's National Marine Fisheries Service Galveston Laboratory from 5 to 8 pm that evening. This gave us the opportunity to socialize with some of NOAA's key personnel in the area, as well as supporters of the Flower Garden Banks NMS. Guests dined on a light buffet and enjoyed comments by George Schmahl, manager of the Flower Garden Banks sanctuary, Craig McClain of NOAA, and others, prior to Dr. Sylvia Earle's exciting keynote address.

All in all, Friday, June 1, 2001 will remain in our hearts and minds as a most memorable experience for two first-time SSE volunteers who have been "doing their own thing" to protect the world's coral reefs for more than 20 yrs. Volunteering turned out to be a wonderful and rewarding experience, which already has us looking forward to reacquainting with "old" friends from Galveston's Ocean Discovery Day, as well making new friends as other volunteers come "on board" Team Ocean. Perhaps the Flower Garden Banks sanctuary's 10th anniversary celebration, in 2002, will bring us all together again.



---
The Web team gratefully acknowledges this contribution by Ron and Camillé Stephenson. Ron is a PhD candidate in the Department of Geography at Southwest Texas State University. He has been diving on coral reefs since 1969, and will do his doctoral research in environmental geography in the Flower Garden Banks NMS. Camillé was a medical attendant in the compression chamber on Grand Cayman Island, BWI, and an active member of the British Subaqua Club.
---
Sign up for the Ocean Explorer E-mail Update List.