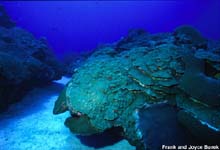 ---
The Islands
The continental shelf along the Yucatan Peninsula and rimming the Gulf of Mexico is populated by a series of hard-bottom (also called "hard substrate") communities. These include prominent habitat features, such as the extensive barrier reef systems of Belize and the Florida Keys, and also lone pinnacles and bank reefs located several mi to 100 mi from similar flora and fauna. Although the expanse of water between such areas would seem to be an effective barrier, isolating individual communities in the region, the prevailing currents can also serve as an efficient pathway, exchanging plant and animal material among communities.
Exploring some of these complex marine environments and the waters that connect them is the purpose of the 2001 Islands in the Stream Expedition. You can learn more about these extraordinary communities by selecting the profile image for each location.
Profiles
---
Sign up for the Ocean Explorer E-mail Update List.